Mount Royal Crime Lab launch a historic moment
Mount Royal's Criminal Justice Research lab is mapping out its future by mapping out our present.
Crime mapping is just one of the areas covered by the lab which also deals with sensitive data analysis relating to identity theft, mass marketing fraud, prison gangs and deaths of people in custody.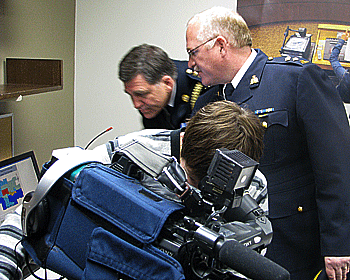 From left: Inspector Gerry Fancois, of the Calgary Police Service and Superintendent Peter Clark of the RCMP's South Alberta District observe some data on display while a member of the media video tapes the launch of MR's new Crime Lab.
"We haven't really specialized in anything yet, but we suspect in time that we will develop niches," says Dr. John Winterdyk, Chair, Department of Justice Studies.
"Research is live - looking at things like prison gangs...you're looking at real, live data, fresh off the press and you're asking questions and exploring things. I think this is something where students have to be passionate about what they're studying. This is experiential learning - you're doing real stuff in real time."
This week the lab had its official launch in front of a crowd of media, experts and law enforcement representatives including Attorney General, Alison Redford, who were all excited that Alberta's only lab of its kind is opening right here in Calgary.
"Partnerships with institutions like Mount Royal and the Calgary Police Service and other police agencies are key to moving forward with our safe communities initiative," Redford said.
"By engaging the students, we are bringing in young people with fresh ideas and a different approach to issues. Doing things differently allows us to be more creative and innovative."
Does a lab that handles such a variety of criminal research resemble the CSI labs you see on TV?
No, those are usually forensics labs. The Criminal Justice Research lab looks like a typical office environment, with a few computers armed with software for data analysis, and desks. While the television show has flashy experiments and dramatic lab set-ups, MR's lab's strengths are not visible to the naked eye.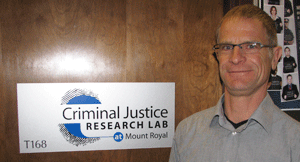 MR criminologist, John Winterdyk, PhD, is heading up Alberta's first independent crime lab.
The lab is designed to deal with highly sensitive data because of key security measures.
A security camera oversees activity in the room, an alarm will sound if the door to the lab is opened too long, the computer servers have an exclusive line dedicated solely to lab use and there are limited passwords and identifiers allowed for use in the lab.
"There are a couple of projects where the Federal government has expressed an interest in working with us because they know their data will be held in confidence," adds Winterdyk.
The lab allows Mount Royal to continue to benefit the community in fresh and innovative ways. It also gives MR an opportunity to develop and analyze studies about criminal activity while creating additional opportunities to work with NGOs, provincial and federal groups. In turn, the faculty and students who work in the lab are able to bring their experiences back in the classroom to further their learning experience.
"If I reflect back to when I was a student...I was just thrilled with the opportunity of learning more about what was really being done," says Winterdyk. "I was more intrigued by the opportunity of learning something from people who were actively engaged in something that is current."
- Candace Defreitas, June 11, 2009
Forensic Research Network granted $40,000

A number of faculty members at Mount Royal share an interest in research on violence prevention and/or intervention.

Many of those faculty members are also involved in community service, working with victims or offenders.

To help facilitate improved information sharing and utilization of tools and research already conducted, they have formed a network of researchers and community partners called the Forensic Research Network.

The purpose of the network is to provide communication regarding research (completed or in progress), information regarding funding or partnership opportunities and potential for collaboration.

The Forensic Research Network was recently granted $40,000 in funding from the Alberta Association of Colleges and Technical Institutes (AACTI). Matching resources were committed from Mount Royal.

The intent of the funding is to facilitate further development of members' research programs to make FRN more competitive for external funding. The funding will be used to hire research support staff (including students) for the 2009-2010 academic year to help members with their research and publication.

The Forensic Research Network currently has members from Advanced Specialty Health, Justice Studies, Nursing, Social Work, Counselling, EnCana Wellness Centre and Child/Youth Studies. External members include HomeFront Calgary, Dr. Leslie Tutty (Resolve/U of C), Making a Difference Canada, Calgary Sexual Assault Response Team, Edmonton Sexual Assault Response Team, and Alberta Mental Health.

Examples of topics include domestic violence treatment effectiveness, dating violence recognition and prevention, risks for sexual assault injuries, health care needs of sexually assaulted victims, sexual assault convictions and impact of injuries on jury decisions, and post-traumatic stress disorders.

The group continues to grow and welcome new members. If interested, please contact Cathy Carter-Snell in the Forensic Studies Program (Advanced Specialty Health Studies) at 6679.