Welcome to Face Time, I'll be your editor
Mount Royal's engine may be education, but it's fuelled by the people who breathe life into this campus.
From Julio, who is studying in his last year of Supply Chain Management, to Dennis, who keeps the classrooms and offices looking fresh with a new coat of paint, to Karla, who is pushing Cougars athletics to new heights, to Indy who makes such an effort to remember everyone's name. It's the faces, the characters and the hearts of everyone here that make Mount Royal more than a school.
The Mount Royal experience is summed up in the Face to Face brand, and that brand concept is what lies behind the creation of this new staff and faculty publication called
Face Time
, which has been developed by the combined efforts of Information Technology Services and External Relations.
And that's the main reason I'm excited to be filling in for Internal Publications Editor, Tara Merrin, over the next year during her maternity leave.
Allow me to introduce this new publication and myself.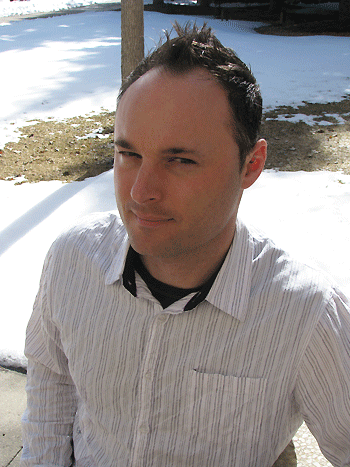 Steven Noble will be filling in for Tara Merrin as Mount Royal Internal Publications Editor over the next year.
While I'm new to the Mount Royal environment, I have six years post-secondary experience as a student at the University of Toronto and Ryerson University. Over the last few years, I've written for the
Calgary Heral
d,
The Hockey News
and the
Calgary Sun
, which was my last post before joining the team here in ER.
These are interesting times to be a part of the Mount Royal community with so many positive changes ongoing and I trust
Face Time
will be one of many new facets of campus life you'll come to embrace.
Face Time
, which is replacing
Mount Royal This Week
, is designed to be a more interactive, eye-catching and personalized publication that connects faculty and staff around the campus. With the new format we are also exploring the possibilities of offering video, pod-casting, and social media, among other ideas. So stay tuned as we try to bring different possibilities online.
Each Thursday you will receive an e-mail confirming that
Face Time
has new feature stories and news items to catch up on. Unlike
MRTW
,
Face Time
has the potential to be updated on the fly so we encourage you to bookmark the link and check in regularly for updated Event Listings, Campus Community notices or breaking news stories.
We encourage you to make
Face Time
yours. Use it as a tool to help promote your faculty and department, your work and achievement ,and inform your colleagues what's going on around campus. If you have a completed story, story idea or a notice you'd like published, you'll see a link to our submission forms and guidelines along the left hand side of the page. Please read the submission guidelines, and if your idea or story fits the criteria, we'll try to run it for you.
As we move along, feel free to let us know what you think. We hope you enjoy and make use of
Face Time
.
See you around campus,
Steven Noble
Mount Royal Internal Publications Editor
snoble@mtroyal.ca
5692