Kicking the New Year's Resolution Curse
Year after year, come January, there is a flood of people that pass through Recreation's turnstiles. It's that time - everyone is looking for a fresh start and a clean slate. Time to tackle the resolution at the top of many people's list - getting fit. But when February rolls around, we begin to see motivation diminish, and the number of people working out in the facility slowly declines.

Getting over the hurdle

Why is repeating the mantra "just do it" over and over again in our minds seemingly just not enough motivation? Well, it's not an easy task to start an entire fitness routine! Luckily, Recreation has a team of qualified and professional personal trainers that can make it easier to finally prioritize your health and wellbeing.

Recreation's personal trainers will help you set achievable, realistic goals and set a clear action plan that fits your lifestyle, ultimately making you a stronger individual. Whether you're looking for a speedy recovery from an injury, aiming at living a healthier, pain-free lifestyle, motivated to look or feel better, or you're after improving your current fitness level, there are many personal training options that can help you achieve your goals.

Employee Options

Grab a friend - A group personal training package is a great option if you need that extra boost to stay on track and remain accountable. You're less likely to cancel if you've got a friend relying on you to be there - and you can save money too!
MRU staff member, Jane O'Connor, had been participating in group fitness classes at Recreation for many years and decided to try personal-training sessions to keep active during the breaks between semesters.

"It's geared toward what you want to improve and what you want to work on," says O'Connor. "The fitness centre has enabled me to meet new people. I actually met Aileen [Smyth] and started working out with her here at Rec."

Similarly, MRU faculty member, Genevieve Currie, started working out individually with Recreation's personal trainer, Tara McKay, during the semester breaks and later joined O'Connor and Smyth's group and now enjoys it more than individual training because of the social aspect.

"We love personal training with a group because we push one another, tease one another and compete with one another. We feel better when we're active," says Jane O'Connor (MRU staff), Aileen Smyth (MRU staff) and Genevieve Currie (MRU faculty).

Although personal training is challenging, it shouldn't be an excruciating experience.

"…When we do the group sessions, we laugh, the time goes by really quickly, we have a lot of fun," says O'Connor.
That resolution is starting to sound a bit more achievable, now isn't it?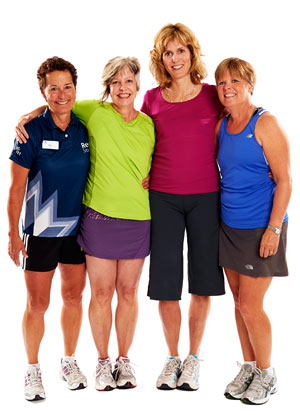 For more information on personal training options and what's new at Recreation this year, please visit Recreation online, follow Recreation on Facebook, contact the Customer Service Centre at 403.440.6517 or drop by U130.

Be sure to check out the personal training video on YouTube!

Tips on staying healthy this new year from Mount Royal Recreation

Have fun!
Working out should be enjoyable. Your personal trainer is there to push you a little bit, but not intimidate. During your initial consultation, talk with your trainer about activities you enjoy, your schedule and exercises you don't particularly like. This way, he or she can devise a routine you'll love. Another key factor to having fun is variation. Incorporating other elements of fitness besides cardio will increase the likelihood of faster and more efficient weight loss.

Communication is the key to success
As with any relationship, communication is vital when it comes to a healthy and happy experience. We recommend giving your trainer feedback about how you are or aren't liking the exercises, what is or isn't working and anything else that's on your mind. Most often, your trainer will check in with you before and after the workout. So use the opportunity to talk! You know your body better than anyone else, so speak up at each session and your experience will be that much more enjoyable and exciting.

If you don't have a trainer, you can still stay motivated
On those mornings when you just can't get yourself out of bed, it'd be pretty nice to have a trainer waiting for you at the gym. But you don't need a trainer if you know how to find motivation elsewhere. Having a workout partner is a great motivator, set a time to meet and you will not want to let each other down. Also choose a fun workout so you'll look forward to it. And perhaps most important, be consistent. If you exercise on the same days every week, not only can you schedule around your workout, but you may be more likely not to miss it.

You're probably not getting enough sleep
Lack of sleep causes a decrease in energy and motivation to accomplish both short - and long -term goals. Not only are proper sleeping habits important for you mentally, but you need to rest your muscles to properly recover from each workout. Adjust your sleep schedule and get both quality sleep and a decent quantity of sleep. You will notice the difference in your overall performance, and your muscles will thank you too.

The word "Carbs" is a misnomer for dieting
If you are taking all carbs out of your diet, you are depriving yourself of one of the four necessary nutrients for your body, as well as vital B complex vitamins and critical fiber. Complex carbs contain valuable nutrients responsible for energy production. Cut out the simple processed carbs like cookies or crackers, and replace with plenty of whole grains, oatmeal, or brown rice.

Lauren Barrie, Assistant Marketing & Communications Coordinator, Recreation - Jan. 16, 2014