MRU continues to train South Korean government officials who will be a part of the 2018 PyeongChang Olympic and Paralympic Winter Games

Once again this year, the Office of International Education at Mount Royal University welcomed participants on the Global Leaders Program, a training program initiated by Gangwon Province in South Korea to train provincial government officials who will be a part of the 2018 PyeongChang Olympic and Paralympic Winter Games.
From September 3 to October 1, 14 employees from Gangwon Province worked on improving their English through classes with the Languages Institute. Additionally, they were able to enhance their understanding of the organization of large scale events like the Olympics and community development initiatives through a variety of field research programs.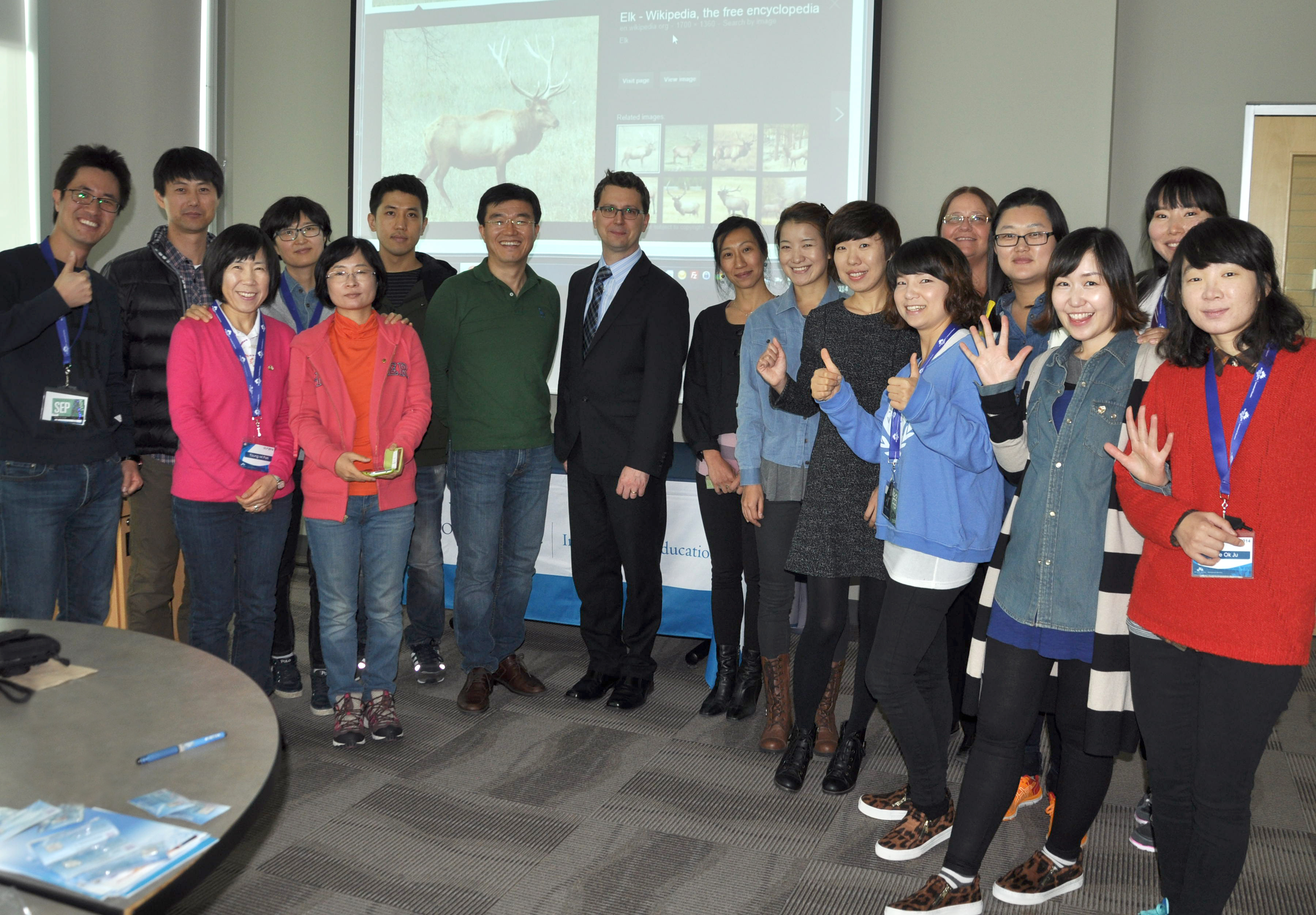 Global Leader Program participants meet with Dana Mackie, Executive Director, North Asia at Government of Alberta, International and Intergovernmental Relations
This year's arrival of Global Leaders Program participants was particularly special. The group was originally scheduled to visit June to July, but due to the sinking of the MV Sewol ferry earlier in the year, South Korea entered a period of national mourning, and the Korean government restricted overseas travel, including language study, for all public officials. It was very welcome news, all around, to find out in late August that the Global Leaders Program would still go ahead, just a couple of months behind schedule.
40th anniversary of sister province relationship
This year's visit is also noteworthy because 2014 marks the 40th anniversary of the sister province relationship between Gangwon Province and Alberta. Alberta-Gangwon cooperation began in the 1970s with a joint beef ranching demonstration. The sister agreement was first signed on September 3, 1974, and then re-affirmed on June 8, 2004. Most activities have involved education, culture and sport exchanges, but have also expanded into research, science and technology and business relations.
"It is so impressive," says Global Leaders Program participant, Bo Ram Lee, "that Alberta and Gangwon province have this long-standing relationship, which is so important in today's global times to help make connections and build strong relations across countries. I feel so fortunate to be part of the celebration."
Global Leaders participant, Jong Soo Park hopes that participation in the program will help him obtain a position during the 2018 Winter Olympics.
"It has always been a dream of mine to work as a host, guide or translator at an Olympic Games, and here is my chance," says Park. "The language skills I have gained at Mount Royal and the community development projects I have learned about in Calgary will be invaluable when working at the 2018 Winter Olympics."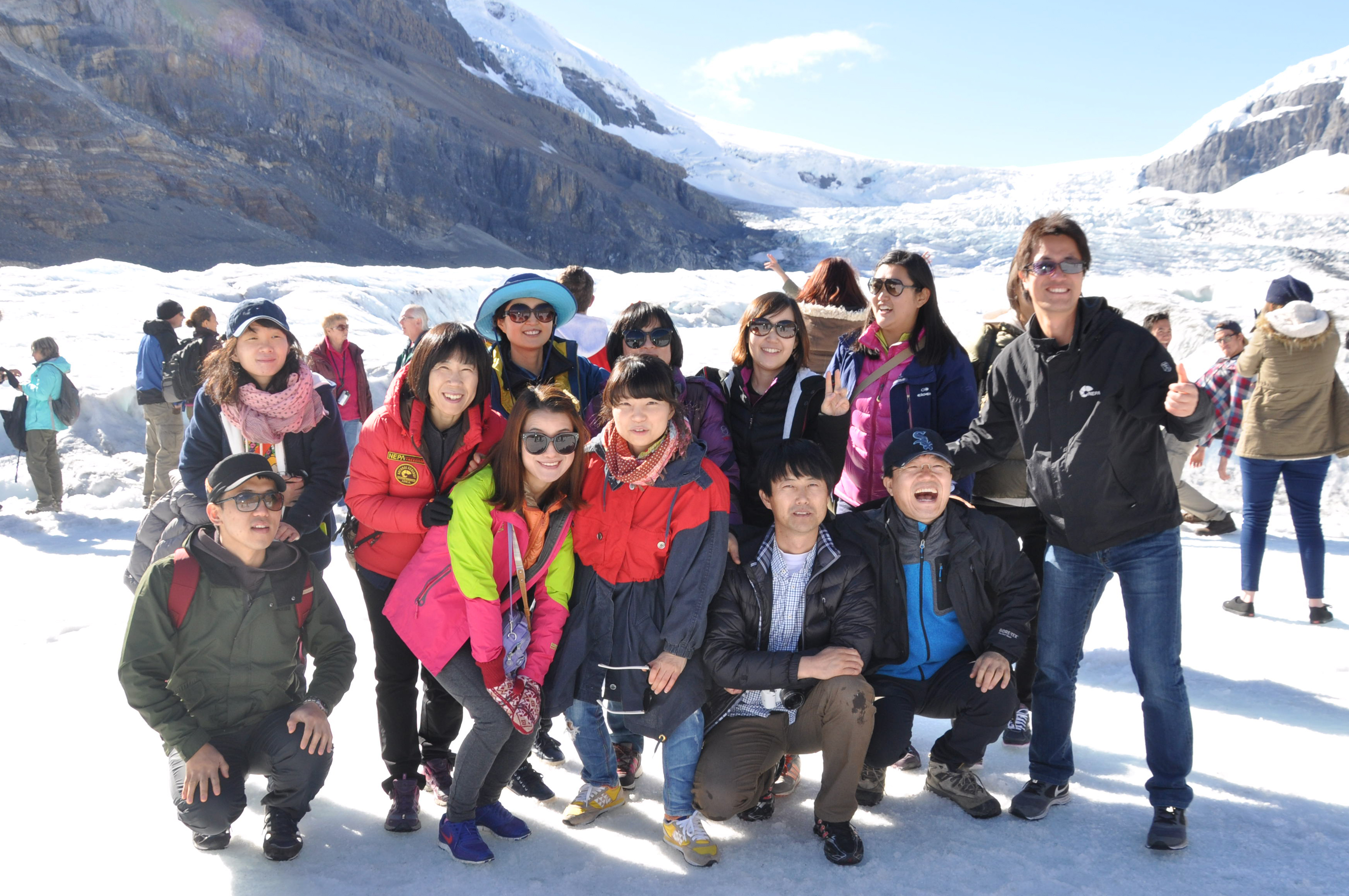 Program participants enjoying a visit to the Columbia Icefields
While studying English, participating in cultural activities and living in the Mount Royal residences, Global Leaders Program participants had many opportunities to make international connections with other students and practice their English.
"I am so thankful for this opportunity to build on my language skills and gain cultural exposure," says Boo Ram Lee. "Now, I will have to challenge myself to continue my English language study upon my return to Korea."
Field research
In addition to making international friendships, the group had an opportunity to network with local dignitaries and tour various Calgary attractions through the field research component of the program. Students were divided into three groups to explore the areas of Public Policy and Service, Sustainability of Olympic Venues and Legacy, and the Public Education System.
Highlights included tours of the Calgary Drop-in and Rehabilitation Centre, City Hall, the University of Calgary Olympic Oval, Canada Olympic Park, the Canmore Nordic Centre and site visits to Connect Charter School and Glenbrook School.
Students also met with and attended presentations by Dana Mackie (Executive Director, North Asia at Government of Alberta, International and Intergovernmental Relations), Teresa Woo-Paw (Associate Minister of Asia Pacific Relations), David Legg (Mount Royal professor and member of the International Paralympics Organizing Committee) and Jodi Nickel (Associate Professor and Chair, Mount Royal's Department of Education and Schooling).
What impressed participants the most through their research project work was Canadians' project passion, dedication and long-term sustainability perspective.
"Calgary's Drop-In Centre visit was so impressive," affirms Lee. "Seeing the passion and dedication of the centre's workers and their efforts to not only provide a warm meal and a bed for the night to clients, but to work towards long-term solutions to their rehabilitation was inspiring."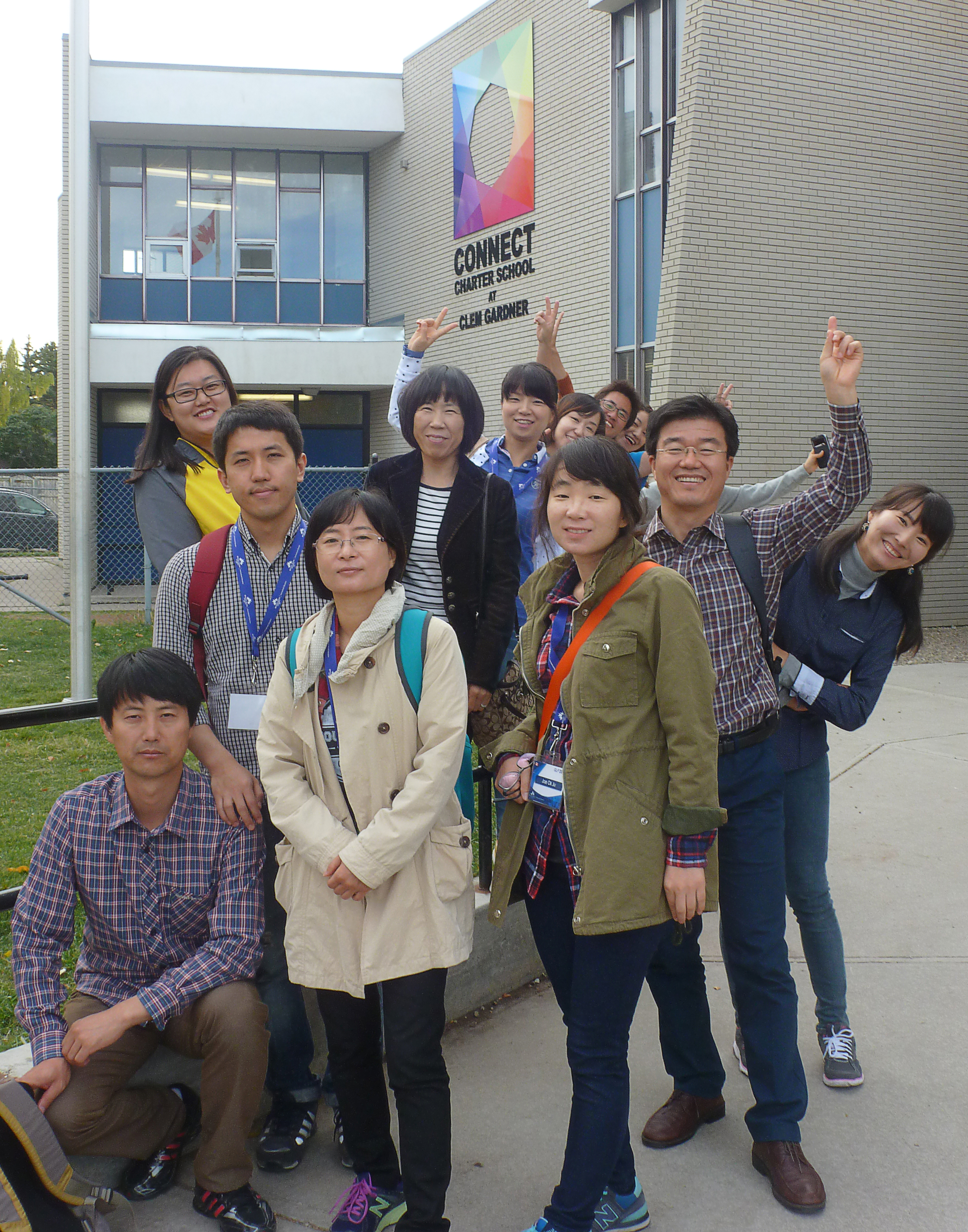 Global Leader Participants gather outside for visit to Connect Charter School
Park and Lee were equally impressed with how the Canada Olympic Park continues to expand on facilities built for the 1988 Winter Olympic Games in Calgary and the continued active sustainability of those facilities.
"These are excellent examples that we will be able to take back to Korea with us and share with our colleagues," says Park.
In early December, the 2014 Global Leaders Program came to a close back in South Korea. Participants found the program to be so valuable and successful that organizers are contemplating expanding the international component of the program from one month to three months abroad in future.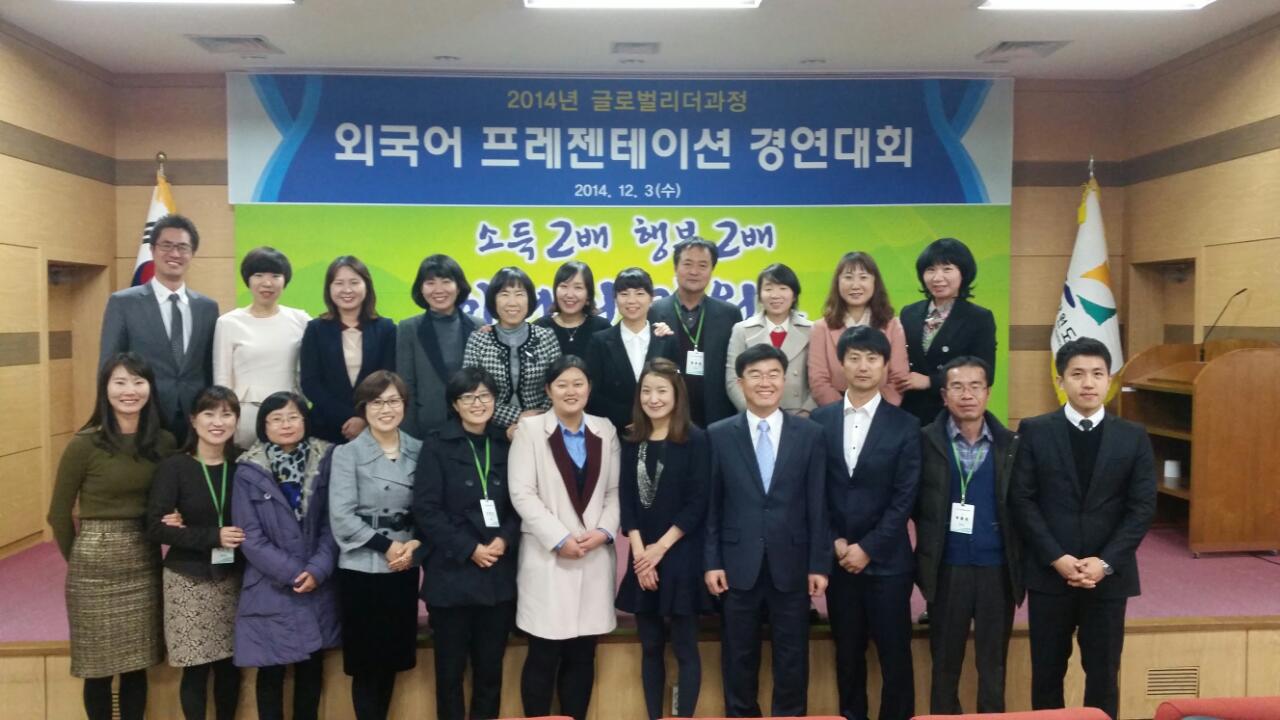 Graduation day for 2014 Global Leaders program participants
Background
In late April 2012, Alberta Innovation and Advanced Education invited all post-secondary ESL providers in Alberta to bid on a training contract to enhance the English language capacity of government employees in Gangwon Province, South Korea. As Alberta and Gangwon Province are sister provinces, the Department of Alberta Intergovernmental Affairs and International Relations and the Human Resources Development Center of Gangwon Province worked together to prepare the bid.
Mount Royal University's Office of International Education placed a successful bid on the program and welcomed the first participants in the Global Leaders Program pilot project on July 2, 2012. The program is expected to continue until 2017.
-Marisa Norona, September 30, 2014