Mount Royal's Annual International Education Days a Success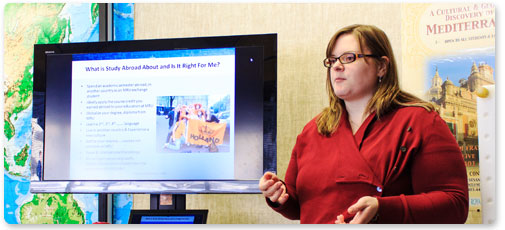 Mount Royal University's annual International Education Days brought richness, diversity and multiculturalism to our campus. International Education Days is a two-day event that raises awareness about international education opportunities. As part of the study abroad component of the event, panels from different countries are set up on Main Street so students can learn about international education, studying abroad and new cultures.
International Education Days started early this year, beginning Sept.18.This was a one-day study abroad fair that provided information on international exchange. The official International Education Days were held during International Education Week on Nov.14 and Nov.15 from 10 a.m. to 2 p.m. on Main Street.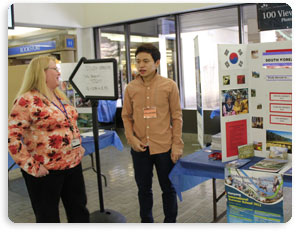 International Education has partners in 23 different countries that offer international exchange opportunities. In addition, there are three different countries that are offering upcoming field schools. During the two-day, event the study abroad fair provides information about international education opportunities for students, including field schools. In addition to the panels, a representative from the Japan Exchange and Teaching programme (through the Japanese Consulate) set up a booth to provide information about opportunities they have for students.
There were also information sessions held during International Education Days. The information sessions are open to all students. Kelly Hogland, a coordinator with International Education and International Education Days committee member, said, "For exchange students, information sessions are mandatory." This gives students who may be interested in international exchange a chance to ask questions, to talk to other students who have studied abroad and to get useful information.
During the event, Good Earth once again provided complimentary fair trade, organic coffee to students, staff and faculty on Main Street from 10 a.m. to 11 a.m. Leigh-Ann Duke, a coordinator with International Education, said, "On Nov 14. they had run out of coffee before 11 a.m. Good Earth decided to bring a new container of coffee and ended up serving until 11:30 a.m., a half hour after plan. That was really nice."
The event also displayed photographs from the third annual "100 Views of the World" photo contest. Voting was available during International Education Days. The top 10 photographs were chosen by popular vote online. From there, the top three photographs were selected by a judging panel and received a gift card each to Chinook Centre. The top ten are displayed on the 3rd floor of the EB building at Mount Royal near the Office of International Education.
Sodexo also provided complimentary food tasting during the event. On Nov. 14, they served butter chicken and on Nov. 15 they served couscous with spanakopita and samosas. In addition to the food tasting, the Cultural Mosaic Centre also had a "world trivia challenge" booth and a volunteer participated in cultural demonstrations by singing in both Cantonese and Mandarin.
International Education Days was a success and the committee is already planning for next year. Leigh-Ann said, "The committee is always looking for ways to improve the event." This brings awareness to opportunities through the Office International Education and ensures International Education Days is a successful venture that remains an active and exciting event at Mount Royal University.

-Article by Sarah Whiteley and photos by Jocelyn Doll, November 2012