Community Service Learning (CSL) Citation Designation for India Field School Course
First established in 2012, the India Field School was created and is led by Social Work Professor, Yasmin Dean and Professor of Journalism, Terry Field. The Field School seeks to increase intercultural communication skills and educate students on the importance of international community development.
Participating students are enrolled in two Mount Royal credit courses: Communications (COMM) 3501 ("Intercultural Communication - Dimensions of Social Cultural and Personal Development") and International Community development (INTS) 3331. In the 2013-2014 academic year, "International Community Development (INTS) 3331" received the Community Service Learning (CSL) Citation designation as a course that includes a high impact teaching practice and offers students the opportunity to make a positive impact in local and global communities through hands-on experience. The citation is recorded as a co-curriculum record in the student transcript as a recognition of student engagement in community service.
Experiential Learning
This year, students in Journalism, Social Work, Public Relations and the Faculty of Arts participated in the Field School. As part of the two courses, students spent 21 days in India. One week was spent participating in a seven-day cultural program at MRU partner institution, Lovely Professional University, located in Jalandhar, one week in New Dehli to learn about its history, and one week at the Sri Ram Ashram, a home for over 65 abandoned and orphaned children located just outside of the Hindu holy city of Haridwar. Established in 1984, this non-profit organization is dedicated to providing a stable, loving family atmosphere to abandoned or neglected children. The children are raised to honour their culture and become contributing members of Indian society.
During their one week visit to the Ashram, Mount Royal students engaged in a variety of experiential learning projects. Each student completed a small group project, chosen prior to arriving in India, on the lives of the children and staff at the Ashram and documented their own reactions to Indian culture.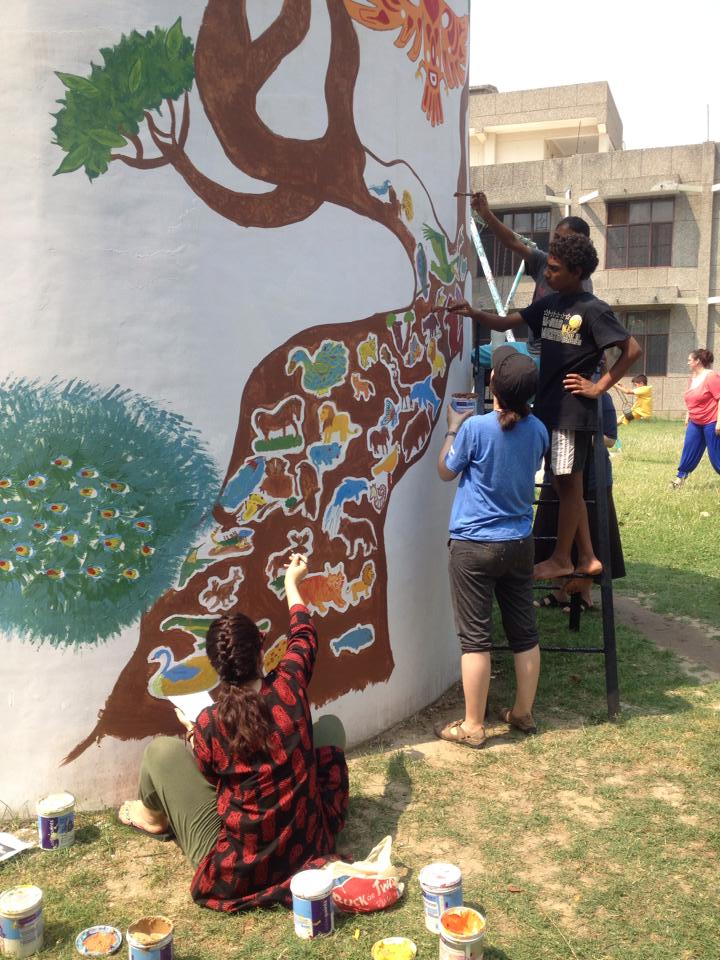 MRU students work with Ashram children to complete mural project
Students Janay Foulkes and Melanie Angulo's project was the continuance of a mural on the Ashram grounds, a project which began with the first MRU Field School to India in 2012. Their portion of the mural project included an activity in which children and young adults from the Ashram chose an animal to represent themselves within their family and drew it on the mural inside of a large painted Bayan tree. The girls finished the mural by adding an eagle. As a symbol of Canada, the eagle was chosen to demonstrate a connection between Canada's and India's history of indigenous people.
"It was perfect," explains Foulkes, "our Canadian cultural representation mixed in to symbolize all of us, our stories, our lives, our connections and coming together!"
Personal and Academic Growth for Students
"Experiential learning through Field Schools is one of the best opportunities we can offer a student," says MRU Professor Terry Field. "Field Schools give academic and personal value, teach resilience, cultural competencies, and is life changing!"
Curtis Dowhaniuk, who participated in the 2012 India Field School as a journalism student, returned for a second experience in 2014 as an independent program student to film a video on the field school. Both trips provided an opportunity for incredible personal growth for him.
"The trip has taught me to look at things from a broader lens than I had previously," explains Dowhaniuk. "I now have a deeper appreciation for our global community and a new found cultural sensitivity." Dowhaniuk's contributions to the 2014 Field School extended to the other participating students.
"He was an invaluable participant with his past experience and knowledge," explains Professor Yasmin Dean. "He could relate well to new experiences had by the other students and acted as a mentor to them."
Tanis Brown felt that the India Field School trip allowed her to face the challenges of intercultural communication first-hand, and helped her develop a strong sense of how to develop communities and immerse oneself within them by living through the challenges and successes experienced there.
"I simply couldn't have developed the depth of understanding of these concepts in a classroom or worked through the inevitable barriers that come with putting theory into practice without participating in this trip," Brown explains.
From an academic perspective, the experience taught third-year Journalism student, Donella Swan, so much that she feels she couldn't have possibly learned in the classroom. Practicing intercultural communication skills through daily interactions with the local people taught her the value of non-verbal communication and just how important it is as a part of communicating. She also realized the depth and richness of the Indian culture.
"The experience taught me that, as a journalist, if I do find myself reporting on international issues, I must keep an objective perspective and try not to see the issue only through the lens of my North American perspective," Swan affirms.
Benefits to the Ashram and its Residents
The Director of the Sri Ram Ashram, Rashmi Cole, extols the many benefits of the Mount Royal Field School visit to the children residing at the Ashram and to the organization. The visit is invaluable in creating connections, greater awareness and creating a global community of interest in Sri Ram Ashram, she believes.
The children, especially, benefit as their English improves, they feel loved and cared about, and they have fun with caring people. The older children take responsibility in preparing for and working with Mount Royal students, and they have the chance to express themselves through the many different projects.
"Our relationship with MRU has been one of the best and most pleasant surprises we have ever had," explains Cole. "MRU students come well prepared with well thought-out donations and projects that are extremely beneficial to the Sri Ram Ashram. They come ready to interact and give the human touch. The visit lays the groundwork for future and present miracles to happen and we are so very grateful for MRU's participation."
Continuance of Learning via Presentations and Research Projects
Even after this year's Field School came to a close, students continued to research and share their learning experiences with others .Upon their return to Calgary, students shared their work at a student- led showcase on campus for the Mount Royal community, family and friends. Each presentation shared what the students had gained from their experience and demonstrated the personal connections forged.
In July, three India Field School students presented their projects at the Joint World Conference on Social Work, Education and Social Development in Melbourne, Australia. Donna Smith presented her research work which explored the meaning of identity with children at the Sri Ram Ashram, Katie Paquin presented her project on the definition of family at the Ashram, and Jocelyn Doll, a journalism student on the 2012 India Field School, shared her perspective of travelling in India with a group of social work students.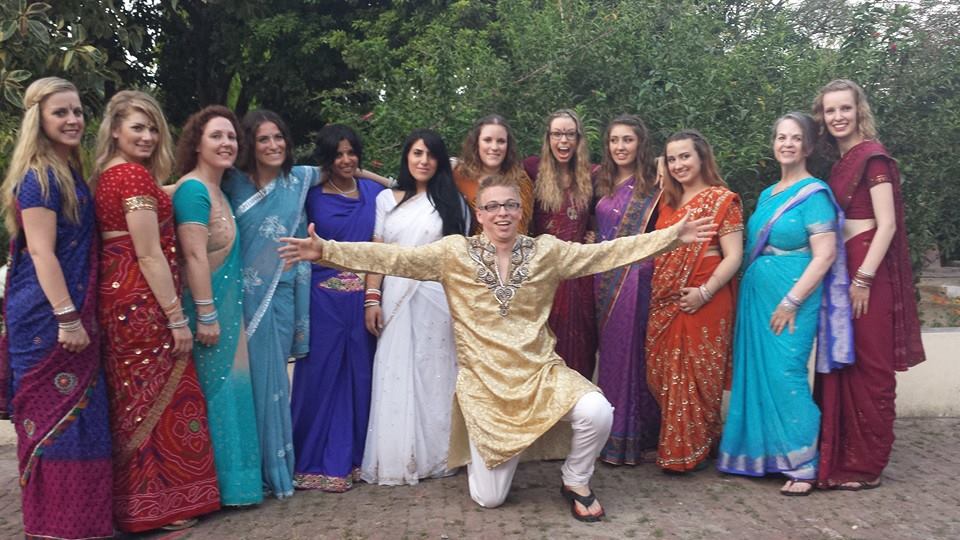 Mount Royal students with Professor Yasmin Dean (fifth from left) at the Ashram wearing traditional Indian clothing
Professor Terry Field hopes that more faculty members will learn about the value of field schools and incorporate them into their teaching curriculum.
"The value of Field Schools is off the charts," says Field. "It's important to highlight how valuable these programs are so that MRU continues to support such opportunities in the future."
This year's Field School students were also pleased and honoured to learn that they had each received the Campus Alberta Grant for International Learning (CAGFIL) funded by Alberta's Ministry of Advanced Education and Technology (AIAE) to help fund their travel to India. This scholarship supports innovative faculty-led Field School initiatives that create opportunities for Albertans in all areas of study.
India 2016
The next Field School to India will run in the spring 2016 semester. To support the Field School and find out about fundraising, educational seminars and research projects the students are working on, join the MRU India Field School Facebook Page.
Marisa Norona, July 28, 2014