Educational crime fighter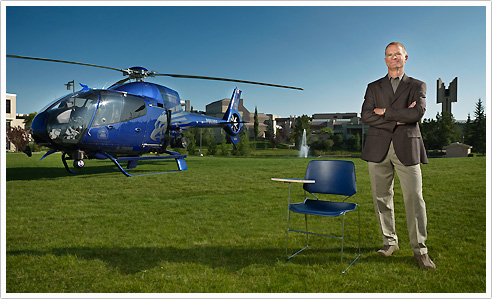 He may not wear a cape and tights, but Associate Professor John Winterdyk's work helps keep law-abiding citizens safe by shedding light on crime. His superpowers ? Conducting leading-edge research and teaching future criminal justice practitioners how they might approach their respective career choices.
"The study of criminal justice has real-life applications," says Winterdyk. "It's opening a window of opportunity for students, which allows them to realize they can have an actual impact as a police or parole officer."
Building and maintaining safe and secure environments is a primary goal of criminal justice.
Winterdyk, who is chair of the Justice Studies Department, continually adds to his already wide knowledge of anti-social behaviour through research, including some cutting-edge projects he's currently undertaking.
Inspiring change
He's also passionate about teaching.
"I enjoy teaching because of the opportunity to share and encourage students to explore socially relevant issues," says Winterdyk. "Mount Royal's environment allows for a more intimate interaction with students and the opportunity to work with them so they feel valued."
Criminal Justice students aren't just sitting in classes getting book knowledge. "We're living criminal justice," Winterdyk says. "This area has real-life applications which I've always tried to get involved with. Our research and studies are allowing students to feel they can have an actual impact when they enter into the criminal justice system."
One of the ways students are getting a taste of that impact is via Mount Royal's new Criminal Justice Lab, which was launched in June 2009.
The lab is a secure collection area for sensitive criminal justice related information on criminal activity. It acts as a vehicle for conducting research on a wide range of criminal or social justice themes.
Global experience
Winterdyk is currently involved in a large international study of punishment and fear of crime which involves more than 14 countries. Some 150 university and college students in each country will be surveyed on their attitude towards punishment and crime levels with the goal of gauging values, beliefs and future direction for policy recommendations.
He's also undertaking a study of death in Canadian custody along with colleagues at Queen's University in Ontario. This study follows up findings by the Ombudsman's office of Corrections Canada which identified significant gaps in the handling of high-risk offenders in custody. Funding is being sought so Mount Royal students can be hired as research assistants.
"There are numerous myths about crime that I enjoy examining and challenging so that we can better inform policy," Winterdyk says. "Sharing my interests and curiosity, and those of my colleagues, with students can be fun and exciting."
The only way to make the world a better place, Winterdyk believes, is to learn about the past, then test what you're learning in the real world. Students in the Criminal Justice program can do just this - with or without the cape.
- October 2009