JMH LaunchPad 2017 gives go-ahead for lift off
Competition results
| | |
| --- | --- |
| | |
| Ormhel Manuel of Listedmotors.ca presents his brainchild at the JMH LaunchPad 2017. | |
On April 5, the fifth rendition of JMH LaunchPad provided a boost to five entrepreneurial endeavours that got their start on campus. The evening was a smashing success with a total of $75,000 in cash and services being handed out to this year's competitors.
One of the groups that presented - Listedmotors.ca - was recognized by three generous donors: JMH & Co., LaBarge Weinstein and the Busy Foundation. Listedmotors.ca was created by Ormhel Manuel and Abby Mejia, and connects those looking to exchange vehicles in Calgary. The pair sees the night's presentation as a stepping stone for expansion.
"It means we can grow, and we grow fast, which is what we wanted," says Megia.

With plans to expand quickly into the Vancouver market, the news could not have come at a better time.

"We just really want people to know there is a better solution, you don't necessarily have to deal with the Kijjis and dealerships," says Manuel. "Any inspiring entrepreneurs, keep reiterating, reach out to your mentors, reach out to any resource you have because there is definitely a world of knowledge out there for you to tap into."

Listedmotors.ca received:
$10,000 in legal services from LaBarge Weinstein
$10,000 cash from the Busy Foundation
$10,000 cash from JMH & Co.
More results ...
Solidariteas
$10,000 cash from JMH & Co.
$5,000 in branding services from Trout + Taylor
$2,500 in cash from the Institutes for Community prosperity and Environmental Sustainability
Barrow Expresso
$5,000 in cash from the Busy Foundation
$5,000 in cash JMH & Co.
Unravelled
$10,000 in cash from JMH & Co.
BeMuse
$2,500 in cash from the Institutes for Community prosperity and Environmental Sustainability
$2,500 in cash from JMH & Co.
NineTen
$2,500 in cash from JMH & Co.
Mount Royal University is home to more than a few well-known entrepreneurs. The campus is a virtual breeding ground for a multitude of successful start-ups, exciting ventures and innovative business ideas. You don't have to look too hard to find a wide array of success stories related to Mount Royal students graduates trying their hand in the entrepreneurial game. TLink Golf,GNS3,Turtle Valley Bison,Green Cup and Smoke Barrel are just a few.
On April 5 the best and brightest of Mount Royal's present day entrepreneurial community wowed onlookers with their pitches at this year's JMH: LaunchPad: 2017.
This year's competition was packed with superb talent. Seven groups presented their business pitches in five minutes, which was followed by another five-minute Q&A period. The most promising demonstrators walked away with the lion's share of $70,000 in cash and services to take their venture to the next level.

The JMH LaunchPad program was created to help Mount Royal's most entrepreneurial students pursue their passion to start their own venture. Now in its fifth year of existence, the competition has grown substantially in terms of outside attendance and student participation.
"It's a platform to help students here on campus. It allows them to gain exposure and funding for their ventures," says Jennifer Richardson, entrepreneur development manager with the Institute for Innovation and Entrepreneurship.
Competitions like this aim to break down stereotypes related to what it means to be an entrepreneur. LaunchPad has enabled many participants to continue to work on their ventures after graduating in a supportive environment.
Ray DePaul, director of the Institute for Innovation and Entrepreneurship, deserves much of the credit for getting LauchPad off the ground. Previous winners have gone on to be named Calgary's Student Entrepreneur of the Year for the past three consecutive years running, with one being named Canada's Student Entrepreneur.
"Our students consistently stand out as the most entrepreneurial young minds in the city," says DePaul.
"I believe our success in fostering an entrepreneurial mindset among students is evidence of Mount Royal's commitment to personalized learning. When our students show the initiative and want to learn more, we are able to deliver more courses, more opportunities, more mentorship, and yes, more money."
For DePaul, LaunchPad is about taking great ideas and giving them a boost.
"Students always have great ideas, but LaunchPad provides an opportunity to actually turn those ideas into reality. Our students consistently tell us that the mentorship and funding that they receive to keep moving forward results in a transformative learning experience. That is what it's all about."
Mentorship and funding helped former LaucnhPad competitor Rudi Schiebel turn his venture, Turtle Valley Bison Company into a prosperous accomplishment.
"Launchpad was my first kick at pitching my business in front of investors and a crowd. The experience was an absolute highlight from my time at Mount Royal. I use it as a gauge from where I started to where I am now," says Schiebel.
Today his company attempts to set the bar by building a sustainable future, all while providing a product that is unparalleled in the meat industry. Turtle Valley Bison Company prides itself on challenging the status quo, and is viewed as unique in the agriculture industry. Schiebel and his business partner specialize in eco-friendly farming and utilize values adopted by the industry's leading farming experts.
"If you think you have a great business idea, just get out and share it. I might not have had the best pitch but the judges obviously could see the merit in my business model and in turn I won recognition and monetary support," says Schiebel.
The Alberta economy is no reason to put a hold on great ideas, say the experts.
"The downturn is enabling entrepreneurs to create their own opportunities for growth. Those who build their own businesses gain a lot of experience. They learn to fail and we believe that is a positive thing. They take on a lot of risk and that's something employees appreciate," says Richardson.
"Seeing gaps and turning them into opportunities helps our students distinguish themselves from the rest of the crowd."
---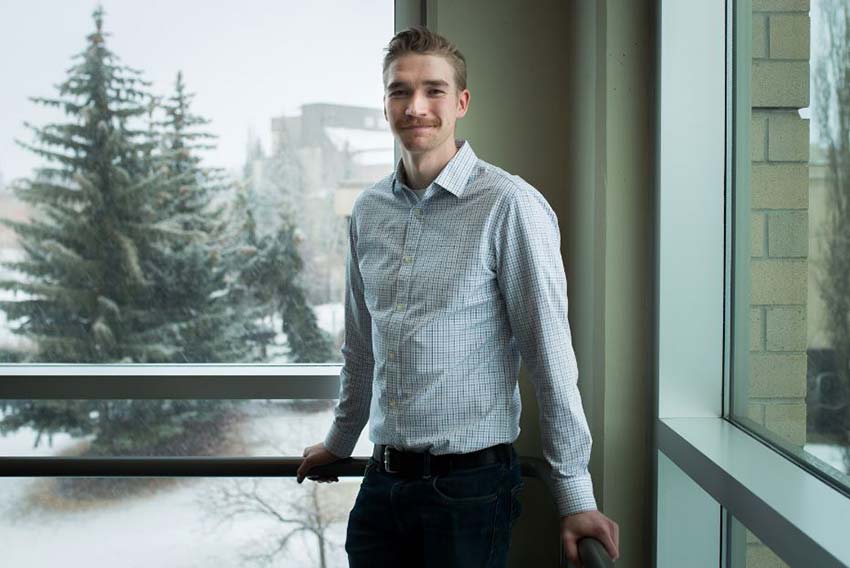 Nine Ten tracks employee's cycle commuting metrics via their phone's GPS. Organizations can access the data to reward, incentivize and celebrate participation, improving both corporate environmental responsibility and employee engagement.
---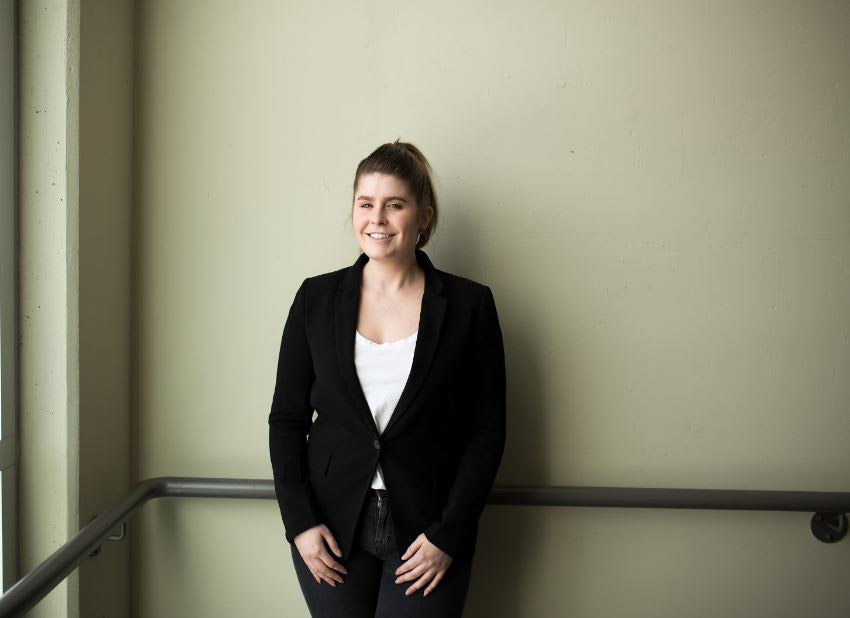 Ad Artis enhances businesses and homes with the rental and sale of high quality local artwork. The regular rotation of new pieces of art engages customers and employees, transforms any space, and provides a platform for up-and-coming artists to have their work showcased. Talia has 5 minutes to pitch, followed by 5 minutes of Q&A from the judges.
---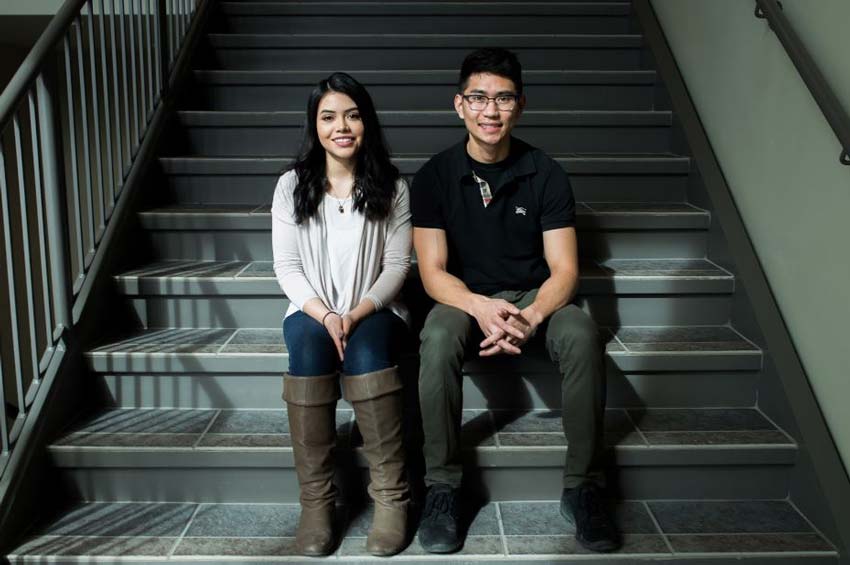 Listedmotors.ca connects trustworthy buyers and sellers of cars without the need for stepping foot inside a dealership or meeting a stranger on classifieds. Listed's 10-day money back guarantee, financing options, 200 point vehicle safety inspection, and secure financial transaction results in a positive experience and better prices for both buyer and seller.
---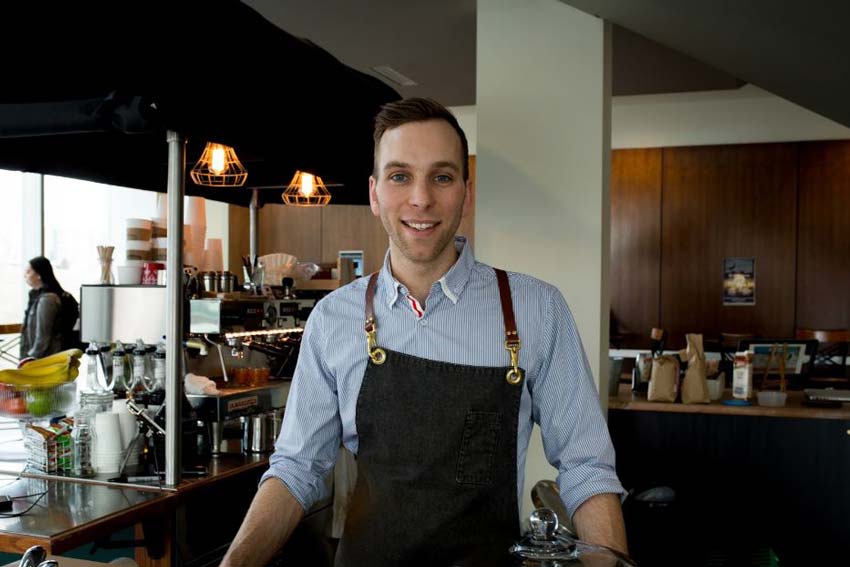 Barrow Espresso transforms high-traffic unused space into vibrant micro-cafés serving specialty coffee beverages along with grab-and-go food options. After a successful 8-month pilot in the Bissett School of Business, Barrow is taking their small footprint, low overhead concept to other spaces in the city.
---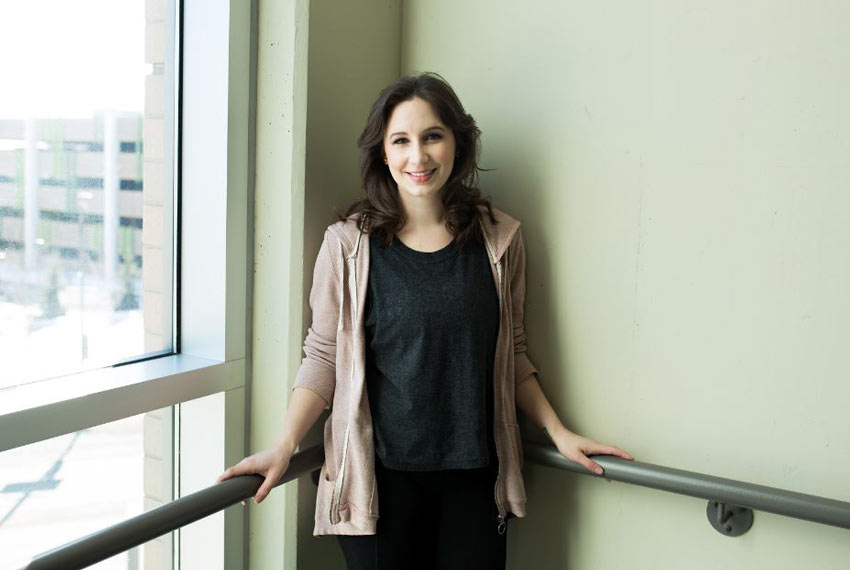 BeMuse is an online retail hub for high-quality, sustainably sourced and ethically manufactured apparel. By carrying brands that are doing their part to maintain the health of mother earth and our communities, BeMuse allows consumers to confidently purchase beautiful apparel without the fear that they are contributing to one of the most polluting industries in the world.
---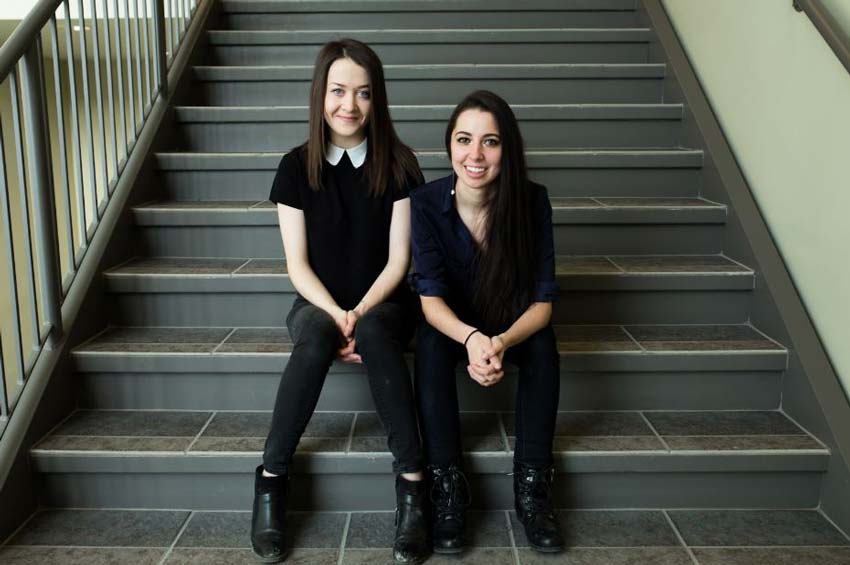 Solidariteas provides local consumers with the ability to support local social justice movements, simply by buying tea. Taking inspiration from Canada's reconciliation movement, $1.50 from each sale of the popular first flavour is donated to community programs that support and empower vulnerable Indigenous women through violence prevention and healing programs.
---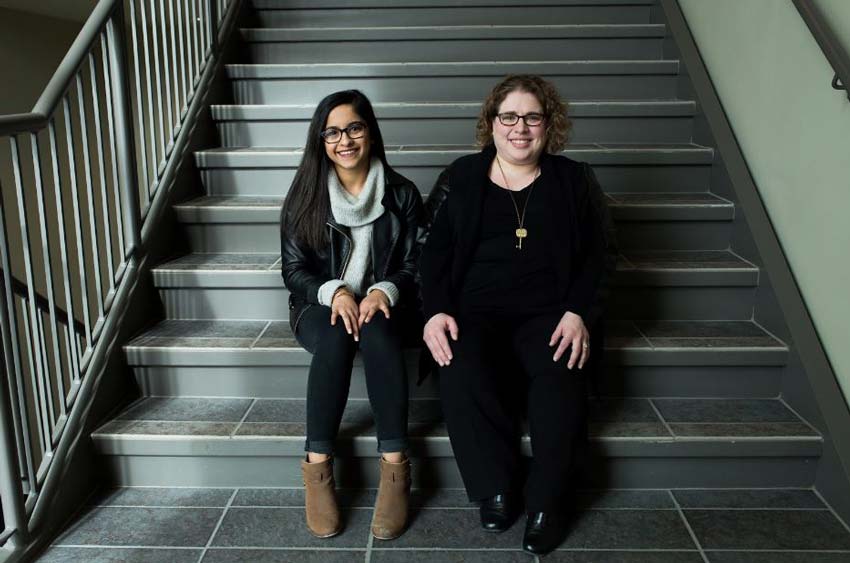 Unravelled is a zero-waste yarn company that transforms laundered corporate t-shirts into high quality, easy to use t-shirt yarn. Unravelled has created an in-demand craft product by tapping into a reliable and low-cost supply of t-shirts that are destined for the landfill.
---
LaunchPad success stories
Stephen Guppy was part of the first JMH LaunchPad Pitch Competition in 2013. He blew away the audience when he shared that his software application had been downloaded over 7 million times. No one was surprised when he walked away with $10,000. But what he proceeded to build with that money and mentorship over the next 3 years has been amazing. Surrounding himself with an incredible team, his company, GNS3, quickly become the world's biggest community of networking professionals - over 500,000 users from companies like AT&T, Google, Visa, Starbucks, GE and NASA. Stephen's exceptional strategic and sales skills ensured they could continue to self-fund the growing company. In 2016, Stephen capped off an amazing run with an attractive acquisition by a large US company, all before his 27th birthday.
Aislinn Taylor was part of the first JMH LaunchPad Pitch Competition in 2013. While at Mount Royal she balanced coursework, a marketing manager position for one of Calgary's hottest startups, EZ Robots, while also growing her own startup, Aisy Cakes. Following graduation, Aislinn leveraged her combined experience, launching Trout + Taylor, a branding company, with clients like Lululemon, Westjet, Anthropology and TD Bank. Trout + Taylor is a donor for the 2017 LaunchPad Pitch Competition.
Dustin Paisley is a connector, creator and community builder. While at Mount Royal he lead the Enactus team and was a 2014 winner of the JMH LaunchPad Pitch Competition. That first attempt at being an entrepreneur proved to be a wonderful learning experience for what lay ahead for Dustin. Following graduation, he left his mark on Mount Royal by laying the foundation for the future Social Innovation Hub at MRU. His skills and a vast network of admirers landed him a role as the Entrepreneurship Manager at ATB Financial, advising local startups and small businesses. Dustin continues to flex his entrepreneurial muscle as a founder at Calgary's hottest clothing company, Local Laundry Apparel.
Alistair Shipley spent his post-secondary years thriving in his entrepreneurship classes and paying for tuition by mastering sales door-to-door. He was a 2014 winner of the JMH LaunchPad Pitch Competition. Alistair's entrepreneurial mindset and impressive sales numbers landed him among the top must-hire list in Calgary. But after graduation, he took his new found experience to California to experience the thrilling life of working for a technology startup in Silicon Valley.
March 31, 2017 — Jonathan Anderson