Mount Royal Through the Eyes of Very Different Parts of the World
For the first time this semester, students from three very different parts of the world, the United Kingdom, Scandinavia and the Caribbean, were able to experience life as a student in Canada, Calgary and at Mount Royal University.
New Partnerships
After almost three years of discussions and site visits by senior administrators, Mount Royal University has established three exciting new partnerships in Scotland, Sweden and the Cayman Islands.
Derron Connor (right) makes new friends in first week at Mount Royal
This fall marked the arrival of 55 incoming exchange students, representing 20 countries, to Mount Royal. Six of these exchange students are here thanks to the brand new partnerships established with the University College of the Cayman Islands in Grand Cayman, Robert Gordon University in Aberdeen, Scotland and University West in Trollhättan, Sweden.
New Experiences
For Derron Connor and Reeva McLaughlin, the biggest adjustment, coming from the University College of the Cayman Islands (UCCI) to Mount Royal, has been the weather. They knew that it was going to feel very cold to them upon arrival, but were excited to experience snow for the first time.
"We went from wearing short pants and flip flops to having to think about winter coats, gloves, hats and boots." affirm both students. "The weather here has been quite a different experience for us."
The two exchange students from the Cayman Islands have found similarities in academics between the two universities, but also many differences. Derron, who studies computer science, finds the learning at Mount Royal to be more hands on, and to involve more technical work and networking. He has had to learn to use different software and understand different ways of coding in the classes he is taking.
Reeva, who is studying accounting, has faced challenges in having to learn different accounting principles at Mount Royal, but welcomes it, as she knows it will only help her gain more knowledge and perspectives. She loves all the different course options here and how teachers are so approachable.
"My teachers are so nice and easy to talk to," says Reeva, "and they ask us to call them by first name."
Wictor Dörrich's main motive for coming to Mount Royal from University West in Sweden was to challenge himself to do something big on his own. His goal is to better his bilingual skills as English is so useful in Sweden, and he hopes to work internationally one day.
Wictor has found Mount Royal to be at a higher academic pace, in terms of courses, mid-terms, the many projects and a heavily weighted final examination in comparison to his home university.
I have found it especially challenging," says Wictor, "getting used to the pace of courses, understanding my professors and the terminology they use in class."
But he says that coming on exchange as a third year student, as opposed to earlier in his academic studies, has helped him be able to handle this different academic rigour. He has noticed that his professors seem to enjoy having an exchange student in their classes to help add an international perspective to classroom discussions.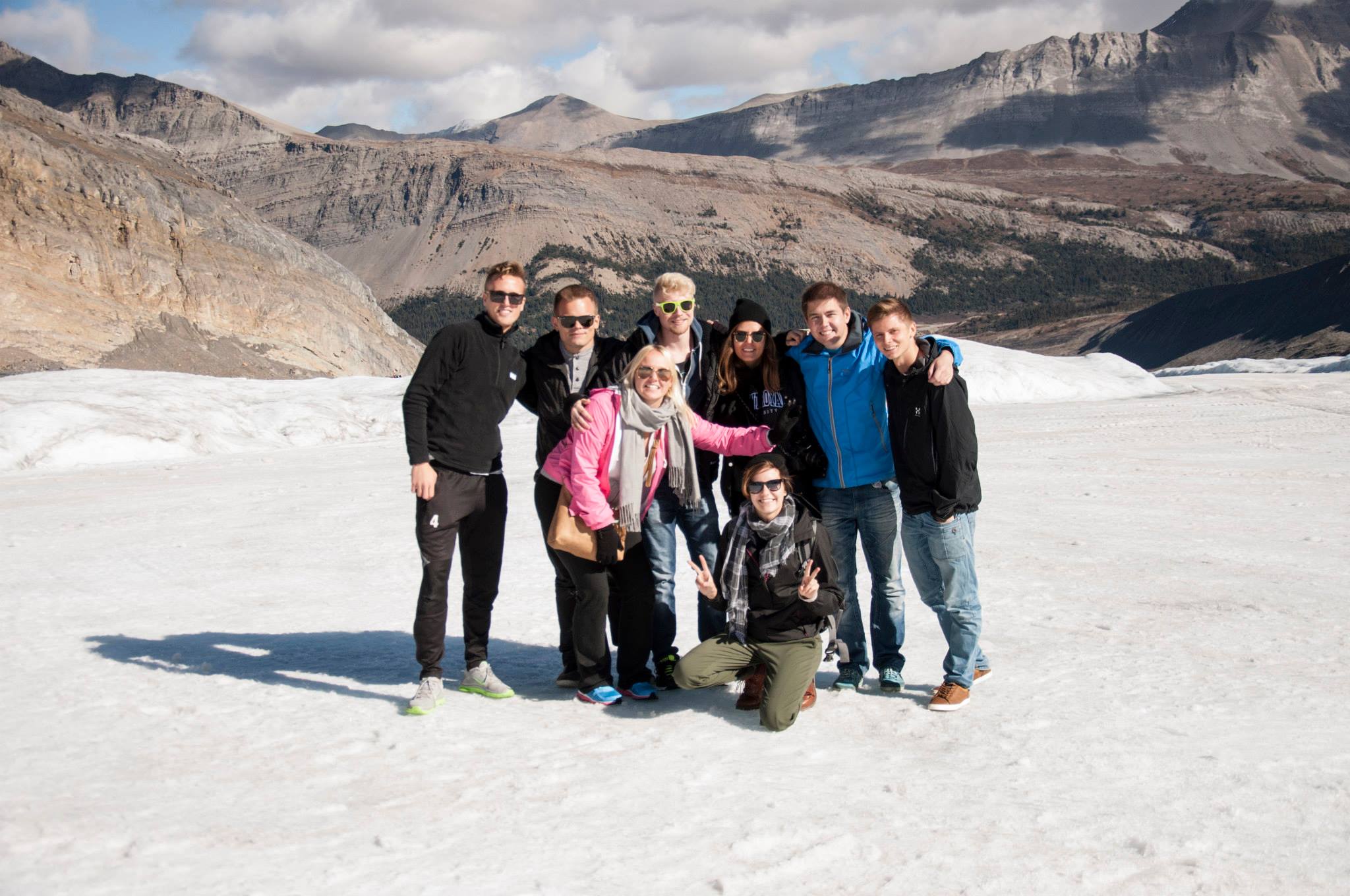 Incoming Exchange Students visit the Columbia Icefields
Nicole Schafei is gaining a doubly rich international experience during her exchange at Mount Royal this year. Originally from Germany, Nicole is already an international student at Robert Gordon University in Scotland, doing a journalism degree. She has signed up for a yearlong exchange at Mount Royal in order to get the most out of her international experience.
Nicole is enjoying the "real student experience" living on campus, and feels much more included in student life than she did living off campus in Scotland.
On the academic side, she has been very impressed with the many course choices available to her at Mount Royal.
"I love the cafeteria system of choosing courses here," says Nicole, "there is so much more course flexibility and options than I am used to."
She has also noticed that students seem to be much more team focused, and willing to help each other at Mount Royal than the more competitive nature among students to which she has been used.
All students enjoyed learning about Aboriginal Canadians during orientation week and have felt very supported by the International Education office upon arrival and as they settled into life at Mount Royal. They feel they have made many social connections and built new relationships with both Canadian and international students in class, by living in residence and through social events and excursions organized by the International Office.
Mount Royal Students Ready for New Experiences
As part of the bilateral agreement established with Mount Royal's new partners, Mount Royal students have the opportunity to now travel on exchange to these new partner institutions, as well. Two Mount Royal students will be heading to Robert Gordon University for the upcoming winter semester - Shelby Feldman, studying Public Relations, and Sara Guild, studying Business.
Since Public Relations at Mount Royal has quite strict course sequences, Shelby does not have a lot of course options to choose from in order to get full transfer credit while abroad. She chose an exchange at Robert Gordon University mainly because it offers classes that fit directly with her curriculum.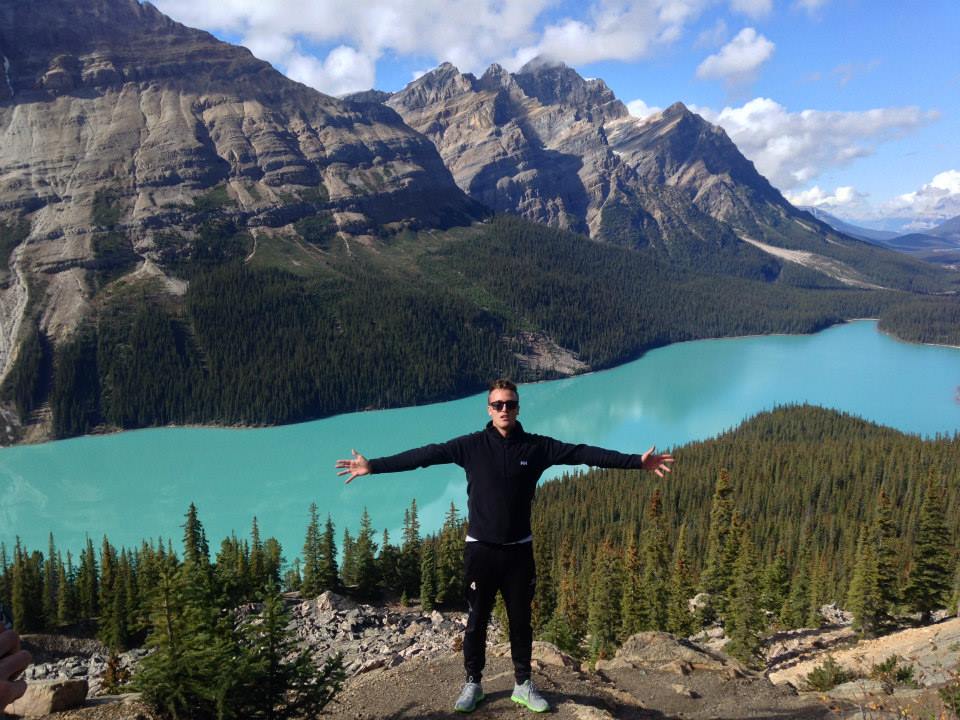 Wictor Dörrich from Sweden enjoys the sights at Peyto Lake
"Attending RGU allows me to get the international experience I have always wanted," says Shelby, "while ensuring I stay on track with my studies to graduate on time."
Both students are awaiting their upcoming semester abroad with much anticipation. They are looking forward to being able to learn about new cultures, experience a new way of life, meet lifelong friends and travel lots!
Mount Royal's Partnerships
Partnerships with institutions of higher education in other countries of the world create opportunities for Mount Royal students to add value to their undergraduate education through participation in learning experiences such as exchanges, virtual learning, internships, field schools/study tours, mentorships, volunteer experiences, practica and applied research projects.
On a reciprocal basis, Mount Royal benefits from the international perspectives and experience of students, staff, faculty and administrators from partner institutions who take part in similar activities on our campus.
For more information on Mount Royal University's partnerships and exchange opportunities, please visit Mount Royal's International Opportunities webpage.
Marisa Norona, December 5, 2014