New scholarship celebrates contributions to LGBTQ communities
Students urged to apply before March 1
Students who show leadership in support of LGBTQ communities are being recognized through a first-of-its-kind scholarship in southern Alberta.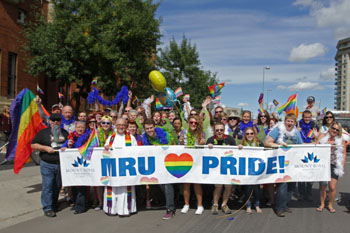 The Pride Scholarship (search for "Pride" on the page) awards $500 to two Mount Royal University students who are creating more inclusive spaces for people of diverse sexual orientations and gender identities.
Students can apply online for the Pride Scholarship until March 1, 2017.
Dave Beninger started the scholarship, along with two fellow graduates of the University of Calgary.
"This is a way of showing that universities - especially Mount Royal University - are really accepting and tolerant places," said Beninger.
As someone who identifies with LGBTQ communities, Beninger understands the importance of studying in a safe place. He sees the scholarship as a means of addressing the social and economic inequality experienced by marginalized sexual communities - in educational circles, as well as in broader society.
"We wanted to step up to fill the gap," Beninger said. Joe Dutton, a senior development officer at Mount Royal, credited Beninger as the driving force behind the award, while also acknowledging the University's leadership team for steering the scholarship through the approval process.
"In terms of inclusivity, it sends a strong message to the community," said Dutton, adding he was tremendously proud to work on the student award.
After the deadline, Mount Royal staff will select a pair of second- or third-year students for the award. Any full-time student is eligible, so long as they meet the academic requirements and demonstrate positive contributions to LGBTQ communities.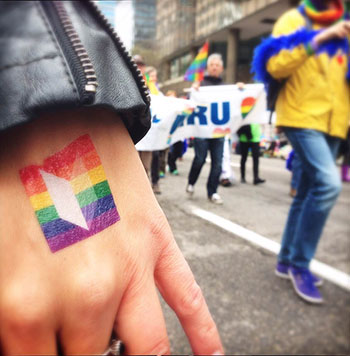 Eric Stewart, a third-year social work student, feels the criteria is fair in leaving the door open to all applicants.
"Each and every person who identifies as LGBTQ is an ambassador for our cause," said Stewart, who is looking to join the Mounties after graduation. "Therefore, for the most part, everyone is making positive contributions to the community - whether it be going to the gay pride parade and holding a pride flag or advocating for equal rights in the workplace.
"Every person plays a role."
Stewart echoed Beninger's belief that the scholarship will help current and prospective students who are out or coming out to feel more accepted on campus. And he called it another stride in the direction of equal rights.
"This is one more win for the LGBTQ community to feel and be seen as equal," said Stewart.
While the current gift will support two recipients this year and two more the next, the organizing group is already thinking about ensuring others have access to future awards. They are looking to host another evening fundraiser sometime around Calgary Pride Week in late August.
Details will be available through the group's social media accounts. Those interested in learning more and getting involved are invited to connect online by searching "Pridesab" on Facebook, Twitter and Instagram.
Right now, Beninger is amped up to present the award to two deserving recipients for the first time this year.
"It's going to be a full-circle moment," he said. "It gives us a lot of motivation in getting ready for the next fundraiser."
In the past, members of LGBTQ communities noted there are few awards specifically for those who identify as sexual minorities. The University of Alberta selects two students for the Michael Phair Leadership Award. The Students' Association of Mount Royal University offers a Gender and Sexual Diversity Award.
Apply now
To apply at Mount Royal, students need a current MyMRU account with a username and password to login.

After logging in, select the "My Program" tab and select "Apply for Awards" under the "Money Matters" section.
Feb. 17, 2017 — Bryan Weismiller