Psychology student a Stampede Princess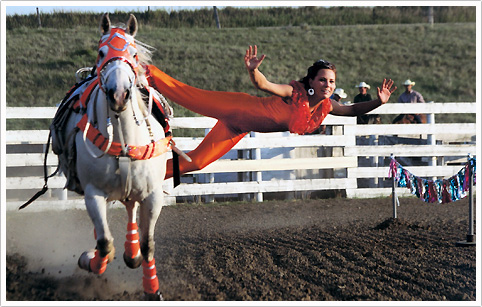 Mount Royal University student Kirstie Rougeau isn't your average pageant princess - she loves to get her hands dirty on the farm and do the "suicide drag" with her horse Smoke.
Last October, Rougeau - who is a trick rider - was crowned as one of the two Calgary Stampede Princesses for the 2010 Calgary Stampede which runs July 9-18.
"We're so excited about Stampede," says Rougeau, referring to her fellow Stampede royalty: Queen Katie Rochon, Princess Janelle Phillips and Indian Princess Sahvanne Weasel Traveller.
"I'm ecstatic about everything we get to do."
One of things the 22-year-old psychology student is most excited about is the opportunity to promote Western heritage and values to people from around the world.
Wild about Western
"That is why I ran for this competition," says Rougeau, who was raised on a farm in Cluny, an hour and half drive east of Calgary on the Trans-Canada Highway.
"I didn't do it for the glamour or because I think I'm pretty. I did it because of the strong Western heritage and values I have."
When asked how she became so passionate about western culture, Rougeau primarily credits her parents and her farm upbringing, which included participating in 4-H. She also gives Mount Royal kudos.
"Mount Royal definitely has that small community feel and values to it. I grew up in a small town and I'm so proud of it. Mount Royal is another good example of something in this city that promotes that small town feel."
Finding the best educational fit
Rougeau began her Bachelor of Arts degree at the University of Calgary and transferred to Mount Royal when it started offering a BA in 2008.
"I like the smaller class sizes and the more engagement with your professors," she says. "I graduated from high school with six people so … that is definitely the learning environment I learn best in.
"I found that out by going to U of C - it was a lot different than what I am used to. At Mount Royal, I know my professors and they know me by name, and I basically know everyone in my class."
Mount Royal has also played a part in helping Rougeau win her crown.
Shy no more
"I used to be a really shy person. If you ask my sister, she would say that I couldn't even order food at a fast food restaurant," admits Rougeau.
Her time at Mount Royal, combined with moving away from home and becoming more mature, helped boost her confidence.
Now, as Stampede Princess, she can effectively work a room during a party, and she even feels comfortable speaking in front of a large crowd.
Stampede royalty have a wide range of duties throughout the year and Rougeau says her professors have been "super awesome" with helping her juggle her school and Stampede responsibilities.
Giving back
"One of the favourite things we've done so far has been with the Children's Wish Foundation," says Rougeau.
She and her fellow royals spent the day with a seven-year-old girl with cancer who wanted to be a cowgirl for a day. They dressed her up and took her riding.
"Things like that are why I wanted to do this job. I love to be able to help people."
It's great practice for Rougeau, who plans on becoming either a clinical child psychologist or a teacher.
"I've always had a thing for the underdogs and I've always just wanted to help people. I want to let kids know there is more to life than growing up in junior high and high school."
- Anika Van Wyk, June 30, 2010