International students experience a Hockey Night in Canada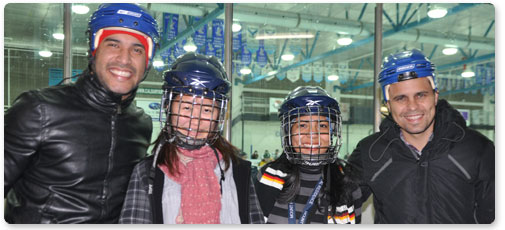 On Friday, January 18th two buses full of international students headed to the Flames Community Arena to cheer on the Mount Royal men's hockey team and experience a Canadian tradition. Although this was the first game for many, the spirit and enthusiasm that spread throughout the arena made it seem like they were all seasoned fans. "The energy was amazing," says Brandy Wegner, Marketing Coordinator for the Cougar Athletics, "We always love the enthusiasm that international students bring to the games".
For Venezuelan English Language student, Victor Colina, watching the hockey game has become a highlight of his semester. "I have always wanted to go to a game. I have seen games on TV and I like contact sports, so I was excited to see a game in real life."
Not only did Victor get to watch the game, he got to participate in the "Welcome to Canada" intermission game. The game was a relay race and required two teams to pull a sled to the blue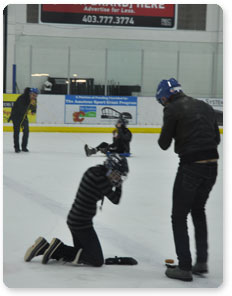 line, eat a Tim Horton's doughnut and then shoot as many pucks into the net.
"It was very funny for me. I always like to take risks and try new things. It was a challenge to walk on the ice with my boots, but I had a lot of fun," says Colina.
Students cheered on their classmates and had a lot of fun watching the participants attempt to compete on the ice. All international students received a free hot chocolate
Student's compete in the Welcome to Canada relay race.
courtesy of the Office of International Education, sat in a reserved section and received Cougar Gear to cheer on their team thanks to the sponsorship of Cougar Athletics.
Colina and many of the other international students had so much fun at the welcome event they plan on attending the Crowchild Classic at the Saddledome on February 7th.
Throughout the year the Office of International Education's Activities Committee plan events in hopes of introducing international students to local students and the Canadian culture. This semester students had the opportunity to explore the Rocky Mountains, try skating at the Olympic Oval and explore the Edmonton in another overnight excursion offered in March.
-Andrea Morrow, January 2013