A bone-crushing experience
DNA analysis training benefits students, faculty and MRU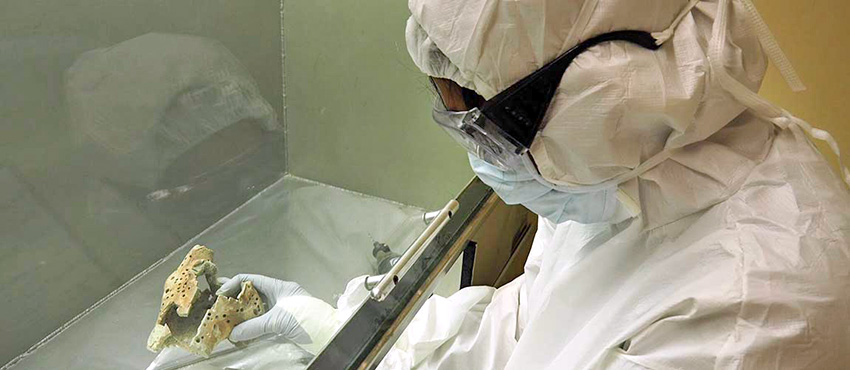 Last summer, anthropology professor Samanti Kulatilake was analyzing her own DNA in a lab in Thunder Bay and feeling exhilarated. Using samples she collected herself ― including her blood, saliva and hair ― she learned how to analyze her mitochondrial and nuclear DNA.
This was part of her training in DNA extraction, amplification, sequencing and interpretation at Lakehead University's Paleo-DNA Laboratory.
"It was very daunting for me to think about going back to the biology lab," Kulatilake says. "While I'm a biological anthropologist I have been using macro remains ― such as bones and teeth ― things I can see with my naked eye, whereas the analysis in the DNA lab takes place at the micro level. I was very nervous. I wanted to do it to prove to myself that I'm still capable of learning.
"You learn a lot through teaching but you don't become a full-time student often and that was a big shift for me. Things just clicked in when I started the training and I felt very good about it."
After the analysis, she was able to identify mitochondrial DNA markers that told a story of her ancestors' migration pathways ― tracing her ancestry back 20,000 years.
Aside from the elation she felt at finding her "little dot on the map", her mind was buzzing with how she would incorporate the new training into her classes, and use it as a launchpad for her research, which explores patterns in the evolutionary history of South Asians from prehistoric to recent times. Part of the program included learning methods of extracting ancient DNA from bone, mummified tissue and blood residue on stone tools.
DNA in a nutshell: Who we are and where we came from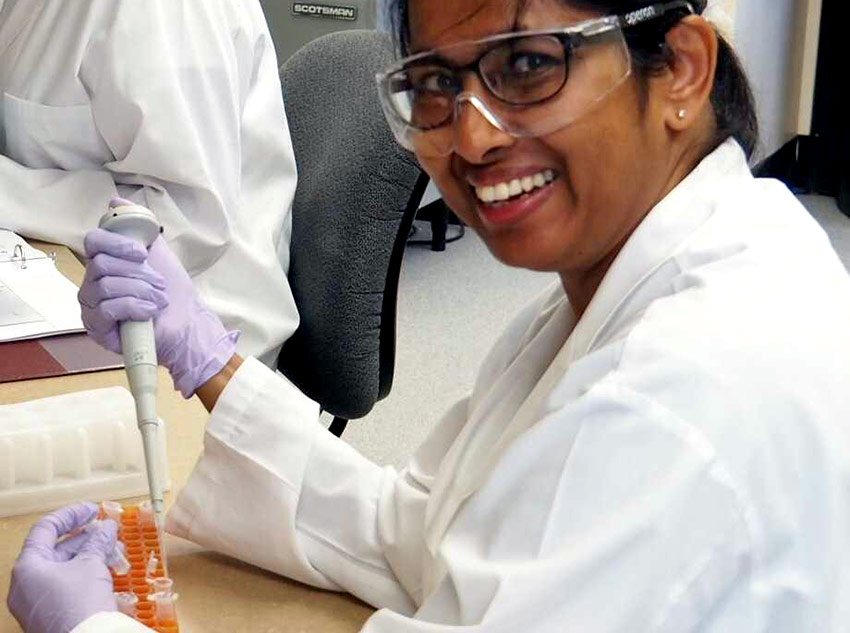 If you're a CSI fan, you know DNA analysis is a key step in matching a sample from a crime scene to a suspect's DNA.
It's also used by genetics-based ancestry services to connect people with others who also share their DNA. You send in a saliva sample to the company and they look for DNA matches in their growing database.
A key focus of anthropology, the study of humans, is understanding who we are today, where we came from, and our ancient evolutionary past.
"Studying DNA is crucial to understanding where we fit in and also how we are related to each other within our species," Kulatilake says. "The perspective biological anthropology takes is that we are members of the animal kingdom. It's a perspective most humans forget because we feel exalted as a species, but we have DNA as a common building block with every other living being."
Using bones to tell a story
Professor Kulatilake is eager to integrate her new knowledge into her classes in biological anthropology, a subfield in anthropology that is highly sought after by MRU anthropology majors in the Faculty of Arts.
She will be incorporating her training into her Human Osteology course, which teaches how to identify, analyze and interpret bones, allowing for the identification of people and ancestry.
"The cultural anthropology aspect of our program is quite strong," Kulatilake says. "I'm one of the few biological anthropologists in the team of academics and that gives me the honour of being able to disseminate this kind of information to our students who are really interested. One of the first things I hear from my undergrads is that they are interested in pursuing forensic science."
On March 22, Kulatilake will be presenting a talk on her experiences, findings and ongoing research at the Department of Sociology and Anthropology's Speaker Series. A Bone Crushing Experience: Forensic and Ancient DNA Analyses takes place Thursday, March 22 from 1 to 2 p.m.
Preparing students for forensics
Melissa Bancroft, a Bachelor of Arts ― Anthropology student in her third year and president of the Anthropology Student Club at MRU, is one of Professor Kulatilake's students who is currently taking the Human Osteology course and interested in pursuing forensics. She is eager to learn about individualization ― identifying an individual from remains.
"Every single person's body is different and there are all kinds of different markings on the bones that tell you so much about their life," Bancroft says. "It's exciting. I think her training will really contribute to our class because it's real-life applicable knowledge that will come in handy when teaching. It's great for us to have that experience from her perspective."
A unique collaboration: Studying ancient people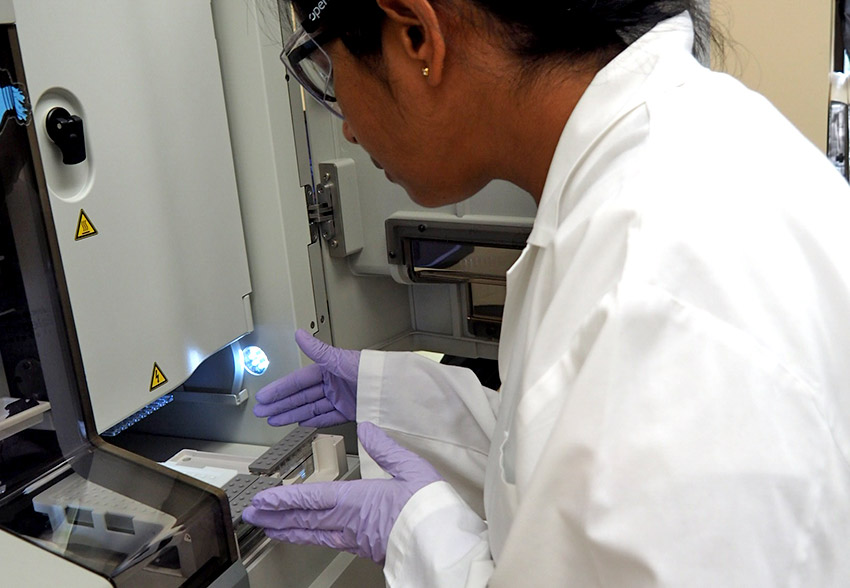 In the fall of 2017, when her completion of the program was announced to faculty, Professor Patrick Carmichael had an idea. He strolled into her office, which was just down the hall, and placed a small cardboard box on her desk.
This was no ordinary box. Inside, there was a small amount of mummified remains from 10 different individuals from an archaeological cemetery site in Peru ― dating back to about 300 AD.
"I sat down in her office with the little box in front of me and said, 'Samanti, would you be interested in being involved in a DNA study of some ancient South Americans?'" Carmichael says.
The answer was a big yes. The first step to their collaboration was a feasibility study to find out if there was any DNA remaining on the materials. Since many people had touched the materials over time, there were fears of contamination.
The samples were from individuals that belonged to the ancient Nazca culture, which Professor Carmichael says are famous for having created giant designs in the middle of the desert, along with beautiful polychrome pottery.
He says the graves were originally excavated in 1926 by an American archaeologist, and were housed in the Field Museum of Natural History in Chicago. In 1990, Carmichael extracted some samples from the mummified remains with a colleague and brought them back up to Canada, where they were part of a study.
"That was the end of that until it was recently brought to my attention there were some samples left over from that original study," Carmichael says. "I thought there just might be a chance of actually using them for DNA analysis. Back in 1990 we hadn't really started doing much in the way of DNA analysis but we certainly do now."
Armed with the knowledge of what tests to order, Kulatilake prepared and sent a sample to the Lakehead lab. In February, they got the exciting news that there is a possibility of extracting ancient DNA from the materials. The next step is having funding approved to analyze 10 samples.
Carmichael hopes the samples, once analyzed, will prove if people in the cemetery site were endogamous (married within their own group) or exogamous (brought in marriage partners in from outside the group).
"We can learn an enormous amount from this and solve a lot of old problems that have been plaguing us that up until now we've had no way of resolving ― like the marriage patterns of these ancient people."
Both credit department chair Professor Tom Buchanan for celebrating scholarly endeavours and providing the support and encouragement needed to carry out such research.
"The kinds of research projects and that we can do with this training and interesting collaborations will benefit the scholarship profile of the university and enhance our undergraduate student experience," Kulatilake adds. "It's very exciting to plan ahead on how to uncover the secrets of the past."
Join Professor Samanti Kulatilake for A Bone-Crushing Experience
The Department of Sociology and Anthropology's Speaker Series presents A Bone Crushing Experience: Forensic and Ancient DNA Analyses. All are welcome to join.

Thursday, March 22
1 to 2 p.m.
EL 1270
Ideas Visualization Lounge Riddell Library and Learning Centre

Samanti Kulatilake, PhD and associate professor in the Department of Sociology and Anthropology, Mount Royal University, received training in DNA extraction, amplification, sequencing, and interpretation at the Paleo-DNA Laboratory, Lakehead University. She will share her experiences, fascinating findings, and describe ongoing research.
Learn how to dig deep in the Department of Sociology and Anthropology at Mount Royal.
March 9, 2018 — Silvia Pikal
Media request contact information.
Have a story idea? Please fill out this form.