Project challenges students to tackle their own preconceptions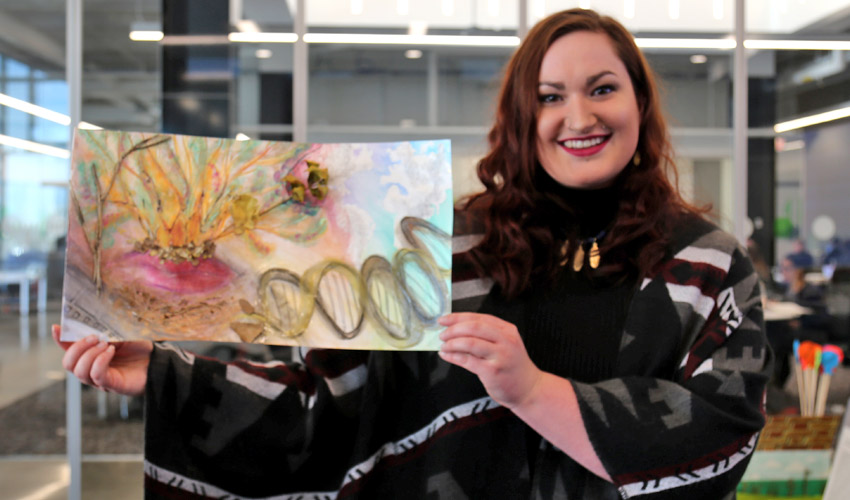 On the day before National Child Day (Nov. 20), a week-long exhibition of artwork by second-year Bachelor of Child Studies (BCST) students opened in the Riddell Library and Learning Centre's Ideas Lounge.
The pieces were created as part of Professor Carolyn Bjartveit's, PhD, Guidance and Planning course, which challenged the students ― all Early Learning majors ― to address their preconceptions about their image of the child.

"Through a creative process of working with mixed media, dialogue and reflexive writing, the students came to recognize how their views of children are continuously shifting and influencing their roles in designing learning environments, programs and curricula," Bjartveit says.
The students wrote an initial statement, then interacted with children in community child-care settings and journalled their experiences. The project culminated in the creation of visual metaphors representing their new understanding, resulting in the first-ever Child Studies Multimedia Art Exhibition.
Everyone has influences (such as family, culture, science, popular culture and media) that shape their beliefs about children and childhood. "It is therefore necessary for educators to reflect often on their beliefs ― their image of the child ― as their ideas will continue to change while they interact and work with children," she says.

Each of the art pieces was different, but shared a common factor: all of the students came to the conclusion that there is no one universal characterization of the "child."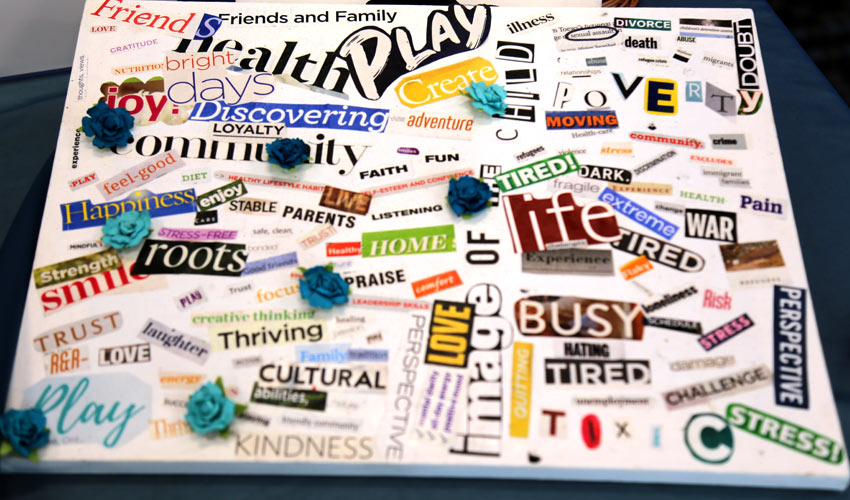 "When we started this project, we all had an idea of what we thought our image of the child was," says student Ely Kotylak.
But she and her classmates learned that when it comes to putting their skills into practice, that concept of the child is always evolving. This recognition will make them effective in their field. For Kotylak's classmate Em Pond, the exercise highlighted the individuality of each and every child that she will work with.

"What changed most for me was just that it's so hard to actually come up with an art piece that you feel will honour every single child. Within a socio-cultural context, there are all of these different influences that make children who they are, and it's so hard to wrap that up into one single statement."
Second-year students in the BCST program work directly with children three days a week for eight hours a day. There is also field work, practicums, two semesters of capstone projects and access to the Child Development Lab to assist in their educational and practical development. The Early Learning and Child Care major is designed to meet the certification requirements of a Child Development Supervisor under the Alberta Ministry of Human Services Staff Qualifications branch. The field includes positions in early childhood education, inclusion specialization (providing support for children with physical and cognitive complexities and their families) and as leaders for child-care programs.
The art project also exposed students to the many ways in which children communicate. "Children speak through embodied, graphic, symbolic and visual languages, and it is important for early childhood educators to understand multi-modal literacies," Bjartveit says. "Children are also imaginative, and through the project students were able to exercise their imaginations, dream and create fantastical visual metaphors. Beautiful and dark themes of childhood are included in the works and advocate for children to have a voice and be recognized as capable and active citizens."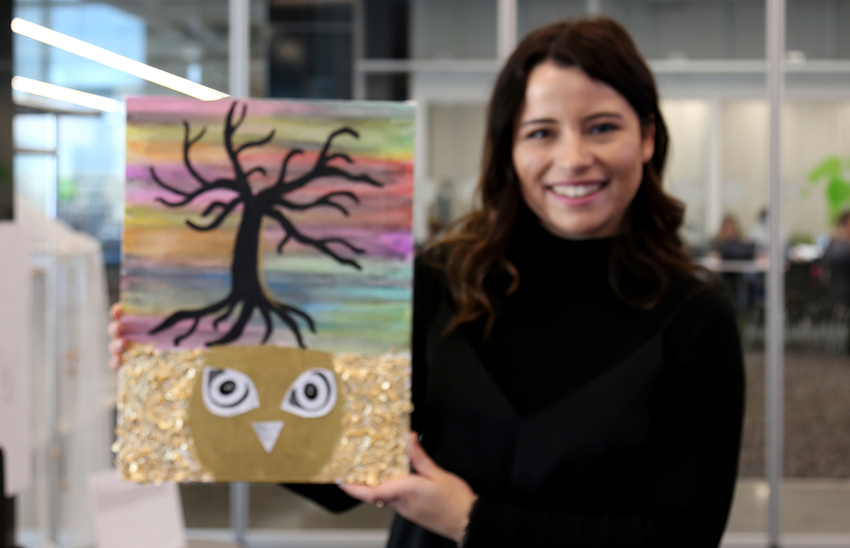 Before being exhibited at the RLLC, the works were on display at the Child Development Lab. Kotylak and Pond say the assignment taught them to not impose their own perceptions, assumptions and biases onto children. Kotylak's art piece focuses on the socio-cultural influences of the child. She included the eyes of an eagle, as she says children can see many things, but it's up to adults to support and nurture that, as well as a black tree, because children can absorb anything ― including negativity.
Pond's art piece also incorporated a number of elements. "The DNA strand represents genetics, or where we all come from. The film roll represents experiences and socio-cultural influences. The nest is the safe place, which we all need to find our voice and then bloom, and the fire is the drive we all have to exist." Nature is intertwined throughout, as Pond says she's learned how important it is to include nature within education and develop that connection.
As for her future in the field, Kotylak says, "Something I love about this program and this degree is that it can take you in multiple directions."
Pond is looking into post-graduate studies, hoping to attain a Master's of Science in speech language pathology. "For me, something really important is to give children a voice. Especially through this degree, my focus is going to really be on children and their families and helping them have their voice ― however they need to communicate."
The Bachelor of Child Studies - Early Learning and Child Care provides the skills needed to make a living by playing - and learning - in a variety of roles.
Nov. 26, 2018 ― Michelle Bodnar
Media request contact information.
Have a story idea? Please fill out this form.