Mount Royal makes an appearance at the Oscars
Business alumna Lindsay Jones' ethical jewelry chosen for swag bags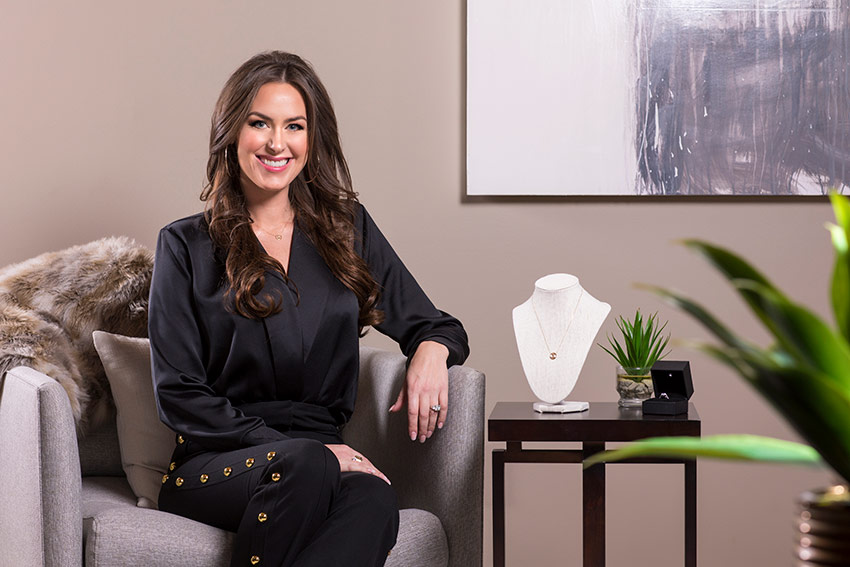 All that glitters is definitely gold in Mount Royal alumna Lindsay Jones' life. But Canadian gold (and diamonds) only. And her specially designed and carefully crafted jewelry made a cameo appearance at this year's Oscar ceremonies on March 4.
Jones, who graduated from MRU in 2011 with a Bachelor of Business Administration ― General Management is the owner of Luxura Diamonds in Calgary. One of her custom-designed Canadian gold and diamond necklaces was chosen to be featured in the famous Everybody Wins gift bags (by Distinctive Assets), and gifted to the top Academy Award nominees. These extravagant and highly-publicized swag bags were distributed to those nominated for Best Actor, Best Actress, Best Supporting Actor, Best Supporting Actress, Best Director, and to the host, who was Jimmy Kimmel this year.
"There is something extremely elegant and feminine about the hollow at the base of the neck, so I wanted the necklace to just brush the collar bone. I love any jewelry that draws attention to that area," says Jones. "The fineness of the gold chain creates the illusion that the pendant is almost floating, and the shorter length allows it to be layered with other necklaces, a current jewelry trend seen on everyone from Meghan Markle to Kim Kardashian to Beyoncé."
Before attending Mount Royal, Jones earned her Graduate Gemologist and Accredited Jewelry Professional certifications at the Gemological Institute of America (GIA) in Carlsbad, CA. She was encouraged to do so by Bernard Florence of Calgary Jewellery, where she worked when she was 17 years old.
"At the time there were very few other graduate gemologists in Calgary," Jones says, who has always loved rocks and gems, having had a rock collection since she was very young. So the GIA was a "natural fit."
Jones credits her time at Mount Royal with instilling her with the knowledge and confidence necessary to start her own business. Even though she had been sponsored to stay and continue her studies in the U.S., an option she "strongly considered," earning a business degree was very important to her, so she returned to Calgary.
"I was torn between Mount Royal and U of C. I had gotten into both." She was convinced to try MRU, however, and remains grateful she did.
"It was such a great fit for me, with the smaller class sizes, and the knowledgeable instructors who were passionate not only about their class subject matter, but also about setting their students up to succeed. Many of my instructors provided impactful advice on both life and business that I still refer back to today," she says.
"One of the most invaluable aspects of a degree from Mount Royal was the practical experience I gained from getting the opportunity to work with real companies, which included Calgary Opera, Trickle Creek Homes, Shane Homes and Tourism Calgary. Without those hands-on experiences, I don't know that I would have ever started my own company."
Professor Patti Derbyshire of the Department of Entrepreneurship, Marketing and Social Innovation in the Bissett School of Business was a particularly strong influence on Jones.
"Very naturally, and for a long, long time, Mount Royal has been a place of high-impact learning," Derbyshire says. "We really believe in the value of doing, in the value of confidence-building and of rehearsing and practising what you will do and who you will be as a professional."
Part of what they do in her course is approximate an actual professional practice. "To have you leave with a degree from the business school here with confidence, with a project in your hands, so you know the critical pathway to put together a great entrepreneurial idea.
"I think students who trust the process end up on their feet, like Lindsay."
How Luxura Diamonds ended up in Hollywood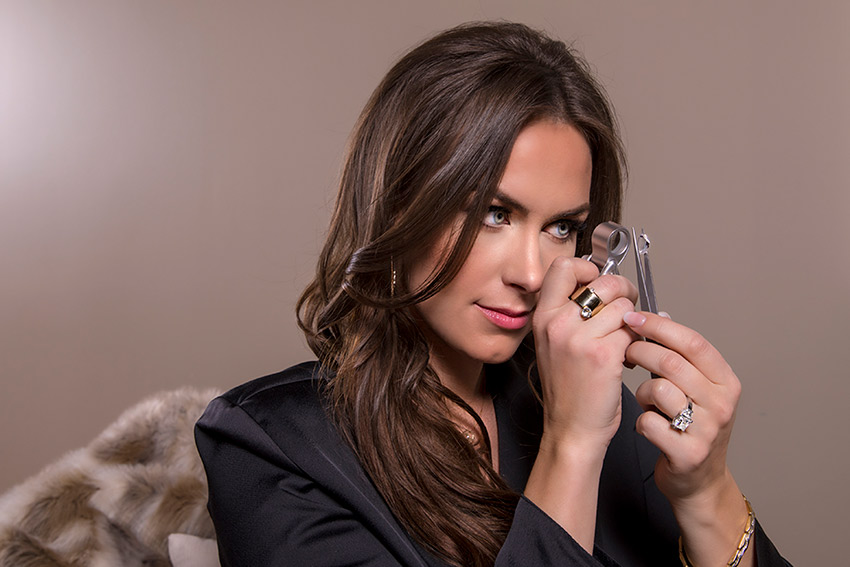 The idea of submitting to have her jewelry included in Oscar gift bags was ignited when Jones was invited to hold a gifting suite at the birthday party of a well-known reality star. Although the logistics of getting herself and her jewelry to Hollywood in time proved to be impossible, the seed of marketing her designs to the celebrity demographic had been planted. On a whim, after hearing a radio show about Distinctive Assets, she contacted the gift bag specialists.
"They only feature one company per category, so I thought the odds were slim that they would pick me, but they loved the fact that the necklaces were crafted using only Canadian diamonds and gold," Jones says.
Highly sought-after in Calgary for her custom engagement rings, wedding bands, anniversary jewelry and "push presents," Jones says she wanted to do a play on coin pendants, which are very popular right now.
"I hoped to evoke a sense of mystery and intrigue using negative space."
Valued at $1,475, the limited-edition necklace features a 14-karat Canadian Certified Gold chain and a round pendant bearing the overlapping "X" and "L" that make up Jones' logo. Each pendant is inset with a Canadian diamond that comes with a certificate of authenticity and a unique tracking number, which has been laser inscribed on the diamond's girdle.
She designed the pendant so that the sides of the diamond are exposed, allowing the owner to view the laser inscription under magnification at any time, and does this with all of her other pieces, too.
What is ethical jewelry?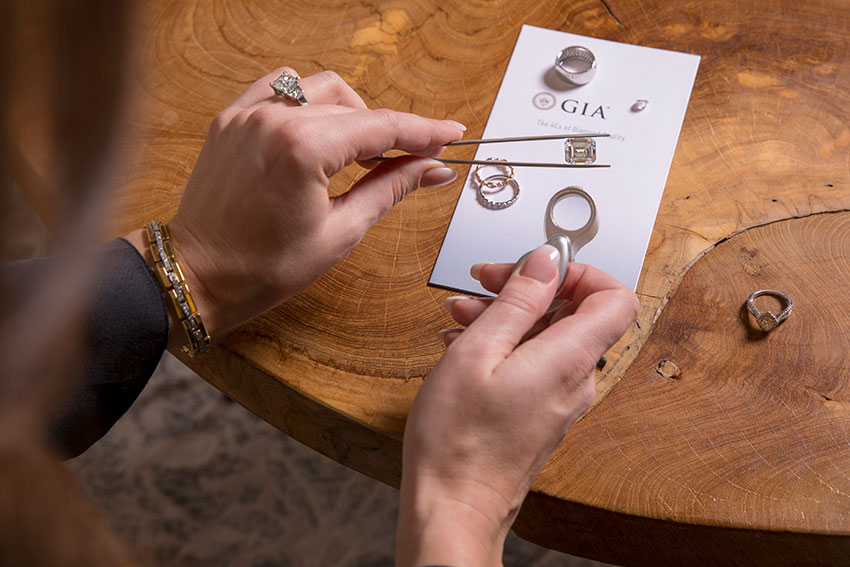 Jones' clients find her jewelry to be attractive not only for its aesthetic value, but also for its ethical value.
"Basically, any time you extract a resource it can be pretty tough on the environment," Jones says. "Gold mining and diamond mining, beyond the environmental impact, can also have some pretty substantial human impacts as well. I'm sure you've heard of conflict diamonds. When I graduated (from GIA) in 2007 they were still a fairly big problem. It's gotten, much, much better, but there's still room for improvement in terms of human rights."
With ethical jewelry, designers and manufacturers must think consciously about production in terms of how the resource was mined, who was involved and who benefitted.
"I really try to use all Canadian materials. Not only do we have exceptionally high-quality diamonds and precious metals, we also have much stronger regulations than much of the world. We are leaders in terms of the regulations for mining and reclamation, and it just keeps getting better," Jones says.
"That's why in all of my custom pieces, I always try to use 99.99 per cent Canadian gold that is guaranteed to be mined and refined in Canada."
Her diamonds come from the Northwest Territories and are tracked directly from mine to market. Out of this experience, building greater awareness of the Canadian jewelry market is an "awesome perk," says Jones.
"Regardless of where a piece of jewelry is being purchased-whether it's from me, or elsewhere-I want consumers to think about how it was produced, and the quality and sustainability of the materials used. I strongly believe that trust and transparency are going to key for this industry to survive. The more pressure jewellers put on suppliers, and consumers put on jewellers, and the more of an impact that's going to have globally."
Due to this opportunity, Luxura Diamonds was mentioned or featured in the following publications leading up to the Academy Awards: Business Insider, Los Angeles Times, USA Today, Forbes, Time, ABC News, OK! Magazine, International Business Times, San Francisco Chronicle, Daily Mail and India Today.
March 5, 2018 — Michelle Bodnar
Media request contact information.
Have a story idea? Please fill out this form.