Alumnus brings Wheelchair Rugby Championships to campus
Fun-to-watch adapted sport was invented in Canada
There aren't many sports out there that carry the brutal reputation of wheelchair rugby - an adapted sport so violent it was originally coined "Murderball" (later softened for marketability).
Next month, the hardest-hitting athletes on four wheels are coming to Mount Royal as we play host to the Canadian Wheelchair Rugby Championships from May 25 to 27. The championships are being welcomed to campus thanks to the Department of Health and Physical Education's David Legg PhD, and Bachelor of Applied Business and Entrepreneurship - Sport and Recreation Management alumnus (2014) Ryan van Keulen.
Largely popularized by the 2005 American documentary film Murderball that tells the story of the legendary rivalry between the Canadian and U.S. wheelchair rugby teams leading up to the 2004 Paralympic Games, the sport is arguably as rugged and physical as traditional rugby.
The film won awards at the Sundance Film Festival, the 78th Academy Awards, the Full Frame Documentary Film Festival and at the Indianapolis International Film Festival. It continues to drive the popularity of the sport.
With over 25 countries around the world entering teams into competitions for the adapted sport, which debuted at the 2000 Paralympic Games, the competition is as intense as its former moniker.
The insanely physical game was conceived by athletes with disabilities in Winnipeg back in the late '70s as an alternative to wheelchair basketball. The contemporary Paralympic sport is based on the requirement that all players have disabilities that include loss of function in at least three limbs. Although most have spinal cord injuries, players also qualify through multiple amputations, neurological disorders or other medical conditions. They are assigned a functional level in points, and each team is limited to a field with a total of eight points.
Wheelchair rugby is played indoors on a hardwood court, as demonstrated by CBC's Rick Mercer, and hard hitting physical contact between wheelchairs is critical to the game.
Legg worked with van Keulen, who is now the technical director for Wheelchair Sports Alberta (WSA), to create the successful bid to host the competition.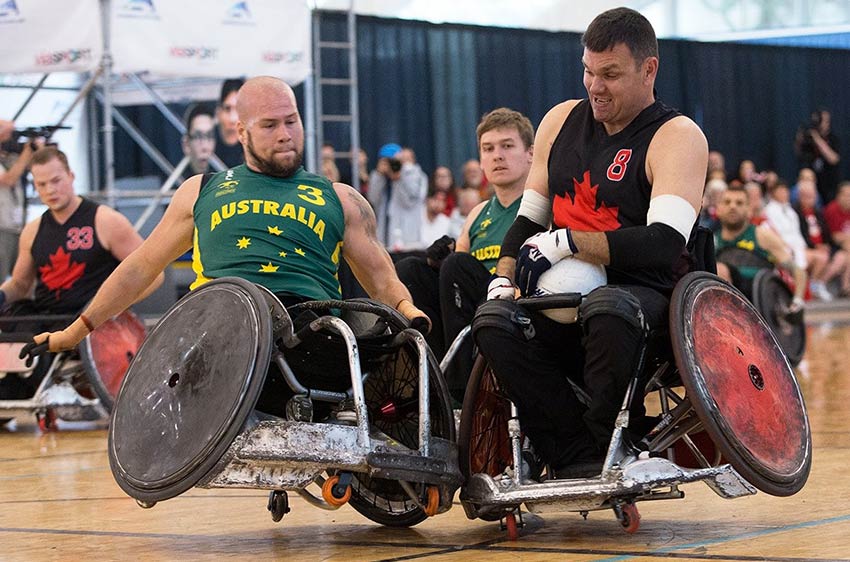 "The bid process for the 2018 championships was interesting. I was maybe six months into my time with WSA when our Alberta coach came back from the 2017 championships and passed along the message from Wheelchair Rugby Canada that we had to submit a bid for the championship," says van Keulen.
"At that point of my career I had never had to create a bid package, let alone for a national championship for a sport that I hardly knew anything about. I started working through the package, first with the budget, then visiting venues. We went around Calgary looking at different venues that would be accessible, close to accommodations and could host a banquet. We decided that MRU would be the best option as the University had hosted the event in 2012."
Despite some damage to the floors from the rough and tumble 2012 championships, MRU decided to play host once again due to advances in equipment that should lessen the wear and tear.
"We couldn't be more pleased to be bringing the nationals back to Calgary. Mount Royal University is a beautiful campus, perfect for such an event," says Catherine Cadieux, CEO of the Canadian Wheelchair Sports Association. "In May, we look forward to giving our fans in Calgary the opportunity to watch the best wheelchair rugby athletes in Canada compete for the Campbell Cup."
As a lifelong sport enthusiast and athlete, van Keulen's studies started in Arizona where he played college baseball before an injury had him rethink his studies. He ended up deciding to come back to Alberta to attend Mount Royal and was a unique student athlete, as he played baseball for the University of Calgary Dinos despite being an MRU student. If Mount Royal doesn't have a particular sports team, student athletes are permitted to play for U of C teams.
"One of the special treats in hosting the tournament is getting to work with a former student," says Legg. "Ryan was in many of my classes, in particular adapted physical activity, where we learned about sports for persons with disabilities. Clearly he learned something and I couldn't be more proud."
Mount Royal's Bachelor of Applied Business and Entrepreneurship - Sport and Recreation Management is looking to change attitudes around sedentary lifestyles.
April 23, 2018 ― Brendan Greenslade
Media request contact information.
Have a story idea? Please fill out this form.