Scholastic growth leads to societal contributions
Ann McCaig, Honorary Doctorate of Laws recipient, draws a direct line between the two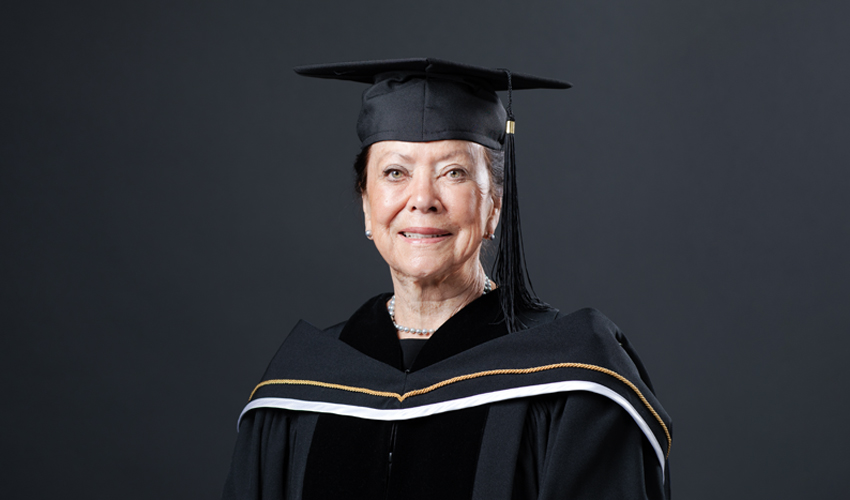 As a longtime advocate for advanced education, medical research, health care and youth development, for Ann McCaig, it begins and ends with education.
So it is fitting that on the morning of her 80th birthday - June 6 - McCaig was awarded an Honorary Doctor of Laws from Mount Royal University.
Originally a graduate of the University of Saskatchewan, McCaig holds a Bachelor of Education and worked as a school teacher in her home province until she moved to Calgary in 1970. She values post-secondary education in the highest regard, and for more than two decades has enabled the growth of the Killam Trusts, which advance education and research at Canadian universities and contribute to the Canada Council for the Arts.
"I believe everyone should have an opportunity to consider post-secondary education," McCaig says. "Post-secondary education contributes greatly to one's personal growth and ability to contribute the well-being of others."
Her passion for the betterment of society from a local to national perspective, with a particular focus on the importance of childhood development, has not gone unnoticed by the Calgary community at large, and, specifically, Mount Royal University, says Yasmin Dean, chair of the Department of Child Studies and Social Work.
"McCaig is most passionate about and well-known for her commitment to the not-for-profit sector and, in particular, youth education and health. These sectors are of vital importance to the Department of Child Studies and Social Work," Dean says.
Grateful for the recognition, McCaig believes it is a privilege to be recognized by Mount Royal with this distinction for two reasons.
"First, I appreciate the opportunity to celebrate the educational accomplishments of others while also encouraging a lifelong commitment to learning. And second, it is an opportunity for me to recognize the faculty and staff for their hard work and devotion to their students."
The philanthropist and entrepreneur says that Mount Royal has found the balance between striving for the highest standards in advanced education while creating a very personal and welcoming community for students.
"I am very proud to be associated with a university that works hard to promote significant educational experiences for students within an atmosphere that fosters meaningful and collaborative relations among students, professors and advisors."
A dedicated supporter of Mount Royal's Military Memorial Bursaries, McCaig's efforts have impacted many fundraising initiatives. She serves on the board of the National Arts Centre Foundation, co-chaired the Calgary Stampede Foundation's and the Alberta Children's Hospital's campaigns, was a member of the RESOLVE campaign to end homelessness and supported the Alberta Adolescent Recovery Centre over many years.
Simply put, McCaig believes in giving back and working towards continuous improvement.
"Each of us has a responsibility to do what we can as volunteers, as philanthropists and as citizens, to continue to build a city that is vibrant, safe and rich in opportunity so current and future generations will enjoy an even better quality of life than we do."
Thanks to her endless perseverance towards advancing educational opportunities, McCaig's Honorary Doctor of Laws compliments a collection of impressive acknowledgements. She is also a member of the Order of Canada and the Alberta Order of Excellence, and has received the YWCA Women of Distinction Lifetime Achievement Award and the Generosity of Spirit Award for Outstanding Lifetime Philanthropist. She was also recently given the name "White Wolf Woman" by Blackfoot Elder Casey Eaglespeaker for her support of Alberta's Indigenous Peoples.
More about the 2019 Spring Convocation ceremonies.
June 5, 2019 — Jonathan Anderson
Media request contact information.
Have a story idea? Please fill out this form.