Answering the call of duty
Field of Crosses founder Murray McCann receives honorary degree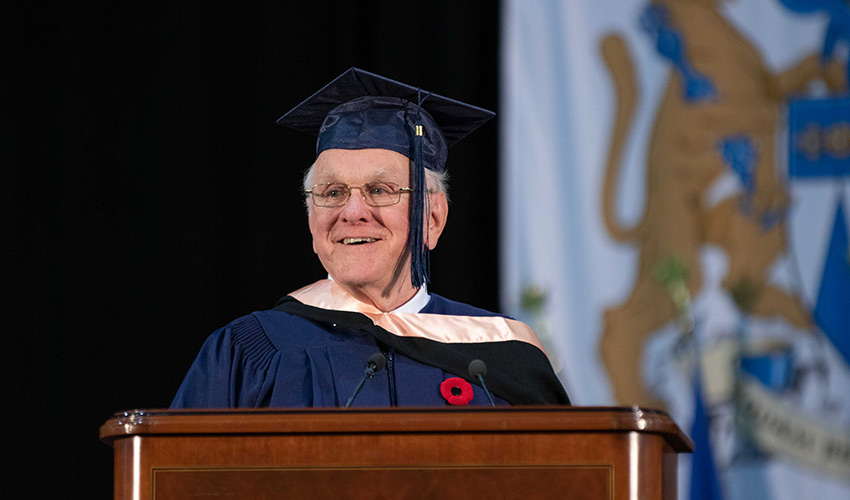 Murray McCann is a Calgary business leader and philanthropist best known for the establishment of Calgary's Field of Crosses on Memorial Drive. The installation respectfully offers 11 days of remembrance, memorializing soldiers from southern Alberta who made the ultimate sacrifice.
McCann received an honorary Bachelor of Nursing from Mount Royal University at the 2018 Fall Convocation Ceremony. An honorary degree is the highest symbol of recognition that Mount Royal can give to an individual. As part of the celebration, McCann addressed graduates and guests.
"Such an honour is humbling to me," McCann said. "That an institute as prestigious as Mount Royal University would choose to honour someone as ordinary as me fills me with pride and encourages me to continue giving back."
McCann has provided locals the ability to quietly walk among the crosses, each of which is marked with the soldier's name, rank, regiment, military decoration, date of death and age at death. It is a moving visual representation of the thousands of departed soldiers and their dedication to peace and country.
Throughout the first 11 days of November a sunrise flag-raising and a sunset flag-lowering service complete with buglers, pipers and a colour party takes place in adherence to Canadian military protocol. This year will mark the tenth anniversary of the project, with the five-acre site housing 3,400 crosses. It is open and lit 24 hours per day.
But on the first Friday of November 2018, McCann was the one being honoured, and rightfully so.
He may consider himself ordinary, and he undoubtedly is humble, but there is no denying McCann has made a huge impact through his generosity of spirit. The McCann Family Foundation quietly funds many initiatives both locally and abroad. In particular, McCann is a passionate advocate of veterans, a commitment he developed while driving through the Blue Ridge Mountains in Georgia.
"For whatever reason that drive made me very aware that the freedom I enjoy, and that is enjoyed by my family, came at a huge price paid for by our military. I have been the recipient of the freedom our veterans fought for and in many cases sacrificed their lives for. When we needed them, they answered the call. Now, when they need us, their call must not go unanswered.
"It is for this reason we are building villages and support systems across Canada for veterans experiencing trauma and homelessness."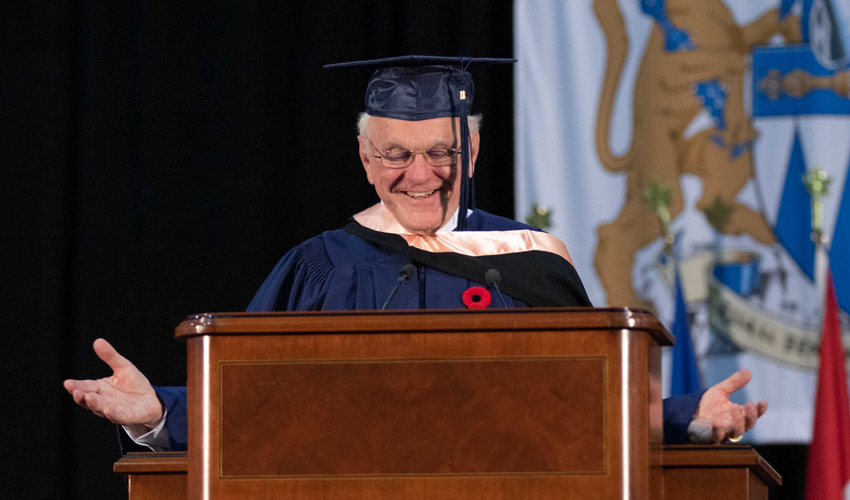 McCann is also a driving force behind the Homes for Heroes Foundation, which provides transitional housing and support for veterans experiencing difficulties returning to civilian life.
As a business owner, McCann, an accountant by trade, has built many successful companies in Canada, the U.S., China, Malaysia and India. He currently leads the Aristos Corporation, a venture capital company assisting budding small businesses enter the market.
McCann is also instrumental in providing much-needed end-of-life care services in Calgary. In 1993, he bought a large rectory that became the Rosedale Hospice. For more than 20 years, this peaceful home has cared for adults with cancer, allowing them and their loved ones to focus on quality of life at the end of life.
"An honorary bachelor of nursing degree is extra special to me because my late wife of 38 years and mother of my five children was a registered nurse. I had personal experience in knowing that nurses are very special people who share considerably more care, consideration and compassion for their fellow man than is found in most others. I have also witnessed those traits in the oncology nurses at Rosedale hospice. This honorary degree will encourage me to show those traits in my own life."
Early in 2017, Professor Stephen Price, PhD both encouraged and supported McCann's honorary degree nomination. The dean of Mount Royal's faculty of Health, Community and Education says it was an easy decision to spearhead the McCann nomination.
"I believe Mr. McCann is a most-deserving and appropriate honorary degree nominee and now recipient," Price said. "As an exemplary citizen of Calgary, Mr. McCann embodies Mount Royal nursing's humble quest for excellence in his quiet approach to leadership in the corporate community, and his determination to give back to society in such meaningful ways."
McMann has previously received the Minister of Veterans Affairs Commendation in 2015 and the Meritorious Service Medal in 2016, along with being named Citizen of the Year by the City of Calgary in 2017.
The 2018 Spring Convocation Ceremonies' honorary degree recipients were Bret Hart, Paul Brandt, John Lacey and Barbara Jean Fraser.
Nov. 2, 2018 ― Jonathan Anderson
Media request contact information.
Have a story idea? Please fill out this form.