Kofi Annan visits Mount Royal University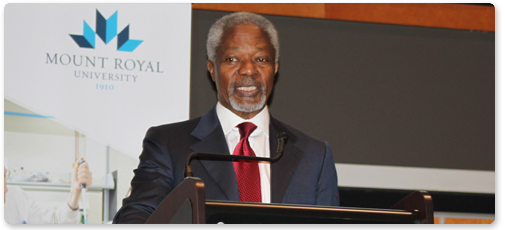 Mount Royal University and Policy Studies chair Duane Bratt welcomed former UN Secretary General Kofi Annan earlier this semester to speak with a group of Policy Studies students and faculty. Annan travelled to Calgary as part of a press tour for his new book, Interventions: A Life in War and Peace. Tickets to his official Calgary book-launch sold for upward of $500, yet Annan wanted an opportunity to visit local Universities on each stop to speak to and for politically engaged students.
While visiting Mount Royal, Annan spoke to a small group of Policy Studies students and faculty on his memoirs while offering sage advice to politically engaged students and faculty. With only one hour available, the intimate event consisted of a 10 minute speech by Annan followed by an engaging question and answer period. Among the topics discussed was the issue of international cooperation and its effects throughout the globe.
Professor and Chair of Policy Studies, Dr. Duane Bratt, said that interacting with Annan on a personal level gave students a rare opportunity, one that they will remember for many years after their graduation from Mount Royal.
An autographed copy of Interventions: A Life in War and Peace is available at the Mount Royal University Library.
- Kimberly Getz, January, 2013