Athletic Therapy alumni bring Grey Cup to Mount Royal
Duo worked with the Stampeders during the winning 2018 season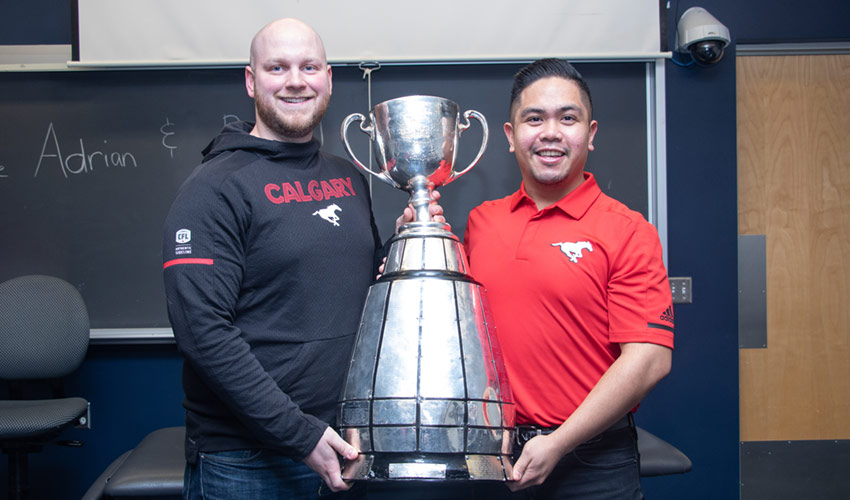 Two members of the Calgary Stampeders' medical staff returned to their alma mater Feb. 1 with a visual representation of how hard work can pay off. Adrian Presnilla and Brad Hughes, who both graduated from the Faculty of Health, Community and Education with advanced certificates in athletic therapy, brought the Grey Cup to campus and spoke to current MRU students about their experience with professional sports teams.
Presnilla and Hughes described working with the 2018 Grey Cup champions and their dedicated coaching staff as a career highlight.
"It was a dream come true to be able to work with professional athletes on a daily basis," Hughes said. "To be able to do what I love each and every day and to create friendships with the players and staff was huge."
Presnilla echoes the sentiment, saying he also valued working with a passionate football operations staff. "We spent so much time together that everyone became like family."
The downsides, however, of working in pro sports are the non-standard work hours and the time spent away from those they care about. Presnilla and Hughes worked from 60 to 80 hours per week for seven months of the year. "It's a grind physically and mentally, and can affect your relationships with a significant other and friends if you are not careful," Hughes said. "It is vitally important to take care of yourself when you can to avoid a complete burnout."
Fortunately, both alumni love what they do, and that makes it a lot of fun to be at work.
Mount Royal's Advanced Certificate in Athletic Therapy teaches the fundamental knowledge and technical skills needed for all aspects of the field. Part of the program's success is due to the fact that all students participate in an intensive practicum.
"The University has a strong history and tradition in the athletic therapy profession, with very experienced faculty and dozens of community partners," saidFaculty of Health, Community and Education associate professor Dennis Valdez, PhD. Mount Royal is also leading the charge to apply a competency-based education model to the program, a practice used in medical schools. "The athletic therapy program has a partnership with the Bachelor of Nursing program, so students have access to MRU's state-of-the-art simulation learning centre, and can participate in inter-professional workshops with SAIT's Emergency Medical Technology - Paramedic program," said Valdez.
From day one, students are involved in field work, and practicum participation is woven into the program. Presnilla described his MRU experience as critical to finding a job after graduation. "What helped me out the most was the work experience integrated into the program.

"It's the hands-on experience that has helped me develop into a certified athletic therapist, and hats off to all the athletic therapy faculty at MRU, including academic advisor and practicum coordinator, Gisele Marcoux," Presnilla said.
A lesson that many up-and-coming athletic therapists learn early on is to network and build relationships with those who work in athletics and related fields. Hughes recommends students "network and make relationships with everyone in their field, starting with classmates.
"The career of many athletic therapists comes down to word-of-mouth advertising and who you know."

The Athletic Therapy program at Mount Royal is designed to prepare students to work as certified athletic therapists in Canada.

Feb. 4, 2019 ― Rob Petrollini
Media request contact information.
Have a story idea? Please fill out this form.