Backstage at the Dragons' Den
Business idea sparked at Mount Royal takes two alumni all the way to the ultimate pitch competition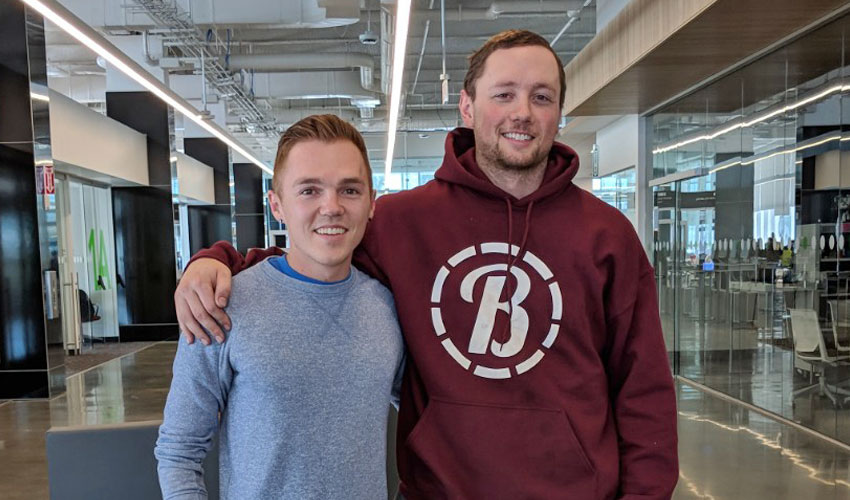 The first open audition for Dragons' Den took place in February 2018 on business alumni Zac Hartley and Torin Hofmann's home turf ― right here at Mount Royal University where their company Burgundy Oak got its start. A few more auditions and a trip to Toronto later, the pair appeared alongside their business partners for the Oct. 11 episode.
Ultimately, they ended up taking a deal with three Dragons at a higher valuation than they were originally asking for, receiving $250,000 for 15 per cent of their company.
It all started three years ago during an entrepreneurship block week class, where students were tasked with building a business from idea through to execution in one week. Hartley, in his second year at the time, was inspired by his teammate's goal of coding and selling an app in just seven days.
"It blew my mind," Hartley says. "(It) showed me the mindset you need to run a team and start a business."
Hartley then stoked his own entrepreneurial fire when he was on a family trip in B.C. and visited Ribfest in Penticton.
"After we filled our faces, we decided we wanted to build a smoker at the family cabin," says Hartley. "So we went to a vineyard, purchased one barrel, cut the top off and converted the wine barrel into a smoker."
That was the beginning of Smoke Barrel, a small business out of the Hartley family garage, which has since become Burgundy Oak. The name change occurred when Hartley merged with Burgundy Oak founder Joel Jelinski, who has been hand-making wine barrel products since he was 12 years old.
Another member of the Burgundy Oak team is Torin Hofmann, whom Hartley met in a marketing class when he entered his fourth year at Mount Royal. The pair are a great example of what can be accomplished with an entrepreneurial mindset, whether founding a business or helping one grow. The fourth and final partner is Nick White.
Hofmann and Hartley credit a LaunchPad accelerator course they took with Ray DePaul, director of the Institute for Innovation and Entrepreneurship for providing the necessary underpinning they needed to launch Smoke Barrel. They then had a huge breakthrough when Smoke Barrel won a $30,000 investment at MRU's annual JMH LaunchPad Pitch Competition.
"We approach entrepreneurship a little differently at Mount Royal," says DePaul, "Naturally we are thrilled when student companies like Burgundy Oak are successful, but we remain focused on providing the student entrepreneur with a remarkable educational experience that will be valuable whether they start or join a company."
Burgundy Oak creates beautiful handmade furniture and decor instead of smokers, but they still use wine and whiskey barrels to make their products. After three to five years of use at a winery or distillery, barrels no longer offer enough flavour to be used in the aging process. Each is made of fresh white oak, which Burgundy Oak upcycles into clocks, chairs, coffee tables and more.
"Every barrel is completely unique so there will never be two pieces exactly the same," Hartley says. "Each one tells a story of the company that made it, the company that used it and Burgundy Oak that handcrafted it right here in Calgary."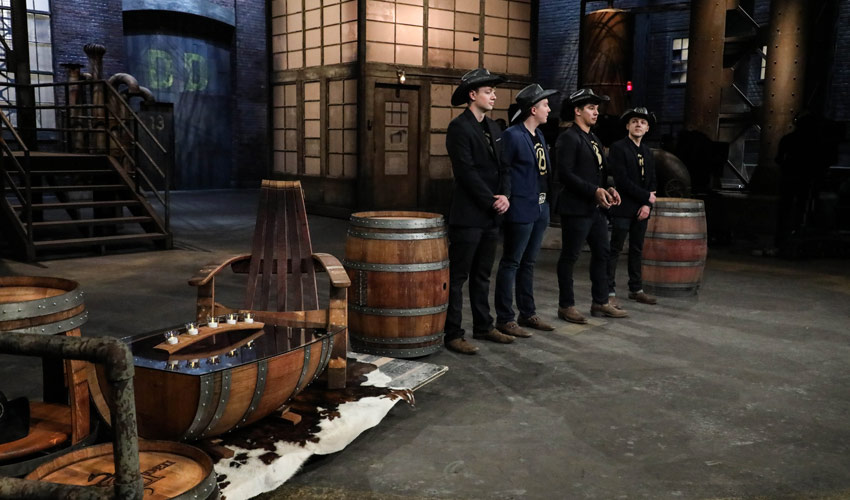 The four partners now have a 14-employee operation within an 8,300 square foot manufacturing facility, supplying more than 500 stores across Canada. They have even struck a licencing deal with Jack Daniels to be the sole distributor of Jack Daniels-branded furniture in Canada ― a secret they kept to themselves until after they received their first round of offers in the Den.
"We wanted to see what we could get organically first and then let them know this was coming down the pipeline. That was a game changer for everybody," Hartley says.
Hartley and Hofmann have found success because of their own drive, but they credit MRU with preparing them for the realities of being entrepreneurs.
"When you start a business, you end up in this 'trough of sorrow,' because there's no end when you're building a business," Hofmann says.
"But Mount Royal gave us this great network of people we can turn to as mentors," Hartley adds.
"We just want to be the Calgary boys who made it. Not the Silicon Valley boys that got a ton of funding and failed. We've bootstrapped this whole thing, and we're pretty proud of that," Hofmann says.
How Dragons' Den happens …
Because most of us will never set foot in the Dragons' Den, Hofmann and Hartley shared some behind-the-scenes moments from their experience.

High in the sky
Hartley: "When you think of Dragons' Den, you think of an old run-down warehouse, but in reality it's a giant movie set in the middle of downtown Toronto, 20 floors up."

More than just two guys with cameras
Hofmann: "It's literally a 100-person set by the time you look at everyone there. Producers, the cameras, the sound guys ... It takes a lot to put that production together."

First pitch of the day
Hartley: "They do 15 or 16 pitches per day. We had the biggest set up of the day, so they let us go there early. We even got to take photos of us sitting in the chairs as Dragons. Then we did a little dry run, huddled with the producers, and then it was 'go' time."

Stairs to nowhere
"The producers told us to walk up some stairs on the side and they held us there for a couple minutes while they got set up. Then, it's just like you see in the show ― we walked across that platform and down the stairs. We stood there for 10 seconds and then it was game on."

Who's in?
Hofmann: "My favourite part was the look on all the Dragons' faces that said 'Well, this does seem like a business we should invest in.' "

Breaking down the door
Hartley: "I've never seen this before on the Den, but Manjeet actually came into the back room and barged through the door and urged us to take the deal. She said she'd be quarterbacking it with the two other Dragons. We figured that was a good sign."

Awkward silence
Hofmann: "When we came out, they made us stand there in silence for 30 seconds so they can get all those stressed shots of the Dragons' faces. So then they cued Vincenzo Guzzo, who asked which direction we were going, and we took Manjeet, Arlene and Lane's deal."
The LaunchPad Program was created to help Mount Royal University's most innovative and entrepreneurial students pursue their passion, inspire ideas, and launch their own venture.
Oct. 16, 2018 ― Julie MacDonald
Media request contact information.
Have a story idea? Please fill out this form.