Mount Royal means growth, development and success of the individual
Former board chair Barbara Jean Fraser receives Honorary Bachelor of Education — Elementary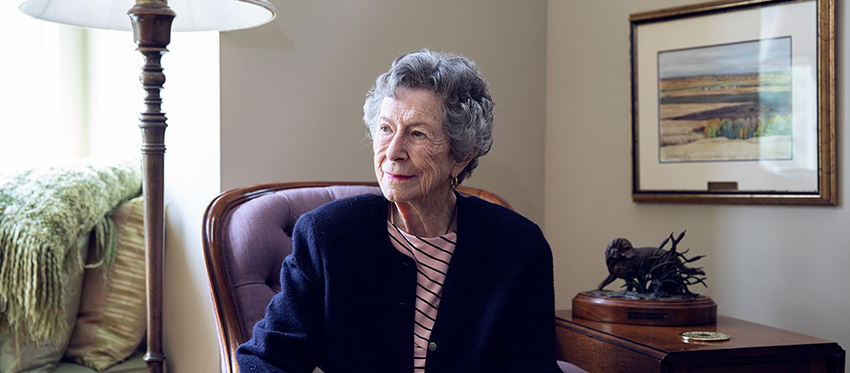 A tireless volunteer, Barbara Jean Fraser has worked to improve the quality of life in Calgary and Alberta for 50 years. Her dedication and leadership within multiple organizations has brought about changes in the delivery of health care, education and social services in this province.
Throughout her professional career Fraser led many boards, including the Calgary Board of Education, the Calgary Health Trust, the Calgary Regional Health Authority and the Heritage Park Society. As a member of Mount Royal's Board of Governors from 1982 to 1998, Fraser was board chair during the 1987/1988 academic year, when the institution completed the final stages of its first major Lincoln Park campus expansion.
"It was stressful because we were a third of the way through the construction and the architect went bankrupt. It was a very difficult and stressful negotiation," says Fraser, who was originally asked to be a board representative as a request from the nursing faculty. "I watched (the campus) grow. There were not that many big buildings back then."
Having seen the institution develop to its current state, in concert with her most recent achievement of an honorary degree bestowed during the 2018 Spring Convocation proceedings, is something she is proud of.
"This is very special. Mount Royal is very close to my heart."
For Fraser, her association with Mount Royal University is remarkable, simply because of what the campus stands for in her mind. For her, it's the University's commitment to teaching and learning.
"The other major universities that I have dealt with through my children, grandchildren and myself, too often their entire focus is on their reputation and recognition to go along with the honours they receive," says Fraser. "The undergraduates are a necessary evil needed to finance their focus.
"At Mount Royal, they are the focus."
Awarded an Order of Canada and recipient of the Confederation of Canada Commemorative Medal, Fraser has a wealth of experience, but her honorary degree remains a first for her. Proud of Mount Royal's commitment to the undergraduate experience, Fraser also points to Mount Royal's focus on the growth, development and success of the individual.
"It's something that needs to be addressed. I appreciate Mount Royal's effort to provide inclusion on campus," she says.
While Fraser was with the Calgary Board of Education she championed Calgary's first Indigenous school ― the Plains Indians Cultural Survival School ― which was the first school run by and for Indigenous people in an urban area in Canada. During this period of her life she met Mount Royal University Iniskim Centre director, John Fisher, who witnessed her passion firsthand.
"Jean strongly advocated for the Plains Indians Survival School. She was passionate about the school, the students and the curriculum. The school played an important cultural role in Calgary and Treaty 7," says Fischer. "It has a legacy that lives on in our community."
Her honorary degree is not the first time Fraser has been recognized by Mount Royal. The Jean Fraser 90th Anniversary Scholarship in Applied Ecotourism and Outdoor Leadership was an initiative of former Mount Royal Foundation executive director, Hunter Wight.
It the spirit of her new Honorary Bachelor of Education — Elementary, Fraser's opinion on the scholarship is one of both generosity and practicality.
"I would like to see someone benefit and make sure it gets put to good use."
Discover Mount Royal's Bachelor of Education program.

May 30, 2018 ― Jonathan Anderson
Media request contact information.
Have a story idea? Please fill out this form.