Emerging scholar-in-residence highly acclaimed author and scholar
Billy-Ray Belcourt will be on campus March 5 to 9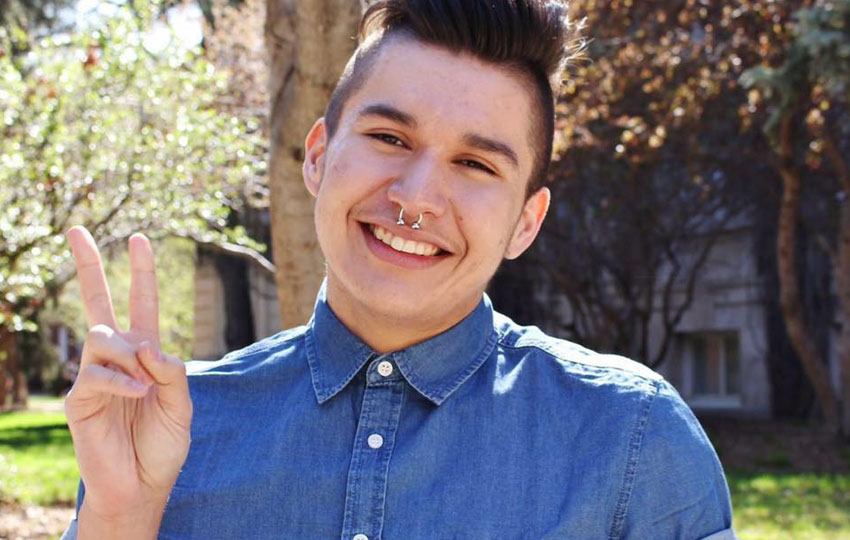 A highly acclaimed author and scholar and will be on campus March 5 to 9 as the first emerging scholar-in-residence of the Office of Academic Indigenization (OAI). Billy-Ray Belcourt, from the Driftpile Cree Nation northwest of Edmonton, is a poet, 2016 Rhodes Scholar and a PhD candidate in English and film studies at the University of Alberta. He was named one of six Indigenous writers to watch by CBC Books for his book of poems, This Wound is a World, published 2017.
OAI co-directors Renae Watchman and Liam Haggarty say Belcourt represents progressive learning. "By calling him an emerging scholar, we don't mean 'young,'" explains Haggarty. "We mean emergent knowledge and movement within the academy ― not conventional and certainly not Western."
"He's multi-faceted, and his scholarship is innovative," adds Watchman, who credits the interdisciplinarity of Belcourt's research for his wide appeal to faculty at Mount Royal.
During his week on campus, he'll visit English, film, general education and history classes. "His active research and scholarship bridges so many disciplines," says Watchman. "For example, his work on violence and in framing Indigenous masculinities is of interest to some faculty in particular."
Belcourt will be available in the OAI (T123) on a drop-in basis for faculty and students and will present a keynote talk on Thursday, March 8 at 6 p.m. in the Lincoln Park Room called The Conspiracy of NDN Joy.
Of his talk, Belcourt says it "examines a diverse range of texts ― literary, filmic, archival, and artistic ― to show that wherever NDNs [Indigenous peoples] are, so too is the feeling of utopia." Belcourt's keynote address, which is sponsored by the Provost's office, will include a book signing.
He's also hosting a discussion on Friday, March 9 with Joshua Whitehead, a doctoral student at the University of Calgary focusing on Indigenous literatures and cultures and author of full-metal indigiqueer.Their conversation will be held in room T126 at 11:30 a.m. in collaboration with Kit Dobson's North American Indigenous Literatures course. Everyone is welcome

Belcourt was chosen as the OAI's inaugural emerging scholar-in-residence through a collaborative process involving a cross-campus selection committee. In addition to Watchman and Haggarty, members included John Fischer of the Iniskim Centre, faculty-librarian Jessie Loyer, Cory Cardinal with the Global Citizen Centre at SAMRU and Tracy Friedel, Canada Research Chair in Indigenous Studies.
Register for The Conspiracy of NDN Joy.
Contact the OAI for more information at oai@mtroyal.ca.
March 2, 2018 — Melissa Rolfe
Media request contact information.
Have a story idea? Please fill out this form.