Students lead Black History Month events at Mount Royal
Unconscious bias in Canada still exists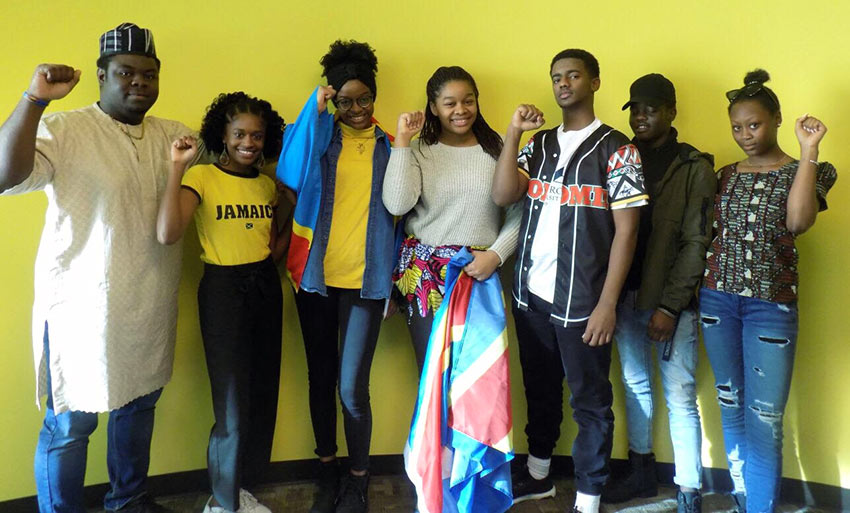 Every February, Canadians are invited to participate in Black History Month to honour the legacy of Canadians of colour, past and present. Mount Royal's African Caribbean Student Affiliation (ACSA) took the lead by hosting a number of events to celebrate pride and culture, and initiate an open dialogue towards equality.
The month began with the ACSA hosting a gathering on Main Street called What Does Being Black Mean to You?
The kick-off event was followed by ACSA members being invited to wear their traditional clothing for a day to honour their heritage and as a sign of solidarity.
"We are trying to embrace our culture. Not a lot of us wear our traditional wear because of what people might think. This was designed to make our members feel proud of our history and culture," says ACSA president and third-year business student Oghene Ovieme Iyeke.
Iyeke, or "Ovie," as his peers call him, transferred to Mount Royal via SAIT. He was born in Nigeria and lived in Qatar before eventually coming to Calgary five years ago. Iyeke believes What Does Being Black Mean to You? was received extremely well across campus and hopes actions like this will allow club members and other students of colour to continue to celebrate their differences.
"Everyone was really accepting, they loved what we were doing. When we announced it the student body seemed very happy that we were doing something for Black History Month," Iyeke says.
The club also hosted Black History Trivia Night and Love your Blackness, as well as their regularly scheduled programing of Real Talk Tuesday (which takes place each week in the EC building), all of which received a lot of traffic and mentions on the club's Instagram account, @acsamru.
For Iyeke and the rest of the group, the celebration of Black History Month should be a launch pad to more regular demonstrations of pride and inclusiveness. Stepping stones like month-long celebrations are an excellent starting point, but the club sees what they are doing as an opportunity to continue showing the campus what their cultures are about, not just in February.
"The club is a meant to empower our students in the community and in our school. Events like ours encourage them to break stereotypes and be proud of their culture," says Iyeke. "We live in a world where people create stereotypes and we want to break (them)."
Stereotypes, bigotry and clouded viewpoints are what the ACSA hopes to erase. Prime Minister Justin Trudeau echoed a similar message in his remarks honouring black Canadians in early February.
"Their stories too often go untold, relegated to the footnotes of history text books," said Trudeau. "It is too common to hear stories of young women and men who are first judged by the colour of their skin. Yes, even in Canada progress in not felt by all people equally. Unconscious bias certainly does exist."
Faith Michael Uzoka, PhD, is a professor in Mount Royal's Department of Mathematics and Computing who has more than 80 peer-reviewed publications to his credit. He is a Carnegie African Diaspora Fellow who came to Calgary in 2004 to complete his postdoctoral fellowship at the University of Calgary as a Canadian Commonwealth Scholar, and has since become a champion for equality and recognition. Trudeau's term of "unconscious bias" stuck with Uzoka. He believes it's very real as well, and is a factor that needs to be removed throughout Canadian society.
"The celebration is important because it creates importance for all people of colour. It also creates awareness for non-blacks on unconscious bias. If you are aware of it you will make sure it doesn't influence your decisions."
Uzoka would like to see people of colour have the ability to instill themselves with more pride and confidence.
"Not everyone has the courage that I might have in applying the knowledge that my contributions are valued. We see a number of people of colour hiding in their social, cultural and academic closets," says Uzoka. "When you celebrate who you are, people recognize what you can bring to the table. When you don't, you relegate yourself to the backburner.
"If you achieve something, celebrate it."
Uzoka hopes that celebrating the contributions of Canadians of colour throughout Black History Month results in more people recognizing their own abilities. He believes people of colour are underrepresented within executive positions at Mount Royal, not in an unjust manner, but rather because of a lack of participation that may be fueled by fear of unconscious bias.
"It's not because people of colour showed up and were not hired. It's probably because no person of colour applied. I'd like to see more people being conscious of what they can bring to the table, and be proud of their contributions. Come out and showcase yourself in an effort to move MRU to greater heights.
"Let us consciously eliminate unconscious bias, and that's the way to really move forward. I cannot be you, you cannot be me, but it is recognizing the importance of each person that we can all contribute meaningfully and positively to the system."
Uzoka's beliefs of Black History Month being a starting point to remove unconscious bias are shared by Iyeke, who also hopes February's recognitions create confidence amongst people of colour. When he began his post-secondary education, Iyeke recalls celebrating his culture's achievements only within his own small community, but since then he believes he has begun to reach the broader public. With internal and external support, Iyeke says he will continue to demonstrate the importance of equality and the idea that anyone can achieve something great.
"I understand that it's Black History Month, but we also shouldn't be put in that box. It shouldn't be a one-month celebration. It should be a year-long celebration of empowerment and inclusion," says Iyeke.
Back to Black Forum

Monday, Feb. 26
The club's event takes place at 5 p.m. on the third floor of the Riddell Library and Learning Centre (EL 3460) as ACSA hosts its Back to Black Forum.

The occasion promises to be a commemorative experience where guests are invited to discuss difficult and sensitive political topics.
Feb. 23, 2018 ― Jonathan Anderson
Media request contact information.
Have a story idea? Please fill out this form.