SAMRU president tells her Stampede story
Ever wonder what it's like to be a rodeo ambassador?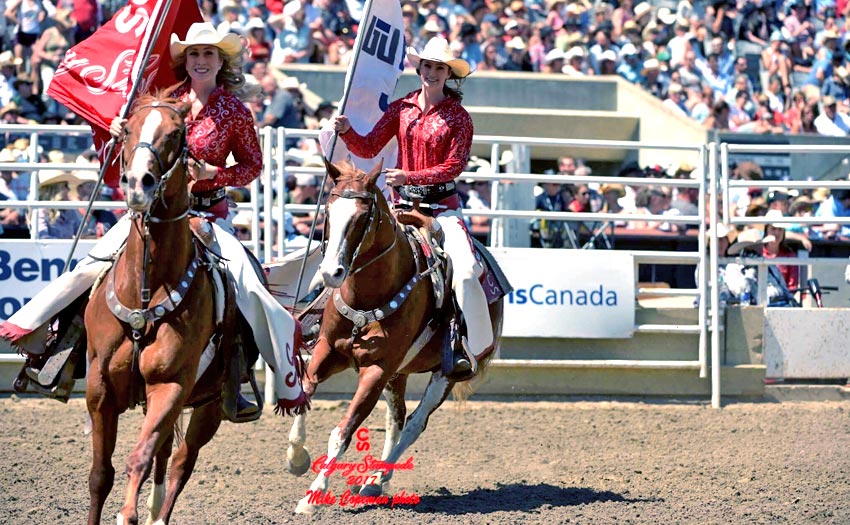 Words by Shayla Breen, president of the Students' Association of Mount Royal University

There are 10 days of the year that, guaranteed, you will not see me running down the halls of Mount Royal University. Instead, you may see me carrying a flag, on top of a beautiful horse, with a smile on my face and perhaps some mud between my teeth. Those ten days are the Calgary Stampede.

Riding full speed into fireworks and fire to the screams of 20,000 people cheering just for my team and I has been a dream since my first time attending the Calgary Stampede Rodeo in 2014. Much like my bid for president of the Mount Royal University Students' Association (SAMRU), my dream was filled with passion, determination, and a little bit of grit.

Between my two roles of Ranch Girl - an ambassador and flag girl for the Calgary Stampede Rodeo - and president of SAMRU, I get the same rush when I ride a horse at full speed in the mud as I do standing up in a crowded room and speaking to the needs of students. Neither job is easy, however, I feel so grateful to live parallel lives. Part-time cowgirl and part-time president. You really can have the best of both worlds.

I started my journey to the Stampede years ago. My first horse was Misty, who came to me in 2014. She was a 21-year-old mare with just the right amount of sassy personality. After lots of training and a few well-earned bruises, I started riding in shows, joining the Millarville Musical Ride alongside my family and slowly training myself and my horses to be great performers. I got a big break in 2016 when I was asked to be a Calgary Stampede Ranch Girl, something I have looked forward to each year since. Building on that, I ran for Calgary Stampede Royalty in 2017, placing in the top six and learning many valuable lessons in presenting myself and my beliefs to the world. This would help me tremendously over the next two years, as I successively (and successfully) ran for vice-president, Student Affairs, and this year for president of SAMRU.

The rodeo, riding, Calgary Stampede and SAMRU are now all integral parts of who I am as a person. I've learned patience from training horses, strength from full-out gallops, determination from long days in the sun, and confidence through working with amazing people. I have learned that sometimes, no matter how much effort you put into presenting yourself, your work and your passions, it all gets a little bit scuffed up when you put it out into the real world. There isn't a single ride where you don't get some dirt on your jeans. All these skills have been invaluable to me as a student and in my journey as a young professional.

I have the utmost confidence that continuing to ride, participating in the Calgary Stampede Rodeo, and building my future at MRU all coincide for a reason. I truly hope everyone at MRU can also find their passion as they go through their journey here.
Media request contact information.
Have a story idea? Please fill out this form.