Bret Hart gifted traditional Blackfoot name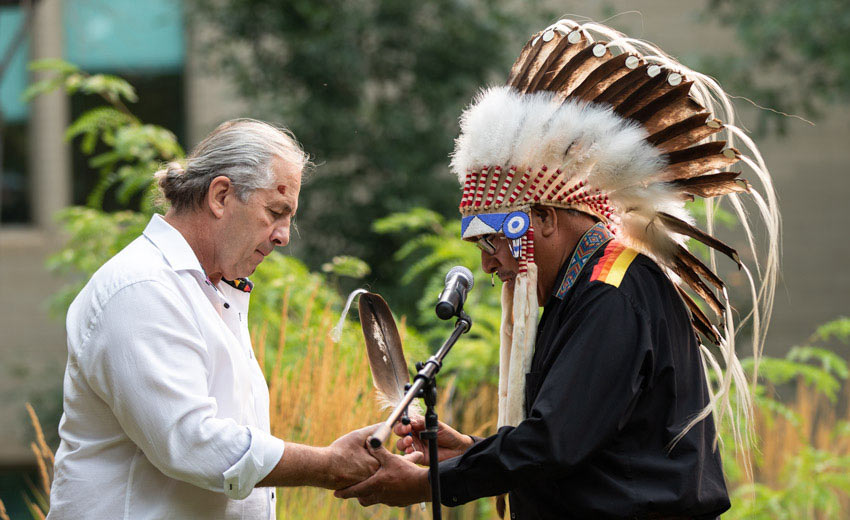 A Mount Royal University Honorary Bachelor of Health and Physical Education ― Physical Literacy recipient and alumnus Bret Hart was gifted a traditional Blackfoot name today by Siksika Nation and Elder, Clarence Wolfleg Senior (Elder Miiksika'am).
Miiksika'am explained that the name Iyiikitapinna (Ee-ee-ka-ta-bee-na), which means Courageous Chief, was bestowed upon Hart to acknowledge his accomplishments, his community commitment and his unbreakable spirit.
The former Cougar athlete left campus in the mid-seventies to become one of Calgary's most well-known ambassadors and a professional wrestling icon.
"The name that I chose for Bret goes back to an old warrior whose name was Iron Chief," Elder Miiksika'am said. "His spirit was like iron, once he was surrounded in battle and they tried to take him down but the Great War chief said we can not take this warrior down. He has a shield. For you (Hart) I decided on a powerful name of a great warrior - Courageous Chief."
For Hart, this gift was extremely special.
"As soon as I got a rumbling of this I thought to myself about how my dad (legendary wresting promoter Stu Hart) would like this. That's what makes it so special," said Hart.
As part of Stampede Wrestling, Stu Hart travelled throughout the prairies entertaining legions of fans night after night. He had a strong connection with Indigenous communities, often mentoring local youth.
"My family and my father especially was always very tight with the (Indigenous) community - throughout Alberta, British Columbia, Saskatchewan and even Montana. He had a strong kinship with them all his life."
Hart recalls how an elder approached his father to give him and his sons' Indigenous names to recognize this special relationship and their accomplishments. When his father passed away, the honour was never bestowed.
"We always talked about how it was too bad it didn't happen. I feel like my dad was watching over me with this one, thinking that's nice that loose ends got tied up," said Hart.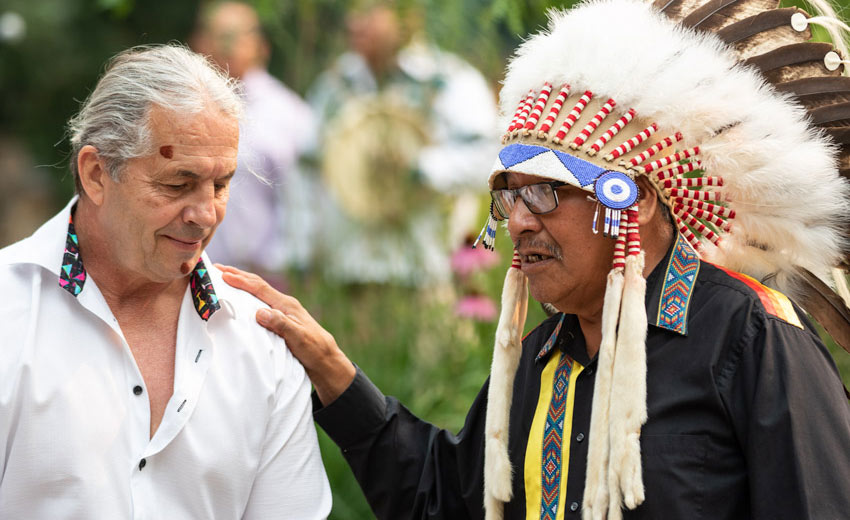 The ceremony to receive a Blackfoot name is a rare and distinctive honour, involving a smudging ceremony inside MRU's tipi, the gifting of a name, eagle feather and blanket, and the singing of the University's Honour Song by Darcy Turning Robe and Skip Wolfleg.
Hart, who is adored internationally by legions of fans, ranked today as one of his most special memories and appointments.
"You have certain things that are very special to you on a personal level. I've had a lot of amazing experiences, but with something like this, there's so much respect I have for this honour going back to my father's time, and it means a lot to me."
Likewise, Miiksika'am will forever remember the day as well.
"Bret Hart is a person who is walking the path of his father," he said. "I remember Bret and his brothers as young boys, tending to his father before they went on to international success. I never knew in the future I would be paying my respect to a great warrior."
Also an actor, artist and philanthropist, Hart has picked up many distinctions and accomplishments throughout his career, some of which include the City of Calgary declaring May 27, 2013 as Bret Hart Day, being bestowed a Bob Edwards Award and being named the 39th greatest Canadian according to a CBC poll. Known as the most technically proficient pro wrestler ever, Hart is also the writer of a bestselling autobiography and newspaper column. He supports the Terry Fox Foundation, the Calgary Prostate Centre, March of Dimes Stroke Recovery program and RESOLVE. Hart won the 1977 Collegiate Amateur Wrestling Championship competing for Mount Royal.
Indigenous Strategic Plan
Mount Royal's Indigenous Strategic Plan commits the University to a course of action to indigenize the campus, to respect and embrace Indigenous knowledges and ways of knowing, to build and strengthen partnerships, to support student success and to honour Indigenous experiences and identities.
Aug. 23, 2018 ― Jonathan Anderson
Media request contact information.
Have a story idea? Please fill out this form.