Bret Hart finishes what he started
One-time student and Cougar athlete receives an honorary degree in Health and Physical Education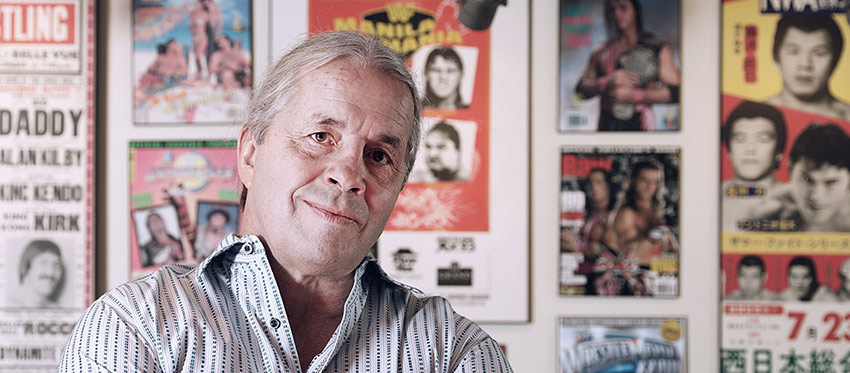 Before he was, as a professional wrestler, "the best there is, the best there was and the best there ever will be," Bret Hart was a student pursuing his education at Mount Royal, as well as a Mount Royal Cougar athlete.
Eventually, Hart, or "The Hitman" as he became known by legions of adoring fans, would go on to international fame as a wrestler, making him one of Calgary's most famous citizens. But prior to worldwide stardom, Hart acquired a thirst for knowledge at what was then Mount Royal College. On multiple trips to Japan he would read 10 books at a time, absorbing as much as he could during his downtime.
"That was implemented from my time at Mount Royal. The more I read, the more I learned. I just tried to fill my brain up with more knowledge," he said. "When I got into wrestling, I really read whatever I could and that started at Mount Royal."
During the June 1 afternoon proceedings of the Spring 2018 Convocation ceremonies, Hart was bestowed an Honorary Bachelor of Health and Physical Education ― Physical Literacy as an outstanding individual who has been recognized at an international level and who has used his position and recognition for the betterment of society.
"Bret Hart initially earned a reputation for toughness in the wrestling ring. More recently, however, his battles with cancer and the tenacity in which he advocated for his own health and the wellness of others are the qualities we hope to impart and enhance within our own physical literacy students," says David Legg, PhD and chair of the Department of Health and Physical Education at Mount Royal University.
The Hart legend
There were 12 children growing up in the Hart house, which could be a challenge. The matriarch and patriarch of the family were constantly running in different directions as the pair worked tirelessly to elevate the family business.
Hart recalls one defining mandate in his busy household.
"My mom and dad had a rule. The first son that graduated from university or college would get to run the family business," recalls Hart.
The family business, begun by Hart's parents, Stu and Helen, in 1948, was Stampede Wrestling, which put on wrestling exhibitions throughout Alberta, British Columbia, Saskatchewan and into Montana. Stampede Wrestling served as the premier choice for entertainment across the prairies for over 50 years. The circus-like extravaganza even produced a weekly Calgary-based television show, hosted by legendary local sports announcer Ed Whalen. For most of Stampede Wrestling's tenure the production was immensely popular, eventually being syndicated around the world.
Known for his witty cartoons, Hart's artistic leanings led him to become interested in filmmaking while attending Ernest Manning High School in the '70s. Eventually he took the money he made working as a labourer at a gas plant in Balzac and refereeing wrestling for his dad and put it towards film equipment. He also befriended a classmate with similar passions for film and broadcasting.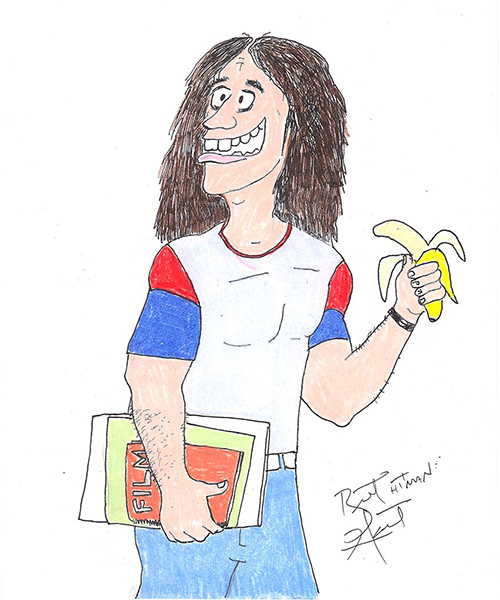 "We talked about it all through high school. We bought 8mm camera equipment and made a few films that were quite funny at the time."
All the while he was also saving up for college.
"They (Stu and Helen) were always pushing me to go to college and do something with my life."
He and his filmmaking friend met with, as Hart puts it, "very encouraging" Mount Royal counsellors.
"We passed our interview with flying colours. We had years of dreams and lots of late nights talking about what we were going achieve. It all seemed to be coming together."
That was until it came time to sign up for his classes. Hart remembers calling his friend to see who was going to drive to campus the next day. Hart was all set to enroll, but, unfortunately, his friend dropped out.
"Off I went to school by myself," he said. "That was an adjustment I wasn't ready for."
Making things worse, Hart had assumed that he was already registered for his film classes. As it turned out, a three-day trip to Saskatchewan to earn a couple extra bucks refereeing resulted in his picking classes late. With all of the film classes full, he enrolled in courses in political science, amateur wrestling and American history.
It was no surprise that he was immediately courted to join the Mount Royal wrestling squad. Hart was the undefeated amateur wrestling star in his high school, and placed second in the city finals, winning provincials in 1975.
"I remember we had a wrestling meet between the University of Calgary and Mount Royal College. I had to wrestle a guy who I had wrestled all through high school, but at this point he was the Canadian national champion ― Bob Ecklund from Central Memorial High School.
"After being off wrestling for two years, I had him pinned in a bridge for almost a full three minutes. I remember going, 'Jeez, I almost beat the national champion. I just didn't have the cardio to do it.'"
Somewhat surprising himself, as a member of the Cougars Hart captured a College Amateur Wrestling Championship. Soon enough, however, he found himself answering the call of the family business. Despite his dream of becoming a filmmaker, destiny was calling him elsewhere.
After a few years with Stampede Wrestling, Hart joined the World Wrestling Federation (WWF) in 1984, and would go on to entertain fans as a role model for the sport in all four corners of the globe. He is a multiple wrestling world champion, winning two WWF Tag Team Championships as a member of the Hart Foundation with brother-in-law Jim Neidhart, and holding the title of WWF World Heavyweight Champion from 1992 to 1996. Hart is also an actor and author. A 2004 CBC poll ranked him the 39th greatest Canadian, and in 2016 he was recognized with the distinguished Bob Edwards Award as a provocative individual, not afraid to speak his mind, and having made an impact in a unique way.
"I think I put all my imagination into my wrestling and it paid off," he said. "A lot of my success in my professional years can be attributed to my passion for filmmaking."
His dedication to excellence is recognized by Mount Royal.
"Mr. Hart has forged a strong connection with Mount Royal as a steadfast supporter of our community. He embodies Mount Royal's quest for excellence as he personally continues to strive to be 'one of the best there is, the best there was and the best there ever will be,'" says Stephen Price, PhD and dean of Mount Royal's Faculty of Health, Community and Education.
"(The degree) means a lot to me, especially (the reason) why they are giving it to me," Hart says. "I have done as much as I possibly could in the community - and done it in my own way. It's nice to be recognized.
And he has come back full circle to the institution that gave him a base for his entire career.
"This is something I left unfinished because I was at a fork in the road with my life as a pro-wrestler. To receive this now would mean the world to my mom and dad."
Since retiring, Hart has continued to make his mark with philanthropic contributions locally and nationally. He serves as spokesperson, lead fundraiser and ambassador for many non-profit organizations, including the Terry Fox Foundation, the Calgary Prostate Centre, the March of Dimes Stroke Recovery program and the RESOLVE Foundation.
Learn more about the different programs in the Faculty of Health, Community and Education at Mount Royal.

May 30, 2018 ― Jonathan Anderson
Media request contact information.
Have a story idea? Please fill out this form.