MRU Conservatory rings in Chinese New Year with a new partnership
'Gung hey fat choy' to the Mount Royal Conservatory's newest ensemble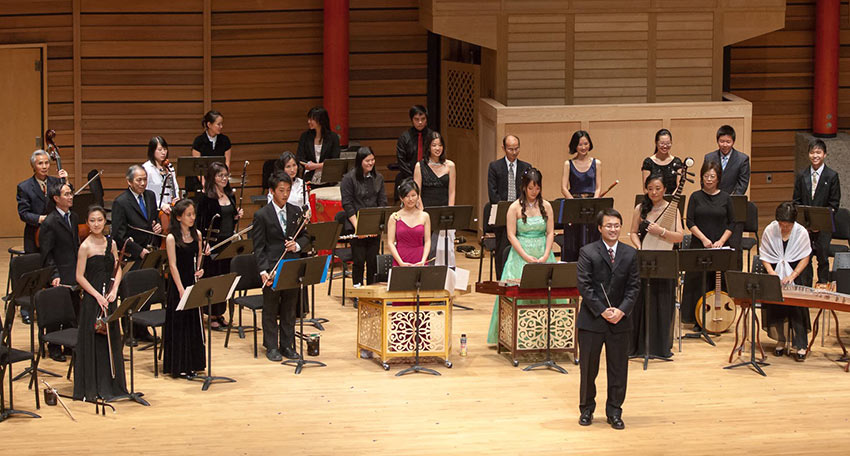 The MRU Conservatory is pleased to welcome the Calgary Chinese Orchestra (CCO). Founded in 1997, the CCO has a celebrated history of playing music from all regions of China on traditional instruments.
"This is a great opportunity for the Calgary Chinese Orchestra to be part of the bigger music community," says Winnie Ng, president of the CCO. "Increasing our membership is our No. 1 priority at the moment. Joining Mount Royal University Conservatory provides a formal channel for us to recruit new members."
For 20 years, the orchestra has promoted and raised awareness of Chinese music and culture. Conservatory flute instructor JiaJia Li and Jeffery Chao, the CCO's conductor, are co-artistic directors of the ensemble, which currently has 18 members.
"A Celebration of Chinese Music Old and New" at Arts Commons on Feb. 17 will mark this new musical partnership. Li and guest artists Everett Hopfner (piano) and Shana Yang (soprano) will join the CCO in playing works by Stephen Yip, Ka-nin Chan and JUNO Award-nominee Vincent Ho, all Chinese composers living in North America.
"Being associated with the Conservatory exposes people who are interested in the study of music to the Chinese side of the art and also legitimizes it," Li says. "I'm really hoping that under the Conservatory umbrella, the CCO will get more exposure - for the world to hear more of our sound and music. I'm interested in extending our repertoire, to keep discovering and arranging classics, as well as exploring other music genres - pop, film, and also contemporary music - to engage different people."
With a wider audience base, there's potential for new interest. "Hopefully more people would hear something that they like, and want to learn these beautiful ancient instruments and carry on the tradition," Li says.
Instruments in a Chinese orchestra include:
erhu: a two-string fiddle

dizi: a bamboo flute

guzheng - a plucked zither with 21 strings

pipa

- a four-stringed instrument sometimes called the "Chinese lute"


yangqin - a trapezoidal dulcimer-type instrument that is struck with slender bamboo mallet

Percussion instruments (including drums, cymbals, gongs etc.) and bass and cello to provide the rhythmic and harmonic foundation
As for a fresh start, it seems like the timing is right. "The Conservatory is infused with fresh blood right now," Li explains. "I see so many new and interesting people and programs running here. I would love to have more collaborations within the (Conservatory) family."
She attributes this musically inclusive vision to MRU Conservatory Program Coordinator Jean-Louis Bleau, who approached the CCO months ago. "We'd really like to thank Jean-Louis for the transition, for being so open-minded and for his vision for the music community that we live in."
The CCO is part of a global vision of music education which builds on the Conservatory's traditionally classical European focus and opens the field of study to include programs like Hindustani Raga music and the popular Taiko drumming training. In joining the ranks of the Calgary Youth Orchestra and several award-winning choirs, including the Calgary Zhi-Yin Choir (which means 'friends in music'), the CCO is in good company.
Like any New Year's celebration, there's a resolution involved, too.
"We want to be part of the Conservatory and do our part to enrich the music culture of Calgary," Ng says.
Feb. 13, 2018 — Jonathan Love
Media request contact information.
Have a story idea? Please fill out this form.