How the arts can boost a city's economy
Student experiments look at ways to diversify while also cultivating creativity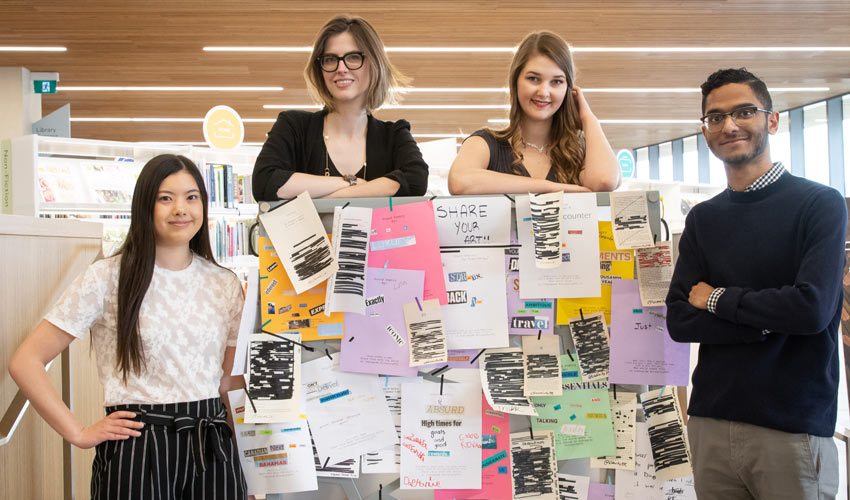 Students Sara Haidey, left, urban studies, University of Calgary; Amanda Morton, information design, Mount Royal University; Alexandra Campbell, information design, Mount Royal University; and Chris Abraham, biology, Ambrose University, took part in the Vivacity challenge.
As part of the third Vivacity challenge, 19 students from Mount Royal University, Ambrose University and the University of Calgary joined together to figure out how the arts can be embedded into Calgary's DNA while also increasing awareness of the city's cultural and creative economy.
Most don't realize that $126 million of GDP generated in Calgary alone is relative to the impact of the arts, says Mount Royal Assistant Professor Catherine Pearl, who teaches a civic innovation course as part of the challenge. The students, whose studies span seven disciplines, didn't have much exposure to the arts, Pearl, says, but they did have a depth of curiosity as to how to improve Calgary.
"Vivacity brings together students from across Calgary's post-secondary institutions to innovate, co-create and implement solutions to local challenges, making our city more vibrant, livable and sustainable," according to its website.

Students were divided into four groups focusing on artistic clusters: literary arts, film and music, performance arts, and visual arts. Artists and experts were brought in to inspire, coach and mentor students. Each group designed and prototyped a citizen experiment to test out how to engage Calgarians in the arts, as well as increase awareness about the impact of the arts in our city.
"Research tells us that cities that have had to become more resilient have really had to learn how to leverage the arts and really make it a key component of the economy," Pearl says.
This year's Vivacity and the civic innovation course is about understanding the creative and cultural economy of Calgary and what that means.
"Arts are part of the richness of a city, an integral part of the community, just as oil and gas is as well. It's a part that has been kind of ignored over the years, but that I think is going to become front and centre in Calgary's new economy," she says.
Although the civic innovation course was offered through Mount Royal, it was taught at the new downtown Central Library, and students from other universities earned credit from their home institutions.
Looking for a reason to stay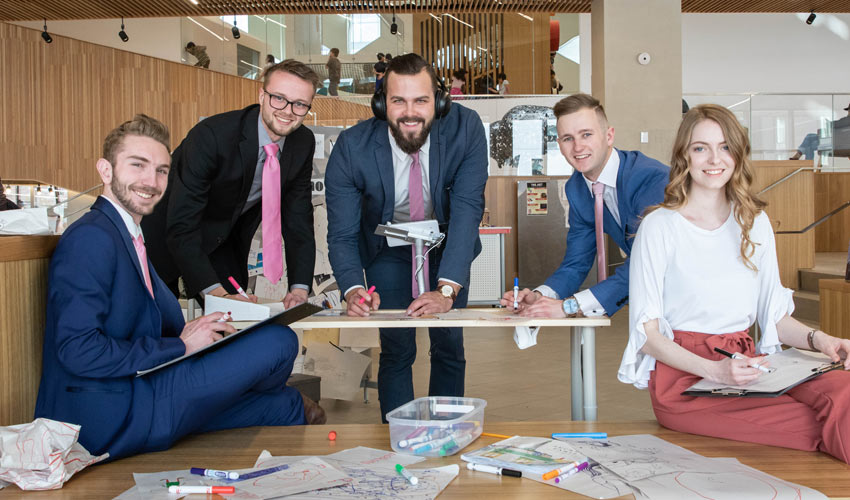 William Kelly, left, marketing student at MRU; Matt Foster, accounting student at Ambrose University; Xander Jensen, business student at MRU; Kolten Nelson, business student at MRU; and Raquel Chamberlain, information design student at MRU, were one of the groups working on the Vivacity challenge.
Third-year cell biology student Chris Abraham from Ambrose University, who is minoring in marketing and chemistry, was part of the literary arts cluster. He was interested in the opportunity to spend a semester in the Central Library as well as the chance to collaborate with students from other schools. Abraham's group focused on found poetry and blackout poetry.
"We wanted to portray poetry in a very friendly, open and easy way, in the sense that anyone can do it," he says. "That was our main goal." They also identified four sub-goals: to educate, engage, encourage and empower.
Abraham tested found and blackout poetry, pushing his boundaries as a science student. He found that thinking in a new way allowed him to see opportunities where he didn't before. Abraham, who grew up in Toronto, says he thought of Calgary as a place to get his degree, then leave. His sights were set on places such as Toronto, Vancouver and Montreal to live and work. "But now, through these assignments - and especially because we're in the library, this great downtown space - I'm so much more open to what Calgary has to offer."
He's interested in going into digital marketing. "This could be a place where I can easily do something. Now I'm thinking about how to push Calgary's image beyond just another small town. It's definitely revitalized a lot in me, and now Calgary has more meaning to me. This place has a lot to offer."
The economy of film and music
Xander Jensen is a general management student at Mount Royal, with a concentration in social innovation. He eagerly signed up for the course.
"It was the best of both worlds: a cool class in a brand-new building," he says.
As part of the film and music cluster, his group found that music and film are "perfectly tied together" in soundtracks, Jensen says. For their experiment, they asked people to put on headphones and draw a movie outline, poster, or scene. There were visual cues, but nothing specifically telling people what to do.
"You just create whatever you feel," Jensen says. "You feel more than what you see" was a key understanding and a good way to describe living in a city. Because of the course, Jensen is interested in bringing more of the film industry to Calgary.
"It's a huge part of what our city could potentially be. We want to show how important the film business is to Calgary, and the local connection it brings is even more important." Nashville, for example, went through a major recession, but bounced back, in part, by adopting "Music City" as its brand, bringing in billions a year, he points out.

"Definitely adopting the arts can benefit individuals and cities. It is a viable way to boost the economy if you fully adopt it," Jensen says.
Bringing back what has been lost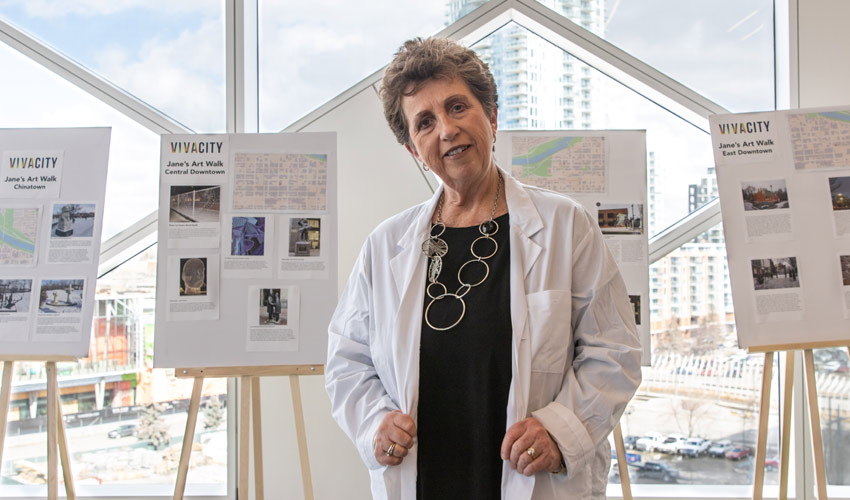 Mount Royal student Dave Serrao was in the performance arts cluster. He takes courses to support his current career in the non-profit sector. Pearl's class has benefitted him in many ways. "I can apply a lot of the theories like system mapping and human design right away. Like, tomorrow," he says.
As a born-and-bred Calgarian, he's seen the city through many iterations and identities. He remembers when the Stampede was "cool," and when Calgary retained a small-town feeling, but was big enough to provide opportunity. He's witnessed Calgary become more multicultural and diverse. His group's experiment was a timeline asking people to jot down past and present performance arts milestones, and also their hopes for the future.
"People are down on Calgary right now, but the timeline was to see how people actually see Calgary. Because it's easy for me to see it through the biases of myself and the groups of people I know, but I don't actually know most Calgarians and the people who come to the library," he says.

"We were really just trying to get a feel for what people view as Calgary's identity."
The results were very personal, leading him to observe that people seem to care the most when something directly affects them. Someone wanted drive-in movies to come back, which Serrao says would be an easy way to help resurrect Calgary's community feel.
"Maybe some of the things we outgrew, maybe we could redo with new technology to make them even better, easier, cheaper, and kind of re-implement them," he says.
Art is everywhere
The visual arts cluster decided to challenge assumptions of what art is by creating a mashup to show how it can be so many different things at the same time. Third-year general management Brendan Chuckmala (who is also working on a minor in innovation and entrepreneurship) says the course and his group's citizen experiment were particularly interesting to him, as the location of the Central Library and the structure of the building helped cultivate creativity and innovation.
Chuckmala has been working in the construction industry while attending school over the past five years. "You get to watch Calgary grow. You come in to what starts off as a blank space. Watching something grow like that is what I enjoy," he says, and is very similar to producing a piece of art, as well as a building a business.
For the course, creating something out of nothing is the point. "Being able to take a new idea, move with it, play with it and perfect it, interact with the public and try to make a difference," he says.
Arts and its impact in the economy is important, Pearl says. This was supported by the student's four citizen experiments, which explored specific clusters in Calgary's creative economy. "Whether it is literary arts, film and music, visual or performance arts, each creative cluster is a huge factor in differentiating our city, contributing to our identify and attracting and retaining talent to our city. I suspect this was as well a significant learning for our students in that they came to appreciate just how complex Calgary's creative and cultural economy is along with its significant impact from an economic, social and community-building perspective," she says.
Read about how the 2017 Vivacity Challenge attempted to figure out ways to bring improve vacancy rates downtown.
April 23, 2019 ― Michelle Bodnar
Media request contact information.
Have a story idea? Please fill out this form.