Celebrating the "new to" and the "born and bred" of this country
Special Canada 150 song co-written by MRU prof

The Canada we recognize today evolved because of people not being afraid to try something new. It's a mish mash of hundreds of histories taking place on an intensely huge mass of land, and supplemented by a wide array of types of people who make up the mosaic.
All of which makes this country quite difficult to label and describe.
"I think at least one part of being Canadian is wishing you were the person who could define what being a Canadian is," says Mount Royal English professor and poet Richard Harrison.
This puzzling conundrum was what led Calgary's Cool Choir creative director and composer Jamie Serafi to search for the perfect song for his choir to perform June 23 at the Southern Alberta Jubilee Auditorium as part of their Canada's 150th Anniversary Gig. Calgary's largest adult musical group, Cool Choir was second runner-up in the 2017 Best of Calgary "Best Music Act" category.
"I was looking for something that summed up the feelings of people travelling to Canada for a new life," says Serafi, who came to Canada two years ago from England, and says that his own immigration experience was an influence on his requirements. "The song also needed to have heart and be uplifting and provide opportunities for a choir to sing harmonies, be accessible musically and be in a style that fitted the branding of Cool Choir."
With so many factors at play, Serafi says he was unable to find something that was appropriately fitting. Taking the matter into his own hands, Serafi, who scored the 2016 Oscar-nominated comedy short Ave Maria, composed a melody, and wrote a chorus and the first verse of a brand-new composition. Needing another perspective, however, he turned to Harrison, a relatively green member of Cool Choir, for his input. After a snowy afternoon, the song "(Canada) I Feel Home" was born.
The "voice-opener"
Harrison, who recently won the Stephan G. Stephansson Award for Poetry for his latest work, On Not Losing My Father's Ashes in the Flood (Wolsak and Wynn), began singing last year after a challenge put forth by his son, who, perhaps tiring of "fatherly lectures" about trying something new and daring, urged his dad to do so himself.
"I resolved to sing, which is something I hadn't done since I was ten years old," says Harrison. "Somewhere between then and now I got told I couldn't, so I shrugged my shoulders and never tried."
Harrison took what he calls a "voice-opener" class with The Conservatory, enjoying it so much he carried on by joining Cool Choir.
"You know how it goes, sometimes you don't find an appetite until you have some food," Harrison says.
A "Cool" collaboration
Harrison says the creative process for the song "(Canada) I Feel Home" took place on two levels. Both Serafi and Harrison had to work with ideas that the song itself was suggesting, as well as the ideas they were suggesting to each other. For someone who has been writing poetry for 40 years like Harrison, coming up with lyrics was different at first, but ended up being more similar than he anticipated.
"The melody of the song is there to free up our emotions as we hear it, and it confines what we can put in as lyrics. Once the melody's there, it isn't changing because the lyricists want it to," Harrison says.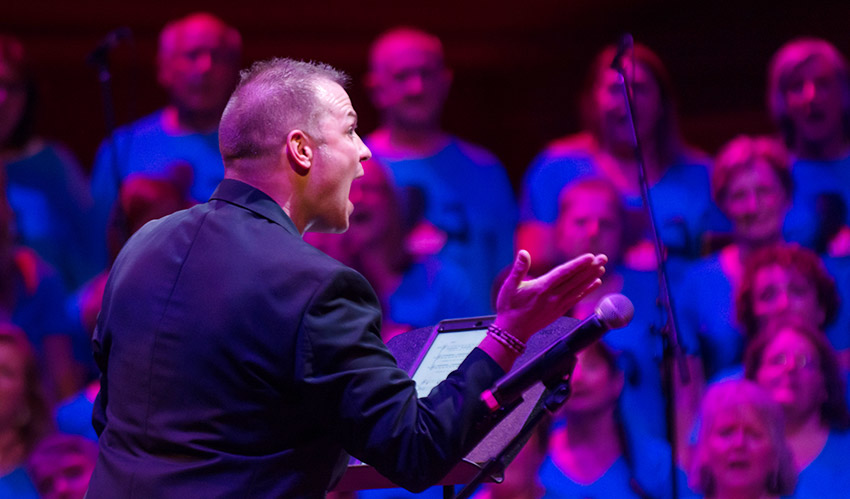 "It becomes very clear very fast that a given line isn't going to work or another one might. The turnover is much quicker than it is in poetry; in a sense I had to think in terms of the melody in order to find possible lyrics before we could even look at them for whether they said what we wanted them to."
Serafi developed a strong melody, one "that would invoke a sense of pride for this country, its beginnings, its past, present and future. It needed to have a melody that people could easily recall yet still offer opportunities to enrich through the addition of harmony," he says. The originality of the song also allowed him to "customize" specifically to the vocal ranges of Cool Choir, and that of other choirs should the song be performed elsewhere.
Harrison was the representative of the "born and bred" Canadian, while Serafi signified the "new to" the country.
"I turned to Richard for conversations and collaboration to delve into the history of Canada a little, thus creating a nice balance of perspectives," says Serafi.
"(Canada) I Feel Home" is a dialogue between those two histories and the country, one that celebrates what Canada already is while also hoping that the best is yet to come.
"It's a song about how the promise of Canada is still within Canada's reach," says Harrison, "which means there's a lot in what we are that we celebrate at this moment in our history as well as there being still things to do that are not outside our grasp, and that, too, is worth celebrating.
"We are a country whose dreams are still within reach, and that is a great accomplishment even as it is an acknowledgement that there are still important things to do, important work to be done."
World premiere June 23
Although Harrison admits to being a little bit nervous for the world premiere of "(Canada) I Feel Home," he says it's a good kind of nervous.
"It's that nervousness you feel when you have a surprise for someone," he says. "Even if you know they're going to like it, and you hope that they'll love it because that's why you have it for them, you still feel that sense of anticipation, of the arrival of the energy in that moment when what's promised becomes what's real."
The choir has fallen in love with the song, too, says Serafi, noting after performing it at rehearsals at least one person cries tears of pride. "It's powerful - it's got a strong melody enriched by some very visual lyrics representative of this country."


See Cool Choir perform "(Canada) I Feel Home" June 23 at the Southern Alberta Jubilee Auditorium.
Discover your voice at The Conservatory.


I think that the best definition I can find for both what Canada is and why it's so difficult to define is that Canada is a story. And that makes being a Canadian being a character in a story. We don't really identify ourselves with any one geographical feature ― except maybe the size of the country itself ― though there are features that we count as our own. We don't identify with a document ― we were old before we had the equivalent of a Constitution. We were never a kingdom, the property of a single family or ruler; we're not proud of empire ― or at best proud of our connection to empires not our own. We don't speak one language. We weren't created by a single act of politics, though Confederation is close and we know it was only one step among many and that only after many agreements and treaties and battles had been made or fought. And I could go through the list of things that seem from here to define other peoples with their nations and everything in that list would be "but we don't do that, either." I think the closest I can come to my sense of my country is that it is something we tell. We tell it in an ongoing way, the story changes and adds new characters and old characters disappear but it keeps telling itself and heading in the direction of just being a better story every time. What makes me proud of being a Canadian is the sort of pride you'd feel as a character in a story that's lasted this long and still has somewhere to go, something more to discover and create. Canada is a story I love enough to want to know how it turns out.

June 19, 2017 — Michelle Bodnar

Media request contact information.
Have a story idea? Please fill out this form.