Career fair focuses on Mount Royal students
Massage Therapy, Personal Fitness Trainer Diploma students meet potential employers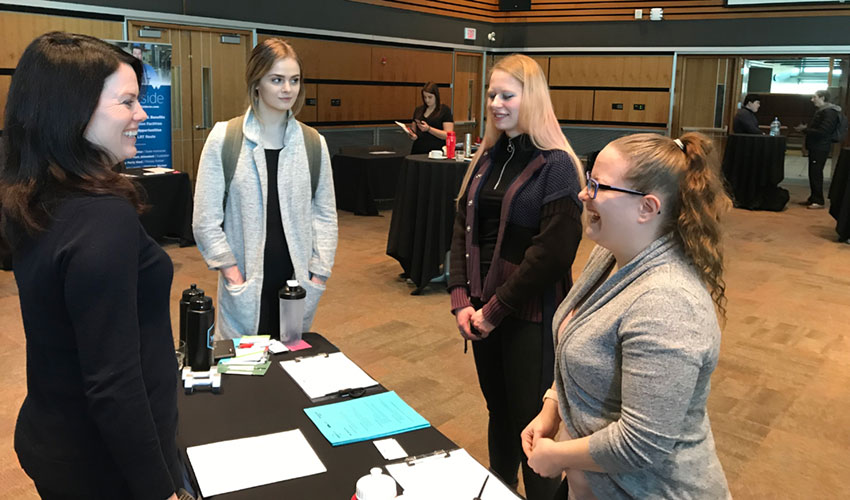 Students in Mount Royal University's Massage Therapy and Personal Fitness Trainer diploma programs got a preview of life after graduation at a recent event.
The programs hosted their seventh-annual career fair at Ross Glen Hall March 5. More than 25 businesses and organizations hoping to attract potential employees and members attended.
"Our students are sought after by employers because of the experience they get with our hands-on practical training paired with the rigour of our programs," said Gillian Lebel, program coordinator with Mount Royal's Faculty of Continuing Education and Extension. "It's always great to see employers return year after year. They know the calibre of our grads and the quality of the education they receive."
Mount Royal's occupational programs support the needs of students while meeting the demands of industry. The flexible programs include academic, practical, and experiential learning in the community. For example, PFT students are taking part in the two Calgary Flames Health Training Camps this month, including the March 30 event at Sunridge Mall. Massage Therapy students also do community outreach, as well as apply their skills in an on-campus student practicum clinic.
Jodie Boettger, a talent acquisition specialist with World Health/Spa Lady/Bankers Hall Club, attended the fair to find new employees, as well as source students for practicums.
"This program is very specific to our needs and we find a large percentage of applicants from Mount Royal find success with us," Boettger said. "We believe this industry is about to hit critical mass in terms of government funding and regulation. Mount Royal is very well set up with its PFT program to fit into those regulations."
This year marks the first time students in one of Mount Royal's occupational programs have taken part in the Harry G. Schaefer Mentorship Program. Three PFT students are partnered with mentors, meeting regularly from January through June. One of those is Britney Hannaford, a first-year PFT student who is paired with Boettger.
"I want to learn about the business side of the industry," Hannaford said of what she hopes to gain from the mentorship program. She enrolled in the PFT program after an epiphany she had while working out in the gym. The married mother of three took up exercise to help her through some tough times. It made a real difference in her life.
"It was like a light switched on. It filled me with happiness as I realized that this is want I want to do," Hannaford said. "It's exciting to help people with what they're going through and making positive changes."
Massage Therapy grad Gina Dellios attended the career fair on behalf of her employer, Massage Addict. The registered massage therapist graduated last year and was on hand to answer practical questions about establishing a career. Also, she wanted to reassure students that there is life after graduation.
"It's not too scary a world out there," Dellios said with a laugh.

Learn more about Mount Royal University's Occupational programs.