Career Services named among the best in the nation
Mount Royal ranked fifth out of 67 post-secondary institutions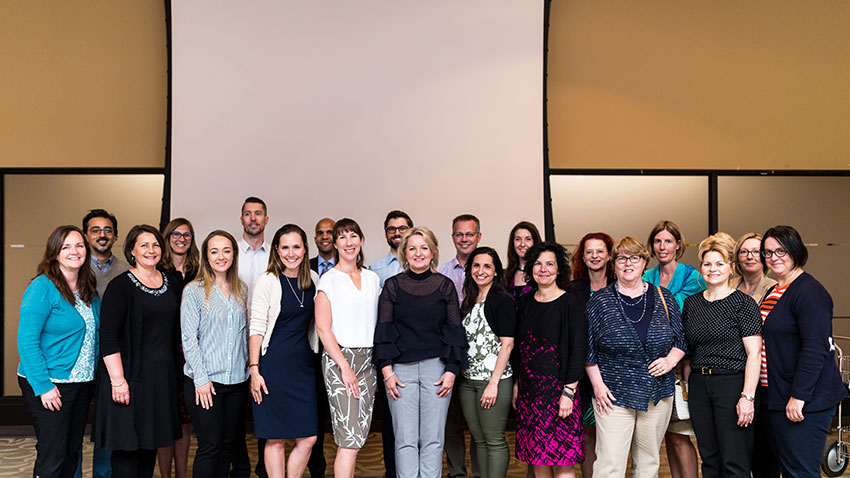 Dedicated to successfully preparing students for the future, Mount Royal has recently been honoured with a special distinction thanks to its Career Services department.
Early in 2017, a detailed summary on behalf of the Canadian Education and Research Institute for Counseling (CERIC) issued a report ranking Mount Royal's Career Services department fifth out of 67 post-secondary institutions across Canada. The report, titled, Insight into Canadian Post-Secondary Career Service Models, asked Canadian universities to take part in a survey identifying core values, methods and objectives of each department.
"I saw value in the survey," says Colleen Bradley, director of Career Services at Mount Royal. "I certainly know the organization, and this was a great opportunity to communicate what we are doing at MRU. By participating, you also get access to the final report, allowing us to learn from each other."
After Bradley completed the survey, she and her office welcomed CERIC's principal investigator, Peter Dietsche, PhD, and co-investigator Jim Lees to campus to learn more about how Mount Royal's Career Services operates.
Dietsche says they discovered a well-oiled, centralized service model focused on a commitment to work experience and career development. Other takeaways from the visit were:
As a college, Mount Royal's emphasis was on applied degrees … as a university, this has translated to an emphasis on providing "high impact practices/experiential learning" for all students

A great deal of rigour is applied to developing programming and job opportunities that are outcome-based and research/evidence based

Services focus on career education and employment development, work experience and internship programs, co-operative education, employer recruitment and job posting services and services for faculty that complement a student's academic experience
"MRU was fifth in the top seven PSE (post-secondary education) institutions scoring one standard deviation above the mean of the 67 institutions in the sample," says Dietsche, who is also a professor at the University of Toronto.
"Statistically, this group of seven are significantly different from all others in the sample and are identified as those with an impressive model of career services."
According to Dietsche, each institution was ranked in terms of the degree to which they were proactive in service delivery, evaluated their services, collected outcome measures and collaborated with other campus stakeholders.
He believes the recent distinction will help alter outside opinions of Calgary's oldest post-secondary institution, but one of the province's newest universities.
"To the extent that the findings of the CERIC study are widely disseminated, other colleges and universities are likely to seek out MRU staff for insight into how they developed, promoted and institutionalized their career services model."
Bradley says there is value in learning from institutions and sharing information, something she is happy to participate in.
"It's been interesting. I have received calls from other institutions looking to do a redesign," she says Bradley, and is informing her counterparts across Canada that much of Mount Royal's ranking is due to the institution being outcome-focused and assessing their department's work while providing support to programs, students, faculties and employers.
Working directly with existing programs and instructors to correlate careers with curriculum has helped develop a positive working relationship for Bradley and her office.
"Many career centres have decentralized services, most offer resume critiques and one-on-one appointments. There are expected core services that we do, keeping in mind best practices that support classrooms and faculty. Our team is very driven, always evolving to keep pace by having a close relationship with all our stakeholders."
She credits her team and the work they do to help prepare students for work experience and career development that aligns with the student's classroom content. Whether through presentations or networking events, everything her office puts forth links to the core of the classroom and adds value.
Currently in Alberta, careers can be hard to come by. Bradley and her team have remained focused on providing students with both experience and opportunities.
"We work as a team, it's all about supporting students and providing them options on how best to support their credentials. A career, graduate school or internship opportunities, it's really about having a plan.
"That is the bread and butter of what we do," says Bradley. "We are so fortunate to have institutional support, close working relationships with faculty and all divisions of MRU that support our mandate."
Student Success
Fourth-year public relations student Daniella Vaniersel is no stranger to Mount Royal's Career Services department.

She recently completed the second mandatory internship of her program with a four-month work term at the Department of Indigenous and Northern Affairs Canada (INAC) in Gatineau, Que. Vaniersel says she is interested in helping under-privileged communities and hopes to use her work term experience to do so.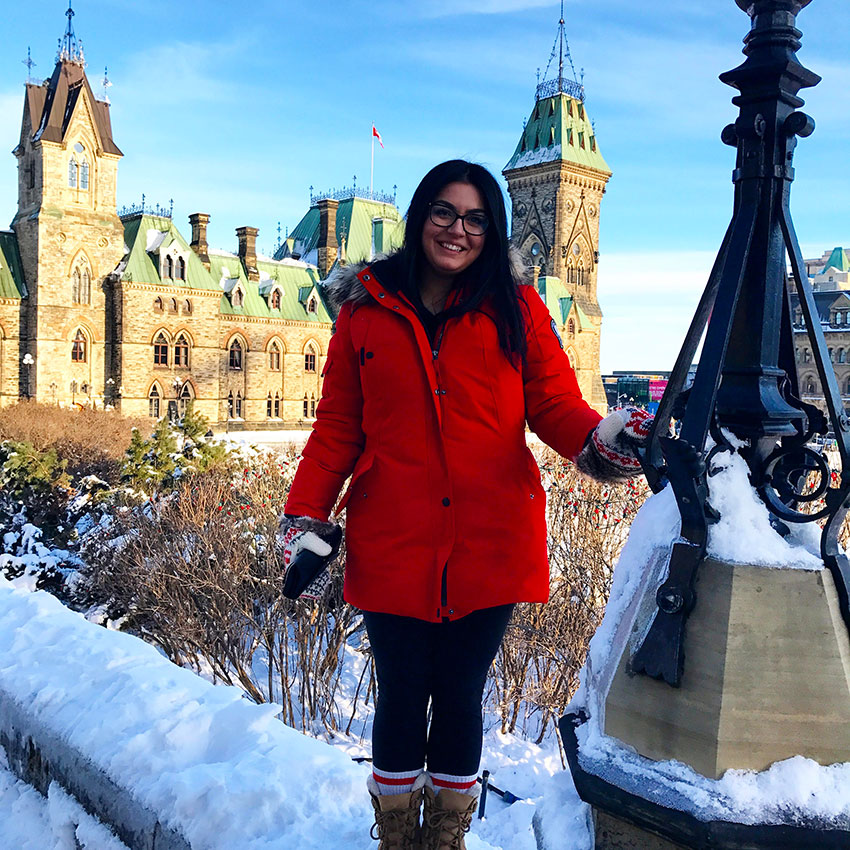 Through outreach and using digital media monitoring, Vaniersel helped plan and create content in preparation for National Aboriginal Day coming up on June 21, her experience at INAC also saw her reviewing House of Commons Question Periods for terms and questions related to her organization. Her reports were presented daily to the Minister of Indigenous and Northern Affairs, the Honourable Carolyn Bennett.

Vaniersel's once-in-a-lifetime experience would not be possible without the help and support she received from Career Services, she says. The now nationally recognized department not only helped her craft her resume and practice mock interviews, but also provided a meeting room for her to conduct her phone interview with INAC. "Being able to go early, sit down, prep and take the call was very beneficial," says Vaniersel. "Even during the internship it was beneficial to have a good relationship with Career Services."

Vaniersel, who completed her first internship locally with the U.S Consulate General in Calgary, insists Career Services helped play a major in her obtaining and thriving at that placement. She says the department put her stress and anxiety about working an unpaid internship at ease by connecting her with students who had previously completed the work placement.

"Career Services is a department that is always there to support students. Students should definitely use it, either through workshops, resume help or preparing for interviews. It's very helpful," Vaniersel says.

"You don't know what you don't know until you actually go in. Not being afraid to reach out for assistance has been really helpful even if it's just to put your mind at ease."


Discover Career Services at Mount Royal.


June 16, 2017 ― Jonathan Anderson

Media request contact information.
Have a story idea? Please fill out this form.