Celebrating lifelong learning and the power of education to transform lives
Mount Royal holds its second-annual teaching and learning event
More than 150 faculty, staff and students filled the Ross Glen Hall yesterday to celebrate and share all the ways in which Mount Royal is delivering on its mission of providing an excellent undergraduate education.
The second annual Celebrate! Teaching and Learning event opened with a message from Mount Royal's new president and vice-chancellor, Tim Rahilly, PhD, who described the scholarship of teaching and learning focused across disciplines as "a unifying aspect in the academy where we can find common ground in our mission."
He spoke about the opportunities for ongoing learning through the act of teaching. "… It's amazing that when you're talking about something you know so well, to discover some aspect or some thinking about the work that you do in a different way," adding, "I believe that universities and post-secondary institutions are transformational to students … because as we engage in teaching and learning, we always learn ourselves."
Throughout the day-long event, attendees heard from people across the University, each with a focus on teaching innovation and enhancement. Topics ranged from universal design to teaching about harm reduction and the opioid crisis. The learning experiences of students with disabilities were discussed, as was the use of historical archives in teaching. One of the roundtable discussions focused on the transformative potential of the classroom to challenge social inequalities and structural discrimination.
It's that focus on solutions and progress that the world needs, Rahilly says. "Education is the engine for positive transformation on campuses, in cities, in communities, in countries and across the world."
Several sessions dealt with how new technologies - such as those in the Maker Studio and the 360-degree Immersion Studio and visualization classrooms - have been incorporated into teaching. Others explored new research and ways to better engage students in their own learning success.
Experimentation at Mount Royal is ideally guided by what decades of educational research tells us about how students learn, explained Jim Zimmer, associate vice-president, Teaching and Learning. "Our innovations in teaching should always be grounded in the principles of effective practice for undergraduate teaching and learning -- and we know a lot about those principles," he says, adding that a key benefit of the event is hearing from students about the impact of various enhancements and innovations.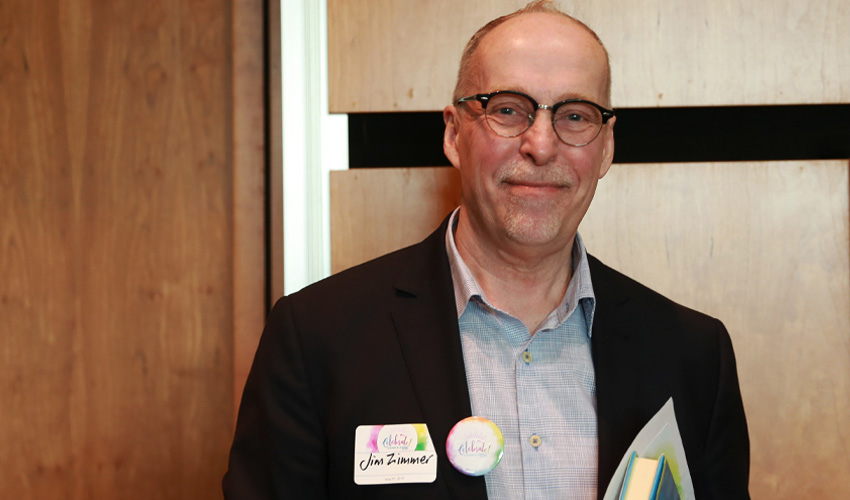 Twenty-two students participated in presentations and panel discussions, including one titled, Learning from undergrad research. Professor Brett McCollum, PhD, also spoke about partnering with students in research. McCollum is Mount Royal's first 3M Fellow, recognized for his research on the effective uses of technology for teaching and learning, chemistry language learning, open education resources and research involving students. McCollum teaches in the Faculty of Science and Technology.
Miriam Carey, interim academic director of the Academic Development Centre (ADC) and one of the event organizers, said the inaugural event last year showed there's an appetite to come together to learn, and "to hear from not only faculty, but staff and students. It's a completely cross-campus, collegial event."
"The purpose is to share and celebrate anything that's advancing teaching and learning at MRU - to lift up people's work, to share information with each other and to acknowledge the tremendous amount of good work that's going on, in classroom and non-classroom settings," Carey says.
Zimmer adds that celebrating and sharing innovation helps to sustain and grow Mount Royal's culture of teaching excellence. "Events like this serve an important celebratory function for outstanding teaching that's happening across our university," he says. "But it's also about discussing lessons learned and disseminating promising practices across the institution - across colleagues, disciplines and departments, and to forge collaborations."
Rahilly remarked on the value of collaboration as well, noting "the amount of generosity and inclusivity" he has observed on campus. "It takes all of us - faculty, students and staff - to move the ball forward."
Organizers are confident the event engaged the campus community and generated excitement about the ways people are experimenting and collaborating to continuously improve the educational experience on campus, including what has worked and what hasn't.
"Events like this are particularly aligned with the type of institution MRU is, has been and wants to be: a leading undergraduate university focused on teaching and learning and informed by scholarship," Zimmer adds.
Rahilly said the University's reputation in this area was one of the factors that drew him to Mount Royal, which hosts the annual Symposium on Scholarship of Teaching and Learning in Banff.
At the beginning of the day, last year's winners of Distinguished Faculty Awards shared the stage and their thoughts on educational leadership. At the close of the day, this year's recipients were announced.
Find out how faculty at MRU are shaping the world we live in through their research, and explore Mount Royal's many programs and courses.
May 10, 2019 — Melissa Rolfe
Media request contact information.
Have a story idea? Please fill out this form.