Ceremony remembers Second World War raid of 75 years ago
Mount Royal alumna and great-niece of Mount Royal soldier killed at Dieppe to attend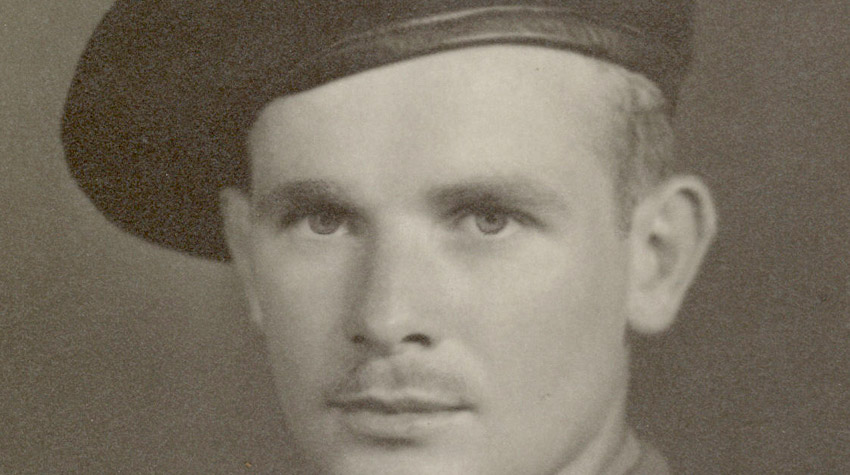 The Dieppe Raid took place on the northern coast of France Aug. 19, 1942. The operation's objective was to re-take and hold the port for the Allied side, to gather intelligence and to destroy the Germans' strategic buildings. Five thousand Canadian troops took part ― with a heavy contingent from the Calgary Regiment of the 1st Canadian Tank Brigade ― as well as 1,000 British soldiers and 50 U.S. Army Rangers.
I'm so proud of all the ways that military heritage continues. Whether it's bursaries and touching tributes from MRU, to the ceremonies at the Military Museums, the Field of Crosses and the Jubilee Auditorium (where her great-grandmother was Silver Cross Mother twice for Remembrance Day), I'm very proud of the way Calgary gives back.

Kelly Ann Purdy
Capt. Douglas Gordon Purdy's great-niece and Mount Royal alumna
Seventy-five years have passed since Dieppe, which ended as a devastating loss for the Allied forces. The troops were heavily outgunned, trapped and exposed on the beach. Only five hours after beginning the operation, commanders called a retreat. More than half of the soldiers who landed ashore were killed, wounded or captured.
One of those brave young men was Mount Royal alumnus Capt. Douglas Gordon Purdy of the 14th Army Tank Regiment. Killed in action at the age of 22, Purdy is buried at the Dieppe Canadian War Cemetery in Hautot-Sur-Mer, France. Each November, there is a cross on Memorial Drive in his name, and he is also remembered on the Memorial Arch at the Royal Military College's (RMC) tribute to fallen comrades.
He was memorialized on the front page of the Calgary Herald on Sept. 5, 1942, with the following being said about his bravery and valour.
Buddy' Purdy (Captain W.G. Purdy of Calgary) was magnificent. He led his tanks as only 'Buddy' knew how. One of the youngest officers in the regiment, (he was) clever, likeable and was heading straight for much bigger things when he led his men into action.
Purdy attended Mount Royal before eventually enrolling at RMC. His family members were well-known Calgarians who lived in the Marda Loop area and owned the Altadore General Store, which was also a post office. Purdy's mother was appointed as acting Post Master in 1942, and was very likely the first to receive the sad news about the death of her son after he was deemed missing on the day of the raid.
Exactly 75 years later, the Dieppe Raid was commemorated at Calgary's Military Museums Aug.19. Among the guests of honour were a number of Dieppe veterans and the spouses or relatives of those who were lost during the conflict. Specially invited by Mount Royal is Kelly Ann Purdy, Douglas's great-niece and a Mount Royal alumna as well.
"Dieppe 75 means so much to my family because they have a very strong connection to the military in Calgary," says Kelly Ann. "My great-grandfather, Gordon Purdy served with the Calgary First Battalion (Calgary Highlanders). He died young because of health issues from serving overseas and being exposed to gas. He served overseas in World War I along with his four brothers," all of whom remarkably arrived home safely.
The military ties in her family stretch long and go deep. Her parents served in the reserves, which is where they met. Kelly Ann herself briefly joined the cadets with the Princess Patricia's Canadian Light Infantry at the Canadian Forces Base Calgary, formerly located right across the street from Mount Royal, when she was 16.
"I might have served more if I hadn't been so inspired by broadcast journalists," she says.
Kelly Ann received a Broadcasting Diploma (now offered as a degree) from Mount Royal in 1998, and feels that she and her great-uncle share a special bond because of their shared experience. Douglas's military service file has him attending Mount Royal from 1934 to1938, meaning he left at the age of 18. Kelly Ann began her studies at the age of 18, and was often reminded by her great-grandmother that she has the same birthday month (April) as her great-uncle.
#MRU alum meets vet who served at Dieppe with greatuncle/MRU alum Gordon Purdy #Deippe75 #MRUmemorial @KellyAnnPurdy https://t.co/y2XHvMRRFy pic.twitter.com/A9IPAe2OIe

- Paul Rossmann (@paulrossmann) August 19, 2017
As a broadcasting graduate, Kelly Ann is most moved by the amount of time families had to wait before being delivered information of their loved ones fighting overseas. A news and history buff, she says she chose Mount Royal over other comparable broadcasting programs because it was "hands on" right from the beginning.
"You were writing, performing and editing right from day one," she says, and remembers being on the air at CMRC (now CMRU) her first year Wednesday nights, and managing to capture breaking news about a downtown fire on video during her second year. When it was her turn to co-anchor and produce a Mount Royal television news show, Calgary had an enormous St. Patrick's Day spring snow storm, "which made for impressive stories about Calgarians coming together to dig out," she says.
Directly after graduation Kelly Ann became a frequent freelance television reporter and producer for Calgary's Now TV and Shaw TV Channel 10, and currently works in marketing and communications. She now lives in Ottawa with her husband, who is also a member of the Canadian military, serving as a Lieutenant Commander with the Royal Canadian Navy.
"I'm so proud of all the ways that military heritage continues. Whether it's bursaries and touching tributes from MRU, to the ceremonies at the Military Museums, the Field of Crosses and the Jubilee Auditorium (where her great-grandmother was Silver Cross Mother twice for Remembrance Day), I'm very proud of the way Calgary gives back."
Also attending the Dieppe 7th anniversary gathering was Raghed Mirza, a Mount Royal student who received the Captain Douglas Purdy Memorial Bursary in 2012, while completing his Bachelor of Business Administration in Accounting at the Bissett School of Business. Mirza currently works at Mount Royal as an Operations Officer.
Speaking at the Dieppe anniversary, Paul Rossmann, Vice President University Advancement said, "These bursaries honour the memory of those from Mount Royal who heeded Canada's call and made sacrifices for their country and what they believed in. But the awards also serve another very important purpose. They educate the recipients - the students of today and of the future - about the sacrifices that others made for them."
Mount Royal Military Memorial Bursaries
A Mount Royal
Military Memorial Bursary
has been established in Purdy's name along with
27 other Mount Royal students
who made the ultimate sacrifice in service of their country. Mount Royal remembers them, today and always. The thread that ties each revered member of this group to Mount Royal continues its connections,
reaching generations and changing lives.
The Military Memorial Bursaries are an, "incredibly touching gesture to keep (the soldiers') spirits alive, and remember the people who fought for the freedoms we cherish," says Kelly Ann. "My family's gratitude for establishing bursaries in memory of Mount Royal students, including my great-uncle, and others who sacrificed their lives, is enormous. What an incredible way to keep their memories alive for the future."


Make an online donation to support students in need.
Media request contact information.
Have a story idea? Please fill out this form.