Mount Royal University is redefining the role of department chair, and now an international organization has recognized the leadership of two people who are instrumental in that process.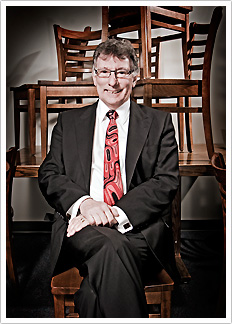 Provost and Vice-President, Academic, Robin Fisher.
Provost and Vice-President, Academic Robin Fisher, PhD, and Chad London, PhD, associate dean of the Faculty of Health and Community Studies, were named by The Chair Academy as 2011 Idahlynn Karre Exemplary Leader Award winners.
The Chair Academy is an organization dedicated to advancing academic and administrative leadership training world-wide. The Academy presented Fisher and London with their awards at its annual conference on March 24 in Dallas.
Fisher and London were both nominated for the award by their colleagues. Fisher - who along with Mount Royal President, Dave Marshall, also received a Team Leadership Award from the Chair Academy last year - was nominated by Irene Naested, PhD, chair of the Department of Education and Schooling, and Janis Wegerhoff, chair of Advanced Specialty Health Studies.
Positive role change
"We nominated Robin for his support of professional development for chairs, and for his support in expanding the definition of the role of chair from manager to academic leader," Naested says.
"With our transition from a college to a university, the job of the chair has been reexamined. Robin sponsored the Task Force on the Role of the Chair, which led, among other things, to new evaluation processes and to making chairs and everyone else aware of what chairs actually do," she says.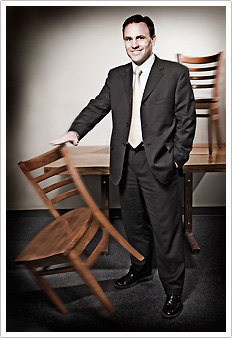 Associate Dean Chad London.
Fisher says the work of the chair is crucial to Mount Royal's academic success.
"In a university, department chairs are the first line of academic administration," he says. "They are the leaders who work closest to their discipline and deal with strategic as well as day-to-day issues.
"It is important that we celebrate and enhance the role of chairs."
Helpful research
Chad London was nominated for the leadership award by the Dean of the Faculty of Health and Community Studies, Brenda Hendrickson, and Wegerhoff.
Hendrickson points out that London applied his work on his PhD - undertaken while serving as Associate Dean to Health and Community Studies - directly to the University's needs.
"With our transition to a university, the chair role also had to transform, and Chad saw in that an opportunity to lead a group that was ready to restructure," Hendrickson says.
"He tested out some of what he was learning as a PhD and he also used his organizational skills to help us rethink the chair role at Mount Royal."
Because Wegerhoff was involved in both nominations, she has a unique insight into how Fisher's award and London's award each reinforce the other.
Common goals
"Robin is helping us sort out a new definition for the role of the chair, so we feel our role is being acknowledged," Wegerhoff says. "Chad is moving that vision forward and integrating it into the university's culture.
"I think these awards show how well Robin and Chad have worked together toward a common goal, because you really can't be successful without support at the senior leadership level and at the associate dean level.
"It's been a pretty important combination in order to begin discussions about the role of the chair and then to make changes happen."
That's a point that is echoed by both London and Fisher.
London says: "While we think about leaders as individuals when we hear the word 'leadership,' it isn't a phenomenon about individuals - it's about groups of people coming together.
"I was proud to accept the award in Dallas with Robin alongside me and a number of colleagues in the audience - and I was also thinking about all of the other Mount Royal colleagues that this award represents."
Fisher also says he is receiving the award on behalf of others.
"A university leader achieves nothing alone, and this award is really for the work on the Chairs' Professional Development Program, which was very much a team effort," he says.
"Receiving two leadership awards from the Chair Academy this year shows that Mount Royal University has sound leadership at all levels. For me, the greatest honour is to receive this award alongside such an outstanding leader as Chad London."
- Nancy Cope, April 7, 2011