Chemistry collaborations create a potent mix
Partnerships are providing international opportunities right here in Canada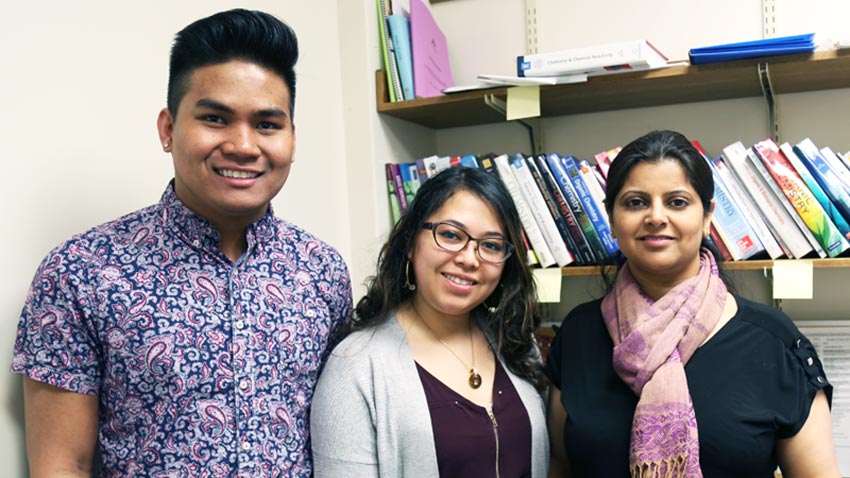 International education doesn't have to mean hopping on a plane. Mount Royal University's Department of Chemistry and Physics has recently participated in two international collaborations that bring new perspectives to students and faculty here and at the partnering schools.
While support for education abroad has grown in recent years, which includes a number of different opportunities available at Mount Royal, according to the Alberta government only seven per cent of the province's post-secondary students reported an international education opportunity while completing a college or university program.
This winter semester, as part of Internationalization at Home in Science Education (i@home), Mount Royal chemistry professor Ravdeep Batth, PhD, and her Chemistry 1203 (with a focus on the chemistry of everyday life) students partnered with Masters of Science ― Chemistry students at Jai Narain Vyas University (JNVU) in Jodhpur, India, where Batth attained her undergraduate and graduate degrees.
i@home is a provincial pilot project aimed at creating opportunities for post-secondary students to grow their international competence and to develop international experience through academic and professional development opportunities here at home. The program is providing 20 grants of $6,500 to professors and instructors in science faculties at Alberta's post-secondary institutions to explore and pilot new approaches to internationalizing their classrooms, science curriculum, and students. The grant was made available to Campus Alberta's 25 publicly-funded, accredited, and degree/diploma granting post-secondary institutions.
Using the messaging app WhatsApp, and later email, Google Docs and other digital tools, 23 students collaborated with their Indian peers on a variety of organic chemistry topics ranging from air quality to drug addiction, and from fossil fuels to antibiotics.
"I was born and raised in that city (Jodhpur), so I always wanted to do some kind of partnership, some kind of collaboration," said Batth, who travelled to India in December to select participating students there. There was a lot of interest in the collaboration at the Indian school, giving Batth a good pool from which to choose.
Batth says the collaboration "broke many preconceived notions" and gave students here great exposure to Indian society that is sometimes portrayed negatively. Mount Royal students, she said, are particularly well suited to such a project because of the University's focus on undergraduate research.
"Getting firsthand knowledge, not just from a book, actually talking to people out there was a big thing," she said.
Students said they learned a lot from the process, and from their Indian collaborators.
"They would find things within their community and they would share with us and we would do the same thing back," said Mount Royal student Lucas Dancey. "It was really fun to talk to different people around India. Our partners were very helpful in that we got a lot of information out of them, and they were also very friendly."
The collaboration was an eye-opener for Dancey in a number of ways he and partner Xuan Huynh may not have anticipated. For example, through working with Indian students Lakshya and Sunita they learned that over-use of antibiotics, available over the counter in India, is a huge health challenge there.
"I didn't think that antibiotics were such a big problem in other places in the world. Seeing how things are in Canada, I thought they would be kind of similar in a sense, but seeing the differences really surprised me."
Students Geraldhine Lopez and France Villanueva worked with Indian student Dushyant to study air quality differences between Jodhpur and Calgary, with much of their presentation translated into Hindi.
"The opportunity to interact with the students from Jodhpur was great," said Lopez. "They put in a lot of effort to get everything done on time and with exceptional quality. This project allowed me to internationalize my degree without actually having to leave the country and it opened my mind to see that part of the world in a new different way."
The biggest challenge, she said, was dealing with the time difference, but using WhatsApp and Google Docs helped bridge that.
Other topics included germicides, cosmetics use and nuclear policy.
Batth said she would like to use similar collaborations in future and would recommend them to other professors, especially in science and technology.
"I would recommend it to other professors and to other departments because science is something that is common throughout the world. We use same measurements, look at the same phenomenon, and use the same techniques. In science they have a common ground."
Language of chemistry
Meanwhile, another collaboration involving Mount Royal chemistry professor Brett McCollum, PhD, and student Darlene Skagen teaming up with a professor from the University of Illinois Springfield expanded in the fall of 2017 with the addition of Augsburg University and the organic chemistry class of Michael Wentzel, PhD.
The project focused on using video-conferencing software to connect international peers in organic chemistry. Outside of class, MRU students would meet up with their American partners online and collaborate to solve homework problems, providing practice with course concepts while also enhancing their communication skills in the unique terminology of chemistry.
Skagen said the goal of the research is to determine how online collaborative learning can impact students' development of professional identity, communication confidence in chemistry, content mastery and appreciation for chemistry as an international language.
The group's paper (on which Skagen was the first-listed author) has been published online.
More recently, said McCollum, the team discovered that having students engage with a peer at another university can eliminate the problem of interlanguage (a local dialect created and used by a small community, but often scientifically incorrect.). An example, described in their paper, is that students may refer to the tert-butyl group in a molecule as "moose antlers."
"By solving chemistry problems with a peer at another university, students are challenged to use correct terminology so that they can be understood by their partner, preparing them for life after graduation as working professionals."
Professional communication involves being confident in one's ability to communicate, competency in understanding others when they communicate using professional language, and proficiency in using the correct terminology in a given field, said McCollum.
"Last year we found that online collaborative learning helped students feel more confident at communicating in their professional language," he said. "Our new data demonstrates that their confidence is well-founded; they are more competent at interpreting their professional language.
"The next stage of our study, supported by the Institute for Scholarship of Teaching and Learning at MRU, is investigating if students are more proficient at using their professional language to be understood by others."
McCollum and his team of undergraduate researchers will be presenting their results at the Canadian Society for Chemistry Conference in Edmonton in May and at the Biennial Conference on Chemistry Education at Notre Dame University in Indiana in July.
Also this year, McCollum co-founded INCLD, the International Network for Chemistry Language Development, with Professors Morsch and Wentzel.
Department and students benefit
Mount Royal chemistry chair Chris Lovallo, PhD, says both students and the department benefit from collaborations during a period when Mount Royal has just started offering a chemistry major.
"People who may never have heard of Mount Royal, or Calgary, before are now aware of us and the innovative work that we do here," Lovallo said. "What students gain from these projects is a view into a different part of the world. Whether that is India or Chicago, collaborative projects like this introduce students to the fact that throughout the world people face the same problems and struggles.
"I think it brings out how similar and how different the world can be. It exposes them to how people in different parts of the world all use the same language and skills (chemistry) to deal with widely disparate issues in their communities. One of our learning outcomes for the Bachelor of Science in chemistry is to 'Develop an understanding of, and discuss science as, a socially embedded endeavor.' We feel that these projects are a crucial part of that."
Apply now for Mount Royal's new Bachelor of Science ― Chemistry.
April 23, 2018 ― Peter Glenn
Media request contact information.
Have a story idea? Please fill out this form.