Close-fought battles the story of the Crowchild Classic
Seventh edition sees total attendance hit 11,490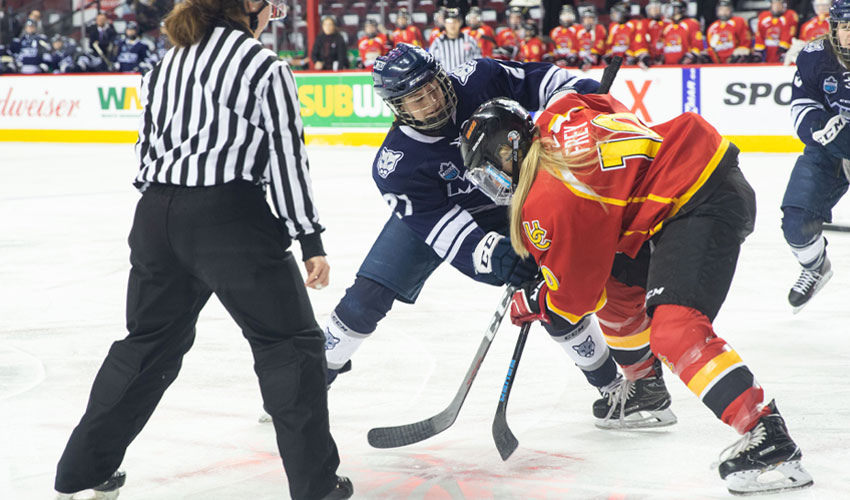 The annual Crowchild Classic women's and men's hockey doubleheader is always important. Both the Mount Royal Cougars and the U of C Dinos want to win. Badly. Not only do they want to best their home city's archrivals, they want to do it in front of the largest audience of the year. Add that to the fact that it's crunch time for a playoff position in U Sports' Canada West conference, and there's a lot of pressure put on both teams' student-athletes.
As each squad only plays the other four times a year, it's a game of high-stakes heart and hustle.
Hosted by the Calgary Flames at the Scotiabank Saddledome, the Crowchild Classic is recognized throughout U Sports as the most well-attended university sporting event in the country. This year the head count was 11,490, comprised of roughly half Cougars fans and half Dinos fans. The number was well ahead of last year's total of 10,478 attendees, but still short of the all-time record of 12,859, set in 2016.
Currently, the Cougars' women's team sits in fifth place and the men's team in fourth position, just behind the Dinos. There are only four games left for each before the top six teams head to playoffs.
Before the event there was a moment of silence for Nakehko Lamothe, a 23-year-old MacEwan University hockey player who died suddenly following a game on Jan. 25.
Mental health front of mind
As students head into the most difficult months of the semester, the importance of good mental health was iterated by both Universitys' provosts - Lesley Brown from MRU and Dru Marshall from the U of C - during the second intermission of each game.
"Mental health is a priority at Mount Royal," said Brown. "We have a team of mental health nurses, we have counsellors available to students, we also have a very vibrant web presence at mru.ca/mentalhealth." Brown encouraged students to get involved in sports and activities as an outlet for blowing off steam in a healthy manner, a way to meet other students and as a chance to focus attention on something other than schoolwork for a while. Physical fitness allows people to deal with stress better, said Marshall, adding that being active also increases the ability to concentrate.
Funds raised from both games will be used for student wellness initiatives at both institutions.
Talk, Listen, Support. The #CrowchildClassic was more than just two hockey games, with proceeds from ticket sales being invested in student wellness initiatives at @UCalgary and #MRU. #BellLetsTalk #mentalhealthmatters @MRULiveWell @MRUCougars pic.twitter.com/Nvx79l0PCz

- Mount Royal U (@mountroyal4u) January 30, 2019
Women's recap
The women's game ended in a disappointing 2-1 loss for the Cougars after a stellar performance by the Dinos' goalie Kelsey Roberts. A lot of time was spent in the U of C's end, but Roberts managed to stop 26 shots to lead her team to a win.
Even though they rank third in Canada West for power plays, the Cougars women couldn't seem to capitalize on penalties called against their opponents.
The first goal of the game came in the second period from Dinos forward Rachel Paul. Thirty seconds into the third, Cougars forward Anna Purschke answered by quickly putting one in the back of the Dinos' net, only to be followed up fast by another point for the Dinos by forward Taylor Beck.
Mount Royal's coach Scott Rivett said after the game that his team had some really good chances. "(Roberts) made some big saves, and we missed the net on a couple others that we had a really good look on. Certainly she made the difference tonight.
"We've had a good season to date, but we're going to have to reset quickly," he continued. "We play the U of S on Friday and Saturday, and these have become the biggest games of the season."
Cougars captain Shawni Rodeback described her team's efforts as good, but not good enough. "We needed to have people in front of the net covering her eyes because (Roberts is) a good goalie. We just couldn't get it," she said.
As captain, Rodeback will continue to lead through to the end of the season. "We need to just keep pushing, keep building, keep getting better, not take any steps back and keep going for it."
Read the complete game story here.
Men's recap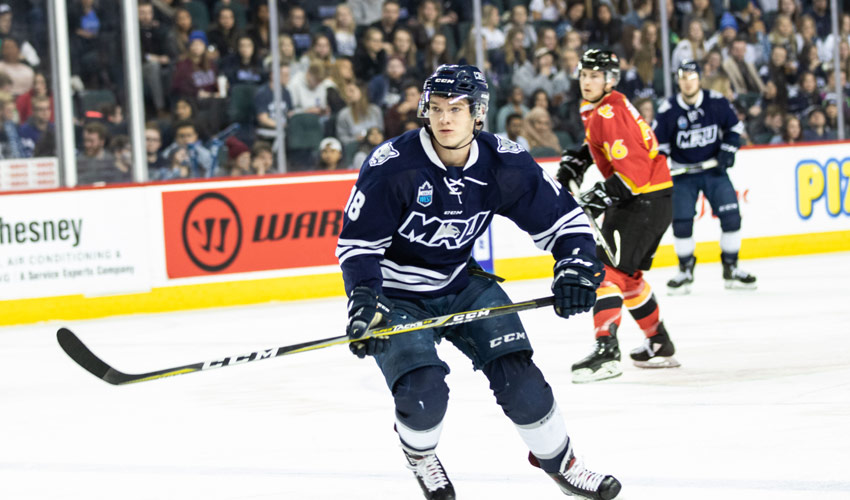 As is tradition, Calgary mayor Naheed Nenshi dropped the puck before the men's game. A notoriously hard-fought battle, the last three years have seen the men's edition of the Crowchild Classic go into double overtime before a winner was determined. This year the game was decided just three seconds before the final buzzer, with the Dinos edging out the Cougars 2-1.
U of C has customarily scored the first goal in these contests, but great saves made by both goalies kept the game scoreless for the first period as the play moved swiftly from end to end. It was a physical period with good chances had by both sides.
The crowd was fully fired up for the second 20 minutes, shaking the 'Dome as they waited for the puck to cross the goal line for the first time. A big hit by forward Brad Kennedy (even without a stick) set the tone as the momentum turned towards the Cougars. Dinos goalie Matt Greenfield had to work hard to stop consistent shots before the Cougars' Connor Rankin (formerly a Calgary Hitman) finally netted what seemed to be an inevitable goal by Mount Royal, breaking the Dinos' first-goal streak.
The third period was loud. Very loud.
Dinos forward Chris Rauckman scored to tie the game, momentarily sapping the Cougars' energy, but it was regained for the remaining nailbiting minutes. Two unfortunate penalties taken back-to-back by the Cougars in the last five minutes gave the Dinos the edge, however, and in the dying moments Dinos forward Riley Sheen scored the game winner.
"We took it to them for two periods, and of course we were expecting a push in the third, but we weren't able to capitalize on a couple power plays at the end," said Cougars captain Grant Baker after the game, adding that the team shot itself in the foot by taking two penalties at the end.
"You can't be doing that in a game like this."
The men's team is also headed to Saskatoon to play the University of Saskatchewan Huskies on Friday and Saturday, and Baker says the team is going to have to refocus fast.
"We have a practice tomorrow and then we're on the road. Those are two big games. We need to get points from the guys above us. Our last games are against Lethbridge and then it's the playoffs, so everything has to be dialed in."
Read the complete game story here.
Alumni under the 'Dome
This year Mount Royal's Alumni Relations department welcomed more than 100 Mount Royal graduates to enjoy the games and reconnect with their alma mater at the True Blue Alumni Rally held in the Chrysler Club.
Drew McLaughlin, who left MRU with a Bachelor of Health and Physical Education, is now the coordinator of events and properties at Hockey Canada.
"From an alumni perspective, I think it's extremely important to stay connected with the school base," McLaughlin said. "Not only for former students who have gone through a program but also current students as well. It creates that interconnectivity, to show our support as alumni but also to show the future to the students who want to be involved later down the road."
Proud to cheer on @mountroyal4u with my wife as an @mrualumni supporting the @mrucougars at this years #CrowchildClassic, the ultimate crosstown SMACKDOWN. Lets go Cougars! #WeAreTheCougars #BeatUofC #BleedBlue #YYC pic.twitter.com/CXhNltqp2q

- Bret Hart (@BretHart) January 30, 2019
It was the first Crowchild classic for recent Bachelor of Arts ― Criminal Justice grad Joseph Iampen, who, with three kids, a straight-A average, and an honours degree, just didn't have the time to attend while a student. He came to the event to maintain what he calls a strong connection to Mount Royal. "I still speak with my professors," he said, and that he was enjoying the opportunity to meet others who had graduated with his degree and learn about opportunities in his chosen field.
Getting the edge on the last year at MRU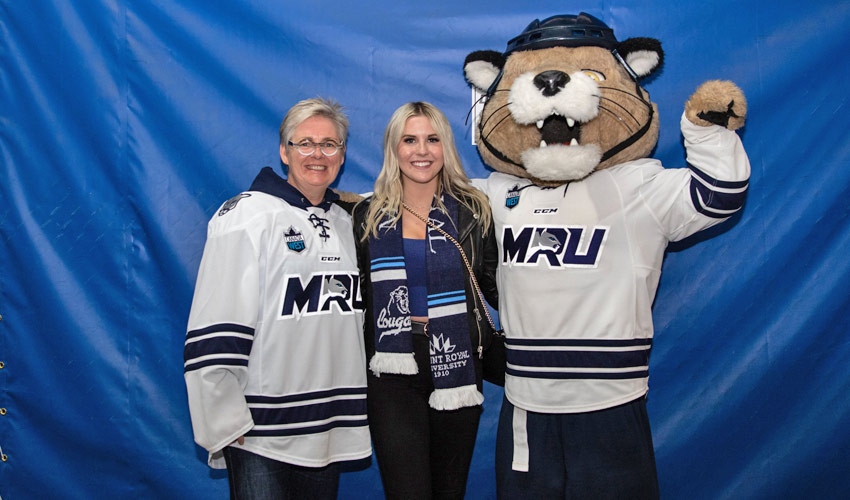 A cutthroat game of beer pong volleyball saw third-year student Brittany Graham, a business major with a concentration in finance, win $5,000 towards her tuition.
"I'm super excited. This was the last thing I expected tonight," she said. "I'm headed into my last year and I'm coming in strong. To end it off well and have this scholarship is pretty cool."
Graham is looking to continue on in her studies in law school, potentially after a year of travel.
Pride. Determination. Focus. Get to know your Mount Royal University Cougars.
Jan. 30, 2019 ― Michelle Bodnar
Media request contact information.
Have a story idea? Please fill out this form.