A small sampling of some of the mind-blowing classes to take at Mount Royal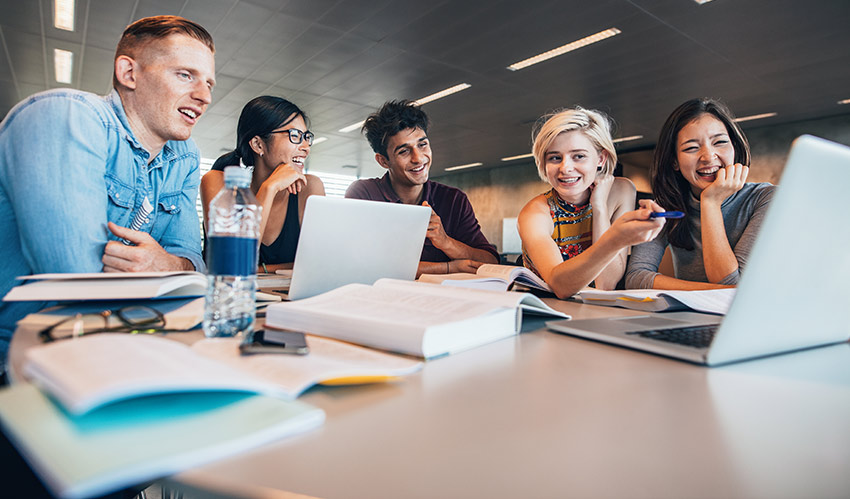 This list consists of classes that are rarely missed - even if they start at 8 a.m. Not only is the course content of each interesting and thought-provoking, it's also applicable to life at large.

Each semester Mount Royal offers hundreds of credit courses in about 67 different disciplines. A liberal education allows students to gain a multidisciplinary experience and a well-rounded degree, while also developing critical thinking skills and a broadened knowledge base.

By far not an exhaustive list, this is a sample of some of MRU's coolest courses, delving into everything from hipster art, to the Tragically Hip, to online game development, to the rise of the "foodie."

Anthropology 2251 ― Gifts and Commodities

Are you the type who struggles with how commercialized our holidays have become? This anthropology course focuses on how gifts are now politically and culturally embedded in our economies.

Art History 2205 ― Hipster, Trickster and Adventure

This isn't your Mom's art history class. This second-year course explores the visuals arts of Canada from 1870 to 1970, looking at the creative works of everyone from Indigenous shaman to modern hipsters.

Biology 3301 ― Animal Behaviour

Dr. Dolittle hasn't taught you as much as you think. In this course, students will seek to understand how and why animals behave the way they do. From an evolutionary perspective, the topics will draw on examples from across the animal kingdom that introduce the science of animal behaviour.

Canadian Studies 2221 ― Music in Canada: Social History

From the Tragically Hip to Alain Trudel, this class allows students to discover the history and development of music in Canada, focusing on popular music from the 20th and 21st centuries.

Chemistry 4213 ― Drug Discovery

No, not those kinds of drugs. Illustrates the relationship between chemistry and biology in the process of drug discovery and development, the development of clinical drugs are used as examples in this course.

Communications 2503 ― War and Media: Front Line News

How has media coverage changed since 1850? Dive into the historical and social contexts of numerous conflicts featuring journalists on the front line. This class pushes students to understand the difficulties that journalists face when developing a first draft of history.

Computer Science 4555 ― Games Development

Get course credit while learning how to create real-time computer graphics, animation and sound. This class helps students to enhance their digital toolbox for a modern 3D game engine.

Economics 1170 ― Economic Crime and Criminal Justice

The major topics covered in this course include the supply of crime by criminals, the demand for crime prevention by victims, and the policy issues such as crime control and criminal justice resources.

English 3382 - Textualities/Sexualities

How is the body represented in literature? This third-year English class investigates concepts such as representation (including what has been erased or silenced), the gender text, the imaginary and the limits of textualized sexualities.

Entrepreneurship 4420 ― DNA of Business Development

Talk about the blueprint to success. The DNA of Business Development gives students real-life experience helping small and medium enterprises with buying, selling and business development.

Film Studies 3370 ― Ecocinema

Love the outdoors and movie theatre popcorn? In this course, students get to learn about environmentally themed cinema in mainstream film, documentary, eco-gaming and experimental video.

Geography 2337 - Political Geography

And you thought geography was just a lot of maps! Political geography is the study of power and place. It involves the study of geopolitics, the geography of social movements and ethnic conflict, and the politics of the environment.

History 2255 ― Immigration, Ethnicity and Race in the United States

Believe it or not, this course existed prior to the last U.S. election. Students explore the way immigrants have managed to preserve their culture at work, in politics and in social relations, and how dominant groups have responded to their settlement.

Health and Physical Education 2830 ― Introduction to Flexibility and Relaxation

Get university credit for doing shavasana. This course introduces how flexibility and relaxation interact with overall wellness, beginning with the fundamentals of anatomy.

Indigenous Studies 2710 ― Indigenous Arts of North America

With increased recognition of Indigenous arts across Canada, this course offers an investigation into the distinctive traditions associated with the Arctic, the Woodlands, the Plains, the northwest coast and the southwest peoples of North America.

Mathematics 1505 ― Puzzling Adventures in Math

Traditional math isn't for everyone. This course is a problem-solving approach to mathematics covering everything from secret codes to parallel algorithms, all examined through math puzzles.

Philosophy 2282 - Philosophy and Pop Culture

For some, TMZ is a better news source than CNN, and for those people, there is Philosophy and Pop Culture. This course explores the philosophical issues in film, television, graphic novels, social networks and even advertising.

Physics 2221 - Universe-Shaking Ideas

This class is even better than the Barenaked Ladies song "The History of Everything." By introducing students to the landmark discoveries in physics, they begin to understand the most fundamental ideas of the working universe.

Psychology 4484 ― Psychology of Happiness

Students take "adulting" to the next level with this course, which examines the nature of happiness by using a social/psychological lens.

Religious Studies 2243 - Good and Evil

With religion being a driving force for morality, this class emphasizes the nature and consequences of right action. The course focuses of the dualistic and karmic issues in topics such as social justice, sexuality, violence, and biomedical advances.

Social Innovation 3303 ― Storytelling and Systems

Consider how storytelling helps people grasp the nature of complex systems more easily in this class, which introduces students to protocols around a wide range of storytelling traditions.

Sociology 4203 ― Sociology of Food

This course introduces students to the significance of the relationships between food, people and society, and takes a close look at the rise of the "foodie."

Speech 3009 ― Great Speakers, Great Speeches

"I Have a Dream" by Martin Luther King is perhaps one of the most well-known speeches of all time. In this class, students investigate and analyze some of the greatest speeches ever made and how they've impacted cultural values, beliefs and identities.

Join in on an Admission Information Session, held regularly from January to March.

Jan. 19, 2018 ― Jenn Sheehan
Media request contact information.
Have a story idea? Please fill out this form.