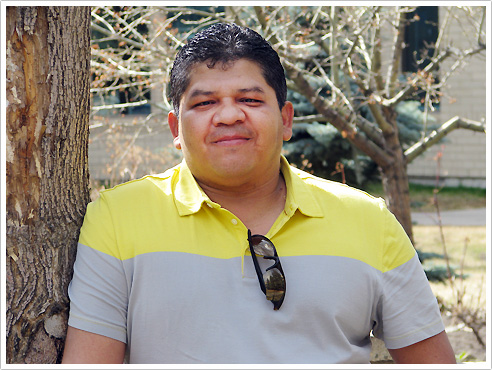 There was a time when the word "home" brought screams and violence to mind.
Today, thanks to his time at Mount Royal, when Herbert Campos thinks of home he smiles because Mount Royal and Calgary have replaced those horrific memories with smiles, embraces and a future.
Campos, who is graduating with a Social Work Diploma, was born in El Salvador, where he obtained a law degree in the 1980s. During that time, university students were considered insurgents and Campos was imprisoned and tortured.
Thanks to efforts by the International Red Cross and the Brigades of Rescue, Campos was released and fled to Canada where he emigrated under refugee status with help from the United Nations.
The adversity didn't stop there. Upon arriving in Calgary sixteen years ago Campos didn't speak English and found his credentials were useless. Moreover, he was confronted with hostility and prejudice while seeking assistance from workers who suggested that immigrants are looking for handouts and should "go home."
For many years, he struggled with resentment and frustration.
Life changing
Then he got accepted to Mount Royal.
"I am a new man because of the College," he says. "From here I have a destiny."
In his first year practicum he worked at the Calgary Catholic Immigration Society supporting refugees from Burma. There, Campos realized that he wasn't alone in his experience.
He realized he could help others avoid some of the difficulties he struggled through.
Chair of the Department of Social Work and Disability Studies, Linda Fountain says Campos' presence was reinvigorating for faculty, staff and fellow students.
"He reminds us all of why we chose social work, and what is great about the profession," says Fountain. "He excels at front-line work, and has a real heart for people who are struggling; but he is also committed to social justice, wanting to have a broader impact on social systems and policies.
"Herbert is someone who is going to make a difference in this world."
This past term Campos completed a practicum at Mount Royal's Peer Support Centre where he focused his efforts and talents a little closer to home by helping fellow students cope with the challenges of a hectic undergraduate experience.
"Mount Royal is like a family," he says.
"There are so many people here to support you and to help you achieve your goals. Without those hard times I wouldn't be who I am today."
Campos plans to take his arts and sciences courses at Mount Royal this fall while working on his Bachelor of Social Work at the University of Calgary.
- Fred Cheney, June 5, 2009