Every Mount Royal graduating class goes on to make its mark in the world, but today's graduates will make history just by crossing the stage.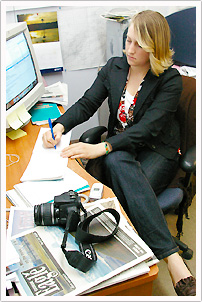 At some point during this Convocation ceremony, Mount Royal will present its first bachelor's degrees.
"While many students have graduated with applied degrees offered in conjunction with Athabasca University, these are the first graduates of Mount Royal's own university degree programs," says President Dave Marshall.
"This is an historic moment and a significant benchmark as Mount Royal continues to find better ways to serve its students and its communities."
Rachel Maclean is proud to be one of the first to receive a Bachelor of Communication in Journalism from Mount Royal.
"I always had my heart set on a bachelor's degree," Maclean says.
"So I went to a university for a year, but I was looking for something more practical."
She found it in Mount Royal's Bachelor of Applied Communications - Journalism program. And, she got plenty of hands-on experience - even writing for the Reflector and covering the Aboriginal Affairs beat for the Calgary Journal.
"Rachel was one of the hardest working students I have had the pleasure of working with in my 10 years here," says Terry Field, chair of the Journalism program.
"In 2006, she came on an exchange to Mexico and worked with students from the Tecnológico de Monterrey - Campus Guadalajara. They researched, taped and edited a TV documentary about an alternative street market, and I was very impressed."
Last spring, when Mount Royal launched its Bachelor of Communication degree program, Maclean was excited by the opportunity to transfer into the new program and work towards a university-level degree.
"My instructors brought such passion to their teaching," says Maclean. "And their focus on industry standards gave me the knowledge I need at my job."
Career off to good start
Today, Maclean works for the Cochrane Eagle, and Field is not surprised that she landed a good job right out of school, even in such a highly competitive industry.
"She is mature beyond her years and has a strong portfolio," Field says.
Maclean would love to expand that portfolio beyond print. "I am very interested in media like video and photography," she says. "I'd love to create documentaries for the CBC's The Passionate Eye or The Lens."
Long-term, Maclean's goal is to cover politics for The Globe and Mail.
"I like covering current events and big news," Maclean says. "I like the fast pace, the action - but I also like being a part of the news as it happens, as it affects the world where you live."
Today, Maclean won't be covering the news. Instead, she will be making it as she receives one of the very first degree parchments issued by Mount Royal.
- Nancy Cope, June 5, 2009