Sixty-eight student-athletes named Academic All-Canadians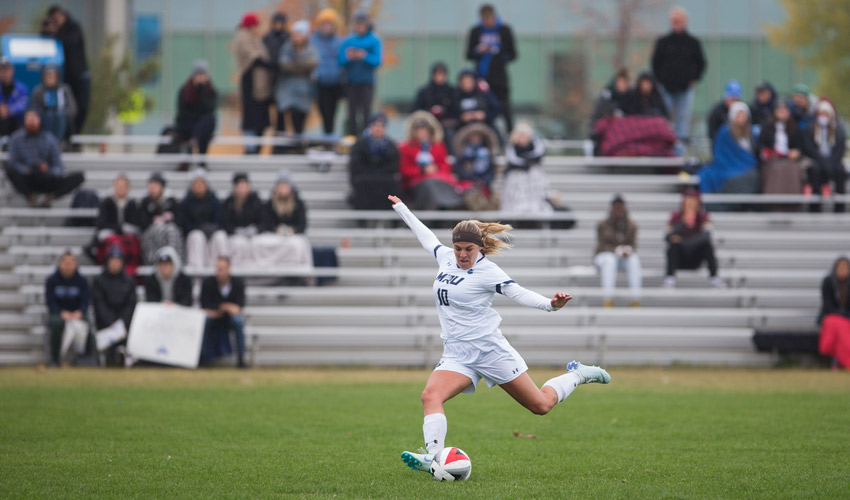 In addition to being the face of Mount Royal on the field, court and ice, the University's Cougars student-athletes are also scoring exceptionally well in the classroom.
Forty-one per cent of the 168 Cougar athletes competing in the 2017/18 academic year have qualified to be named a U Sports Academic All-Canadian, a prestigious roster of student-athletes who have achieved an average of 80 per cent or higher at their institution. With an average GPA of 3.74, MRU's All-Canadian contingent is netting superior marks.
The Cougars' total number of 68 Academic All-Canadians is among the highest of all of the U Sports-affiliated universities in the country. The average GPA of all of Mount Royal's student-athletes is 3.17.
"Balancing the academic load with that of our athletic expectations is no easy task ― but the MRU student-athlete does so very well," says Rob Godfrey, manager of Varsity Athletics. "As a leader across U Sports in Academic All-Canadian recognition, our Cougars continue to bring positive attention to our institution."
Soccer player Erin Holt is in her fourth year of the nursing program, and has maintained a consistent 3.9 GPA throughout her studies at Mount Royal. She chose MRU because of its stellar reputation in the nursing field, and says she loved the idea of hands-on learning and the fact that students enter the hospital quickly after beginning their studies. For her final practicum, she is currently with the neonatal intensive care unit at Peter Lougheed Centre and hopes to continue working with babies in need.
With such an impressive GPA, Holt is a U Sports Academic All-Canadian as well as a member of both the Dean's Honour Roll and the President's Honour Roll at Mount Royal. She says that balancing her academic requirements along with her sports commitments was possible due to establishing a solid study group with members who have the same sort of busy schedule as she has.
"My teammates are in the group, so on days we didn't have training we would get together before or between classes. It really helped to have people who were going through the same thing to motivate each other."
The nursing program is full of achievers, Holt says, and the example set by her peers helped in continuing her momentum. Plus, professors are always willing to assist.
"It's a really great program, which has definitely been a huge factor in helping me get good grades," Holt says.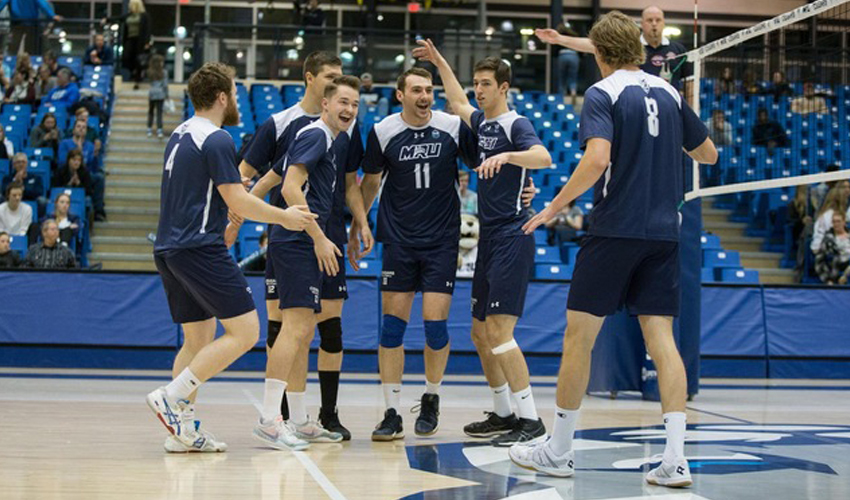 Advising others to make the most of their time at Mount Royal, Holt says, "It's unique (as compared to) other universities. We have the smaller class sizes, which means you can get to know your professors and other students in your class a little more. If you need help, so many professors at Mount Royal are student-oriented and are there for you."
According to the 2017 National Survey of Student Engagement, 92 per cent of fourth-year Mount Royal students are highly satisfied with their overall educational experience at MRU compared with 80 per cent at other mid-sized undergraduate institutions. And the Canadian University Survey Consortium's results stated that 84 per cent of students who graduated in 2018 reported that faculty took a personal interest in students' academic progress, compared with an average of 65 per cent of all the Canadian universities who participated in the survey.
"It has been an exciting year for Mount Royal University Athletics and Recreation," says Jarron Mueller, sports information coordinator. "The performance of our teams in the classroom has continued into athletics. We have over half our teams in current playoff position, led by our men's volleyball team. They are currently second place in Canada West and ranked third in the country. It is a great time to be a Cougar."
The entire university community is proud of its student-athletes and their achievements, says Steve Fitterer, vice-president, Student Affairs and Campus Life. "Not only do they dedicate an immense amount of time to their success athletically, they excel inside the classroom and they are very active in the community. I continue to be amazed at their dedication and work ethic in all aspects of their lives.
"We are very fortunate to have them so positively represent Mount Royal University."
Follow the student-athletes of the Mount Royal Cougars' basketball, hockey, soccer and volleyball teams.
Jan. 23, 2019 ― Michelle Bodnar
Media request contact information.
Have a story idea? Please fill out this form.