Crosstown rivals Cougars, Dinos to face off
Wellness Services helping to set teams up for success
Calgary hockey rivals Cougars and Dinos will bring their A-game to the Scotiabank Saddledome on Thursday, Jan. 25 for the sixth edition of the Crowchild Classic, which is among the hottest hockey tickets in town.
The puck will drop for the women's game 4 p.m. and the men will face off at 6:45 p.m.
Support the Cougars as they face the Calgary Dinos in this doubleheader.
Need to know
Crowchild Classic tickets are sold out.
There will be no tickets at the door.
Follow @mrucougars and @mountroyal4u for a chance to win tickets.

Buy your Cougars gear at the BookStore. Reduced pricing will be available for students the week of Jan. 22.
Free bus service departing from East and West Residence. Details listed under "how to get there."
Follow the crosstown smackdown with #beatUofC.
If you have tickets and are unable to attend, please give the ticket to someone who can.
The last Crowchild Classic doubleheader saw the Cougars women's team defeat their opponents 3-1 in a hard-fought match. The men's side could not outlast their rival and lost 4-3 in double overtime.
This year's doubleheader is a must-attend event where fans will witness top-quality Canadian university hockey.
"It's incredibly important for the Cougars to have the Scotiabank Saddledome full of MRU supporters," says Jamie King, captain of the Cougars men's hockey team.
"Having the building full of MRU supporters, all chanting "M-R-U" is one of the best experiences of the Crowchild Classic."
Allure of the Cougars - welcome Dr. Alin Cristurean
Both squads are preparing to hit full speed from puck drop through a variety of on- and off-ice initiatives.
Practice, proper nutrition and mental preparation are the keys to victory, and a recent signing to Wellness Services at MRU is on-hand to offer dedicated support to the Cougars.
Dr. Alin Cristurean joined MRU's Optimal Therapy team in September 2017. Cristurean is also the Cougars men's hockey sports medicine physician.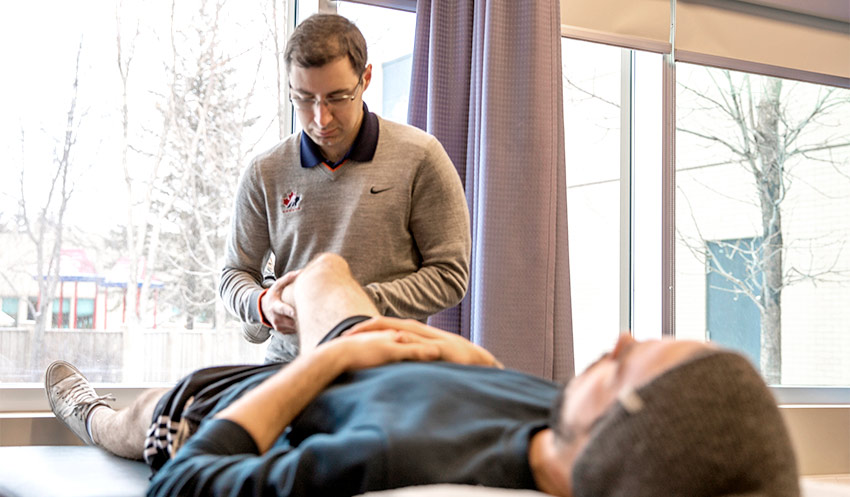 Cristurean stands ready from the bench at each home game as the head physician, but also works with all Cougars athletes, non-athletes and community members in the clinic.
"After working with the men's hockey team, I quickly learned that MRU had a great athletic therapy program," explains Cristurean.
"This was very alluring.
"The Optimal Therapy clinic has a team of highly experienced and skilled chiropractors, physiotherapists, massage therapists, and even traditional Chinese medicine, acupuncture and orthotics."
Cristurean's medical practice in Optimal Therapy at the University is in place to support Cougars athletes with priority appointments every Tuesday morning, but outside of that, he unreservedly accepts referred patients.
Dr. Cristurean is not new to injury rehabilitation. He obtained his medical training at the University of Calgary and McGill University, and has played a role in rehabilitating members of the Calgary Roughnecks, Calgary Hitmen, ISU Speed Skating World Cup participants,Cirque du Soleil performers, Montreal Alouettes and the Montreal Canadiens.
Cristurean will see patient referrals from Health Services physicians, Optimal Therapy practitioners and community physicians and practitioners; though does not work with Workers Compensation Board of Alberta, post-motor vehicle accident or medico-legal cases.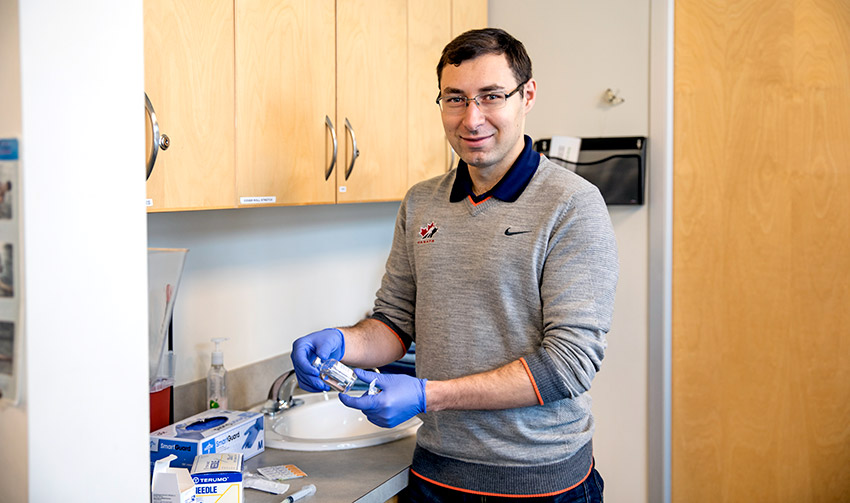 Cristurean's services are housed within Mount Royal's Wellness Services department. This unique department uses an innovative and team-based approach to health by integrating a broad spectrum of services that address the wellness of one's body, mind and spirit.
The department also supports Mount Royal's commitment to Community Service Learning as Athletic Therapy and Bachelor of Health and Physical Education students work directly with Wellness practitioners to gain hands-on experience.
Game day
Last year's ultimate crosstown smackdown saw 11,902 fans witness ultra-competitive U Sports hockey.
"It's not every day that you get to play in front of 11,000-plus people," says King. "As players you love looking around and hearing your fellow students cheering for MRU."
"The MRU supporters are who we play for, so being able to share this game with them is special."
This crosstown clash would not be possible without the support of the Calgary Flames and the Calgary Flames Foundation. The Flames and their staff go out of their way to give the teams and their fans the full NHL experience.
Through the Calgary Flames Foundation, the Calgary Flames support post-secondary institutions in Calgary via a $20,000 donation to each school's men's and women's hockey programs. In addition to their donations, the Flames provide their facilities, time and staff to help make this annual event possible.
Regardless of the result, both the Cougars men's and women's sides will get to face the Dinos again the day after the Classic on Friday, Jan. 26 at 7 p.m.
The women take on their crosstown rival at Flames Community Arena and the men head north on Crowchild Trail to Father David Bauer Arena.
Jan. 3, 2018 — Rob Petrollini
Media request contact information.
Have a story idea? Please fill out this form.