Research and Scholarship Days reveal campus's cutting-edge thoughts
Partnerships between students and faculty result in great ideas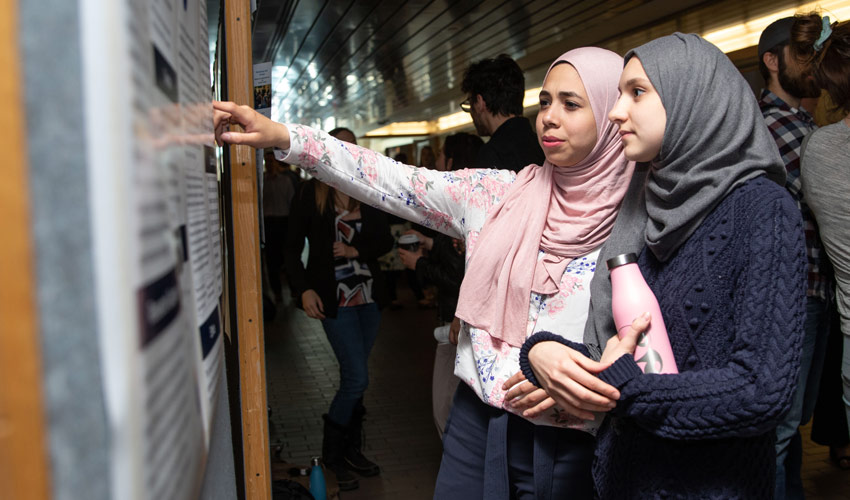 Mount Royal University's annual Research and Scholarship Days continues to grow, recording the largest participation from students since the event took shape almost five years ago.

New this year, students were able to present creative works ― increasing overall participation to 155 students in campus-wide events. Students from the faculties of Health, Community and Education, and Science and Technology, as well as from the departments of psychology, anthropology and midwifery, also took part.

Spanning 10 days from March 25 to April 5, 19 events celebrated published works and faculty and student research. Workshops kept the conversation flowing, and both locally and internationally recognized student competitions ― such as the JMH LaunchPad Pitch Competition and the Map the System Challenge ― had the campus buzzing.

"The energy speaks to the excitement from students to share their work and the passion of professors who integrate their own research into their classrooms," said Michael Quinn, PhD, associate vice-president of the Office of Research, Scholarship and Community Engagement. "This event is not only an opportunity to share our knowledge with one another, but also with our external community."

For the second year, Research and Scholarship Days kicked off with a virtual launch, featuring six faculty members and one student to highlight emerging MRU scholars and offer an opportunity for Calgarians to learn more about MRU's community-engaged research. The campaign This is research at Mount Royal University will continue to run throughout the month of April, sharing the MRU research story online and throughout the city.

MRU professors are connecting with industry partners, communities, to challenge long-held beliefs, improve student wellness, introduce progressive policies for the planet and our workplaces.#MRUresearch #ResearchDays https://t.co/ano8hxJRMK pic.twitter.com/K9NO6bV17x

- Mount Royal U (@mountroyal4u) March 26, 2019
Quinn thanked those who came together to foster MRU's knowledge-seeking community. "We rely on volunteer adjudicators and other kinds of support to ensure the events are efficient, effective, fair, transparent and instructive ― not to mention fun ― for the students."
Faculty Lightning Talks reveal what's in the minds of Mount Royal's thinkers
As part of Research and Scholarship Days, researchers took part in Lightning Talks, a rapid-fire series of presentations popular among the community. Topics included the evolving understanding of drunkenness; social media and the election; cinema and Alberta's ecosystems; youth entrepreneurship; sharing environmental issues and solutions between municipalities; and how wine has transformed the Okanagan region as a place for people to visit and live.
There were also insights into new and better ways to teach, always a focus at Mount Royal, with talks on the use of student spaces, how field schools help students develop social awareness and how virtual reality can help bring the field study to students in the classroom - on their smartphones no less.
Lightning talks illuminate research at Mount Royal
Student award recipients
Students who participated in the campus-wide events were adjudicated to determine a recipient of the 2019 Dean's Award for Research in each faculty.
All student participants were provided feedback on their work, offering an opportunity for students to present their scholarship, some for the first time.
It's Research & Scholarship Days at @mountroyal4u - Our students are shaping the future! #MRUresearch #whatsthequestion #lovemyjob @mquinn_michael pic.twitter.com/it5Pz9qxMq

- Lesley Brown (@lesleyabrown) March 27, 2019
Arts
A State of De-Stress: Achieving Subjective Well-Being Through Self-Compassion and Empathy
Kurt Hablado (psychology honours)
Business and Communication Studies
Left in the Cold: Canada's First Internment Camps

Alannah Page, Huyana Cyprien and Curtis Larson (journalism)
Health, Community and Education
Structural and Functional Musculoskeletal Implications of Patients with Hypermobile Ehlers-Danlos Syndrome
Kalindra Walls (health and physical education)
Science and Technology
The Ghost Map: An All Star Parody
Bryce Hardy (biology)
The Faculty of Science and Technology awarded students in four additional categories:
Independent Research winner:
Jordan Bird, Scott Thrall, Alexandra Skalk
Title: The Effects of Acute Hyperglycemia on Central Respiratory Chemoreflex Magnitude
Institute for Environmental Sustainability winner:
Philip Anderson, Kevin Hayes, Brendan Maddin, Melissa McCrady, Austin Zabel
Title: Quantitative description of the environmental impacts of mining in Butte, MT using biomonitoring
Course Based 3000 4000 winner:
Damian La Rosa Montes
Title:Myogenic Clock: A Novel Model for Skeletal Muscle Development and Differentiation
Course Based 1000 2000 winner:
Terrence Plunkett
Title: Web Accessibility Analysis of Western Canadian Universities: Do Accessibility Services Offer Accessible Websites?
Faculty Research and Scholarship Recognition Award recipients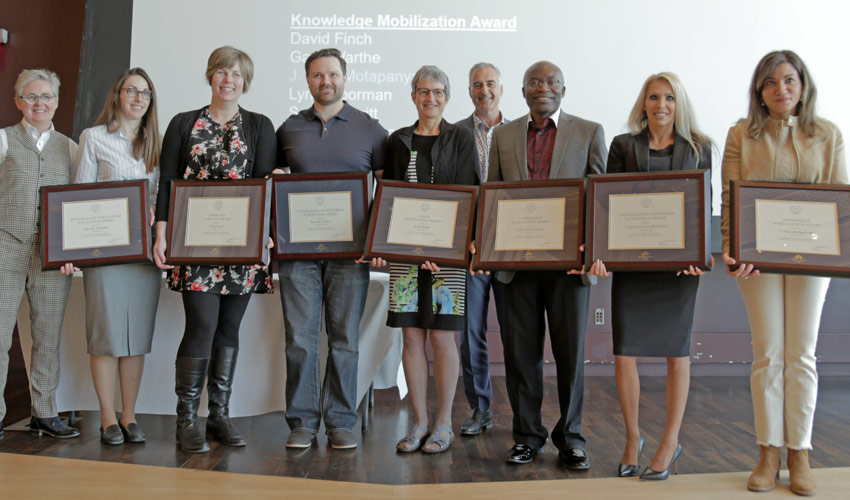 Mount Royal presented Research Recognition Awards on March 28 to highlight the distinctive work of MRU faculty members.
"These awards celebrate the scholarly work of faculty members who have shown their commitment to the advancement of knowledge in their fields, collaborated with our community partners for the betterment of society and provided world-class opportunities for undergraduates to include research as part of their overall experience at MRU," Quinn said.
The following professors were awarded in five categories.
Career Achievement Award
Katja Hoehn
Community Engagement Award
Faith-Michael Uzoka
Emerging Scholar Award
Erika Smith
Undergraduate Research Supervision Award
Brett McCollum and Caroline McDonald-Harker (tied)
Research and Scholarship Excellence Award
Michelle DeWolfe
Knowledge Mobilization Award
Maki Motapanyane
At the event, Quinn acknowledged the excellence and quality of nominations, saying "your work makes me proud to be part of this institution and to be part of the cultural shift we are seeing as we develop our research and scholarship at MRU."
April 11, 2019 ― Marlena Cross