Former Governor General David Johnston receives an Honorary Doctor of Laws
One of Canada's most impactful individuals addressed Mount Royal graduates for final Convocation ceremony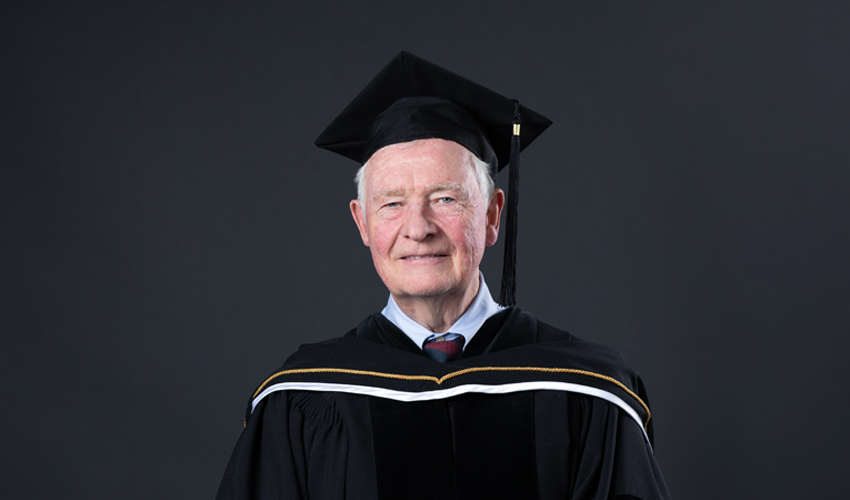 Best known as the former governor general of Canada, a position he held from 2010 until 2017, on June 7 Mount Royal University welcomed the Right Honourable David Johnston for the University's final Convocation ceremony. The 28th governor general of Canada since Confederation and former Canadian comrade of Her Majesty was bestowed an Honorary Doctor of Laws in front of graduates from the Bissett School of Business.
Distinctions such as these are not new to Johnston, who already holds more than two dozen honorary doctorates. He is a Companion of the Order of Canada, has received a Commander of the Order of Military Merit and is an Honorary Chief Commissioner of the Canadian Coast Guard.
But to his 14 grandchildren, Johnston is simply known as Grandpa Book, "because I read books to them and I write books," Johnston says.
Johnston is the author or co-author of more than 20 books, plus countless chapters in other volumes and magazine articles. Despite his reputation for being non-partisan, he strongly supported Canadian federalism, as expressed in the work If Quebec Goes: The Real Cost of Separation.
A revered academic, Johnston's belief system is firmly grounded in education, of which he says, "is the most important vehicle for equality of opportunity in Canada."
Johnston was also an extremely talented hockey player, having played with the likes of Phil and Tony Esposito while in high school. He was even scouted for the NHL at the time, but when his mother discovered that path would likely preclude his graduating, negotiations were quickly shut down.
Johnston moved on to obtain an undergraduate degree from Harvard University, graduating magna cum laude. While there he was twice named to the U.S. All-American hockey team, and was subsequently named (in 1988) to the Harvard Varsity Club Hall of Fame. He then obtained a Bachelor of Laws from both Trinity Hall, Cambridge, and Queen's Universities, achieving honours both times.

The post-secondary world welcomed Johnston for the beginning of his professional career. He began as an assistant professor in the Queen's University's law faculty, then taught at the University of Toronto, was dean of Western University's Faculty of Law, and was a professor, principal and vice-chancellor at McGill University. To culminate his university service, Johnston served 11 years as president of the University of Waterloo before stepping down to become governor general.
Mount Royal's Dean of the Faculty of Arts, Jennifer Pettit, PhD, says Johnston is a perfect honoree, especially given his service as an honorary witness for the Truth and Reconciliation Commission of Canada.
"Mr. Johnston's activities related to Indigenous Peoples in Canada align well with our University's Indigenous Strategic Plan," she says. "In his role as governor general he was also active in several other activities such as internationalization that relate to various goals in our University Strategic Plan."
Today he works with Deloitte as an executive advisor, and continues to provide valuable advice on "innovation, inclusiveness, talent development and leadership, and the role those things play in economic growth," he says.
Additional impact Johnston has made includes being president of Universities Canada, founding chair of the National Round Table on the Environment and the Economy, chair of the Canadian Institute for Advanced Research and the first non-American to chair Harvard's Board of Overseers.
More about the 2019 Spring Convocation ceremonies.
June 5, 2019 — Jonathan Anderson
Media request contact information.
Have a story idea? Please fill out this form.