Changes in platforms providing new storytelling opportunities
Broadcasting and journalism students creating content desired by consumers
The media is constantly adapting, and with the inclusion of social media, blogs and podcasts, journalists and broadcasters have more competition - and opportunity - than ever before.
With podcasts, publishing opportunities and the chance to film a talk show, the door is wide open for Bachelor of Communication students majoring in journalism or broadcast media studies. The ability and the means to create relevant, consumer-centred content is at their fingertips.
David Taras talks to …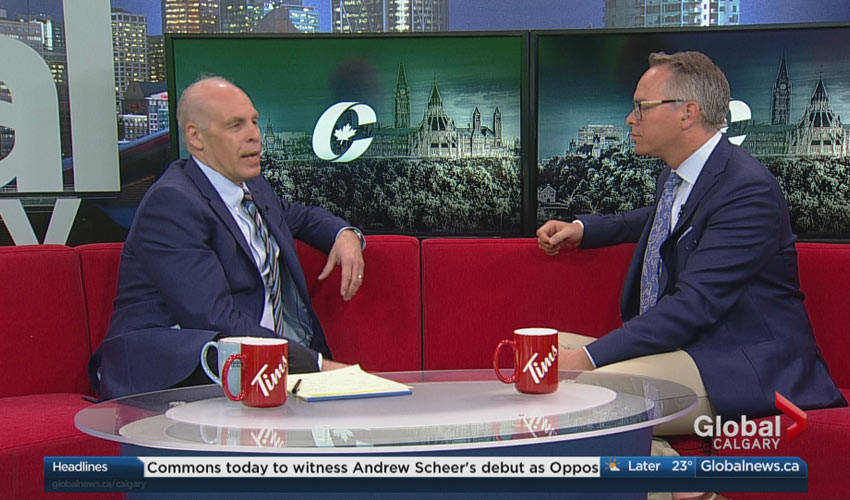 Duke University may have Zion Williamson and the University of Calgary may have four Vanier cups, but Mount Royal University has David Taras, its very own punchy political pundit. Taras is a journalism professor at Mount Royal and currently holds the Ralph Klein Chair in Media Studies. He is also a published author, and his latest book Digital Mosaic: Media, Power, and Identity in Canada, is well-known and well-respected. No stranger to being on camera, Taras regularly appears on Global News to discuss different local and provincial topics.
Throughout his career, Taras has made many impressive connections and with great connections come great stories. He felt he had a responsibility to share these connections with the students at MRU, and so in October 2018, David Taras talks to…, an online video interview series, was born.
"I wanted these interviews to be different than what you would normally see," Taras says. "The questions I ask are not about policies, so by the end of the interview, everything starts to come out and we are truly learning about these people's lives, and they are quite fascinating."
Did you know we host a talk show every week on Wednesday's called David Taras Talks To... If you missed it this week, don't worry! Click the link below to catch up and watch David Taras talk to Deborah Yedlin! #ByStudents4U #Calgary #Talkshow #TarasTalksTohttps://t.co/9BNtjH1LhZ

- CMRU.ca Broadcast (@CMRUbroadcast) November 16, 2018
Although Taras is the one on camera, the spotlight is on the broadcast media studies students, who carry out all of the hard work behind the scenes. From coordinating the lighting, to editing and posting the final product, the students are fully in control. Taras says there hasn't been a potential guest he has reached out to that has said 'no' to being on the show.
"Everybody wants to tell their story, and they are more than happy to share it on this platform," Taras says.
Students do, however, have a chance to be on camera, as they host a news segment and a late-night show that is viewable on cmru.ca.
When asked about his experience with his show, Taras says, "To be a director you have to have nerves of steel and you really have to get it, and these students do. I am really, really impressed."
Taras hopes that more people start to watch these shows, because the students deserve the credit and the topics can be quite fun and exciting.
The Calgary Journal: A modern twist on traditional media
The Calgary Journal is a print and online magazine based out of MRU that offers stories centred around news, sports, arts, entertainment and health. The entire publication is put together by MRU journalism students, who are getting a first-hand look at what it is like to work in a newsroom, develop their own stories and go through the proper channels to have a story published, all while learning from industry professionals with many years of experience.
Follow @calgaryjournal
As an online magazine, the Calgary Journal has an advantage over publications that are print only, as it is easily adapted for different platforms, which fits perfectly with the diverse demands for today's media offerings. "Calgary Canvas" is an ongoing series showcasing two views on Calgary's important issues. In this series, students pick a topic that is relevant to Calgarians and invite two guests with opposing opinions to discuss the issue. They then record and edit the episode into a 10- to 20-minute digestible bite.
Having a podcast series on the Calgary Journal website opens the door for communication on important issues, which is crucial for a city that is growing as quickly as Calgary.
Audio production skills through podcasting
Most people would think journalism and broadcasting majors would be learning radio skills but Meg Wilcox, creator and instructor of the podcasting class at MRU, says there are better ways to teach students audio production.
"Podcasting is a lot more interesting to the students than learning radio skills, and it is a fun, creative way to teach them about audio production," Wilcox explains. "Radio skills are still important, but most of the audio work they learn (in the podcasting class) is transferable to radio."
MRU journalism students are fortunate enough to have creative freedom, and fine-tuning their unique tone and cadence. The podcasting class allows students to be themselves, make mistakes and find what works for them, based on the stories they want to tell.
"There is no wrong on-air persona for podcasting, which helps the students find their voice, something that can take years to do," Wilcox says.
The real-world experience students receive in a number of different journalistic platforms is what makes the programs provided through the School of Communication Studies special, she says.
Discover more about Mount Royal's PhD pundits, who are often in the news providing their expert opinions.
April 25, 2019 — Zachery Scovoranski
Media request contact information.
Have a story idea? Please fill out this form.