Long-term executive enamoured with education
Honorary doctorate recipient Dawn Farrell sets the example for what quiet leadership can do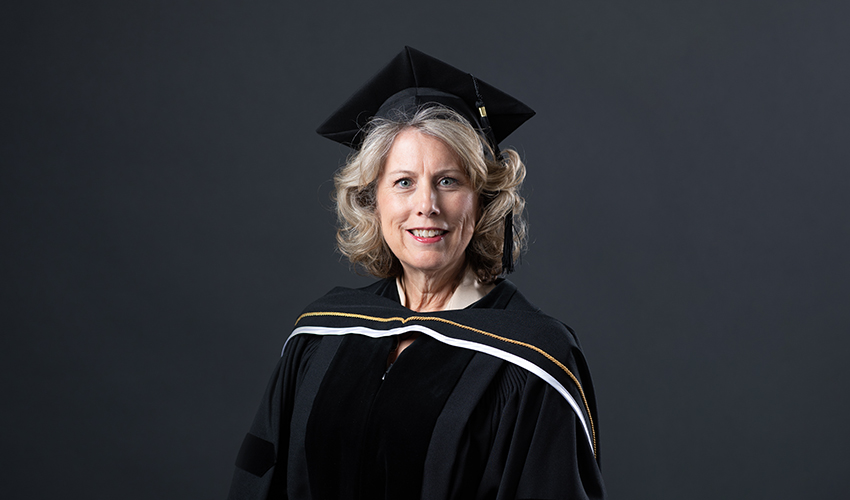 Dawn Farrell is an accomplished business and community leader in Calgary. With more than 30 years of experience in the electricity industry, she is currently the president and chief executive officer of TransAlta Corporation. Farrell was bestowed an Honorary Doctor of Laws at the afternoon Spring Convocation ceremony on June 5.
In a different life, Farrell says she would have studied to obtain a PhD.
"I simply love school. Always have," says the former member of the Mount Royal University Board of Governors and the Mount Royal University Foundation Board of Directors. "The first institution that I stepped into in my life was a school at six-and-a-half years old. I came home, lined up my dolls and starting teaching school that day. In a million years I didn't know if I could get to university, never mind get two degrees."
Farrell, who holds a Bachelor's of Commerce with a major in Finance and a Master's in Economics from the University of Calgary, and who attended the Advanced Management Program at Harvard University, even taught for a semester at Mount Royal many years ago.
For her, receiving an Honorary Doctor of Laws is meaningful because she believes Mount Royal stands tall beside its promise of teaching excellence in all disciplines. She insists teachers are the difference between being educated and getting information.
"Mount Royal for me is an institution that changes people lives. Students come with a vague understanding of who they are and what they can offer. The faculty at Mount Royal take the time to turn students into citizens for our future. Students graduate from MRU ready to work and ready to be critical thinkers. Mount Royal educates, and it's educated people that we need to run our economy."
As a professional and standout executive, Farrell's day-to-day work can be said to have earned her a practical PhD in finance, business development, strategic planning, commercial operations, energy marketing and sustainable development. She has held a number of senior management positions at TransAlta and BC Hydro, is a director for the Chemours Company, and has sat on the boards of Fording Coal Income Fund, New Relationship Trust Fund and Vision Quest Windelectric.
A strong advocate for Canadian business (and women in business), Farrell also serves on the Board of Directors for the Conference Board of Canada and the Business Council of Canada.

Farrell believes education is the difference between just working without meaning and having a career where you can make a difference every day. She says education creates an insatiable craving for "questioning and seeking," while taking away "the arrogance of knowing."
"Educated people never have the answers - they always have the questions," Farrell says. "Learning how to think and question is the difference between looking up something on Google and then turning to 20 other sources to really find out where the truth might lie … for now."
Throughout Farrell's well-documented professional record of accomplishment, she has supported the Calgary community by lending her support to community initiatives such as the United Way, Momentum and Mount Royal University.

Elizabeth Evans, dean of the Bissett School of Business and the School of Communication Studies, says, "Dawn Farrell's business acumen, breadth of experience, leadership and community involvement, emulate the skills and qualities that we aim to instill in our Mount Royal University business students.
"She represents industry leadership, community citizenship, advocacy and mentorship. With these characteristics, Ms. Farrell ensures that her success and service and the success of others is inseparable. She sets a strong example for our students."
More about the 2019 Spring Convocation ceremonies.
June 5, 2019 — Jonathan Anderson
Media request contact information.
Have a story idea? Please fill out this form.