Dedication pays off for IPSE student
Starkman part of Spring 2019 Convocation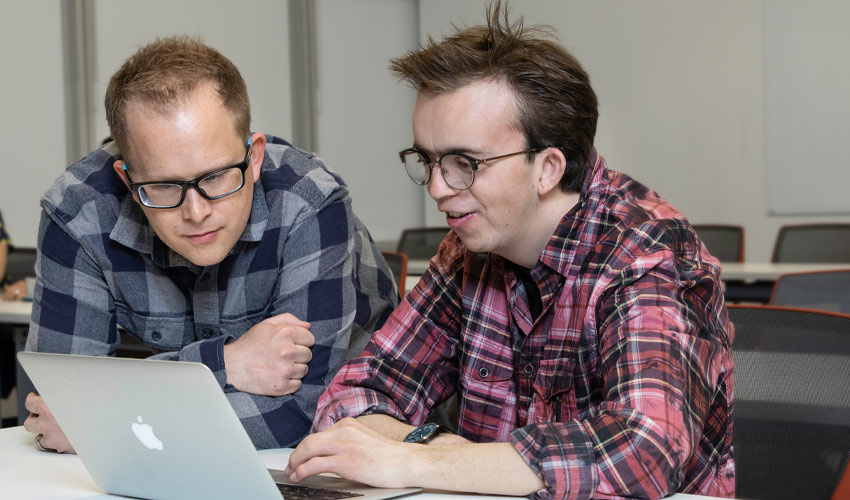 Some traditions at Convocation will never change: former students clasping their hard-won parchments, the turning of the tassel to signify graduation, proud parents tearing up as their children walk the stage.
Jesse Starkman, 22, predicts the waterworks will start a little early when he crosses the platform with his classmates at Mount Royal University's Spring 2019 Convocation.
"My mom will start (crying) when it's the first person on the stage. And my last name starts with S, so it's down near the end," Starkman says, laughing.
Starkman came to Mount Royal through the University's Inclusive Post-Secondary Education (IPSE) initiative. IPSE supports students with developmental disabilities pursue their academic goals. With a natural gift for conversation, a love of radio and an outgoing personality, Starkman enrolled in the Broadcasting Diploma program in 2014. The program then expanded to become Bachelor of Communication - Broadcast Media Studies. University was an adjustment for Starkman from his time at Springbank Community High School.
"The first year, there were tons of assignments piling up on me. I remember the first day I got into class, my teacher said, 'All right, you have an assignment due on Friday.' And it's Monday. I'm like, 'Oh gosh, I gotta get going!' " Starkman recalls. "In high school, it was 'No rush. Get it in next week, late.' Here, I couldn't let it pile up."
During his four years at Mount Royal, Starkman made his academic progress a priority. If he was going to be late for a class or be absent, he would email his instructor. And he advocated for himself with his classmates. He remembers one group project where his classmates were reluctant to assign him a task.
"I asked, 'What can I do?' And they said, 'Oh, nothing.' I felt, I have to do something. I'm in broadcasting, too. I can't not do anything. It was just frustrating," he says. He pushed to be involved in the group and showed his classmates that he could contribute to the project. "Then they know, 'Oh, he can do this.' "
Creating connections with classmates, faculty, staff and the Mount Royal community at large is a hallmark of IPSE, says program administrator Craig Baskett. Students are encouraged and supported to connect with their classmates, get involved in various on-campus extra-curricular activities and events, and to pursue interest specific practicum and work opportunities.
"We couldn't be prouder of our three IPSE students who are receiving certificates of completion this convocation - Jesse, Timothy Wong (Bachelor of Communication - Information Design) and David Nicholson (Bachelor of Health and Physical Education - Physical Literacy)," Baskett says. "IPSE is an integral part of the Mount Royal community and to see these students reach their goals after years of hard work is an achievement we all celebrate."
IPSE staff assist students in choosing course loads and classes. The education facilitators modify course materials and support students in staying on schedule with assignments, projects and exams in the classes the IPSE students audit. They also encourage the students to take part in post-secondary life, from intramurals to creating a social circle.
Sara Markin, an education facilitator with IPSE, worked with Starkman when he first came to Mount Royal and again in his final year. Through all the challenges and accomplishments, she say he's been "a positive light" for not only her, but also for his classmates, faculty and staff. Like any student, he's matured and gained skills during his time at university.
"Through this experience, I think Jesse is definitely better equipped with handling a whole bunch of things that come with the University experience that can translate into the job field," Markin says. "Our goal is to give students employable and academic skills that they may not have had before, including time management, workflow, knowing what it takes to write a paper or complete a project."
When he came to Mount Royal, Starkman lived at home. Now, he lives independently in a downtown apartment with a roommate, and takes public transit on his own. And while the post-secondary experience is part of his process of becoming an adult, Starkman's time at Mount Royal has affected change in others.
Gareth Wentzel is a lecturer in the School of Communication Studies at Mount Royal. Starkman was a student in his Introduction to Communication Studies course. Wentzel says he was "completely humbled" by "IPSE and its amazing education facilitators," not to mention Starkman's invaluable contributions to the class.
"Jesse's enthusiasm to engage with the course content and his infectious smile inspired me to push harder and make each class that much more exciting as the semester progressed," Wentzel says. "It is an experience I will never forget and I hope to be involved with IPSE again in the future."
Learn more about Inclusive Post-Secondary Education.
June 3, 2019 — Ruth Myles
Media request contact information.
Have a story idea? Please fill out this form.