Experiential learning in Peru
A life-changing experience is documented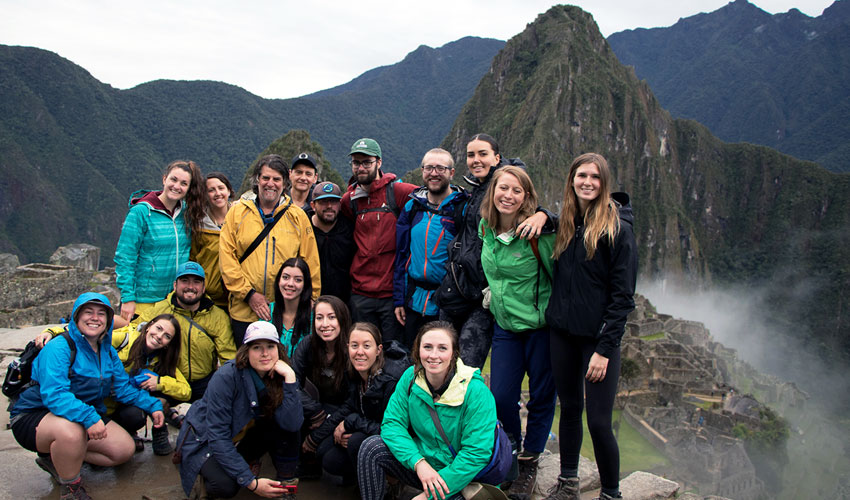 Since 2003, Eco Tourism and Outdoor Leadership (ETOL) professor Joe Pavelka, PhD, has led a successful biennial field school to countries in South and Central America.
His excursions are incredibly popular, with Pavelka self-funded scouting missions to ensure the locations were ideal learning environments. He has made great connections beyond the classroom with individuals and families who offer support to travelers, going above and beyond to prepare and producing world-class educational experiences for Mount Royal University students.
The structure of a field school, or immersive learning, allows students gain exposure to diverse viewpoints and an unfamiliar environment. On Pavelka's most recent excursion, 16 students from varying disciplines, along with field school assistant Roberto Donoghue and two camera operators, made a trip to Peru. The month-long journey was captured on film and edited into a full-length documentary to demonstrate the impact and value of experience-based learning. The group consisted of students from ETOL, business, child studies, policy studies and open studies.
For ecotourism and outdoor leadership student Sarah Jorgenson, it was life-changing.
"I've never experienced anything like this before," said Jorgenson. "Peru is a stunning, genuine place with lovely people. I didn't realize that people have to boat things in, that there is a minimal waste management system and no Internet. How does one know what's happening in the rest of the world?"
Although there were cameras rolling constantly, Jorgenson says it didn't take away from the experience and provides a great way to remember the trip.
The students stayed with local families, took in sites such as the world-famous Machu Picchu and challenged themselves with a jungle trek through the Amazon. The journey provided a non-traditional educational opportunity to explore different approaches to ecotourism, complete required research projects and engage in a broader educational experience by interacting with locals in an intimate setting.
"The field school helped me realize how I interpret the world. It was humbling and I realize how privileged I am because of where I come from," says Jorgenson.
Learning from discomfort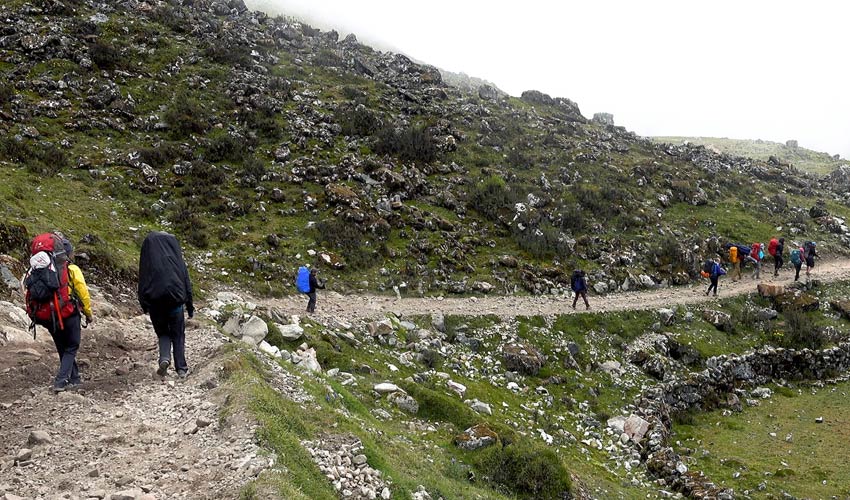 The documentary Pavelka produced is titled Uncomfortable - Experiential Learning in a Foreign Land. This is a fitting title as Pavelka describes experience-based learning as letting go of what makes one comfortable. It's also described as messy. This can be said about all facets of the field school.
"You have to let go of what makes you comfortable to help you learn and grow, and sometimes that can be very hard," Pavelka says. "This kind of learning is also messy from a paperwork perspective because it goes against the traditional model of a classroom, which makes its administration complicated."
However, Pavelka articulates that Mount Royal does experience-based learning well, and the University has a long history of doing it.
"It's ingrained on campus."
The hope is that the film will support the message of the value of escaping the lecture hall to learn in an unconventional way.
Stop fake news
The explosion of fake news has taken the world by storm and it is affecting people's views on almost everything. To challenge the spread of misinformation, students must add critical thinking to their set of tools. Travel encourages this practise.
Managing unfamiliar currency and communicating in a foreign language are just some examples of skills that foster critical thinking, a new reality Pavelka's students start living as soon as they land.
"In a world where everything is being disputed, including the academy, immersive learning is an opportunity for students to take in an experience and then come back and talk about the experience," Pavelka says. "We're moving to that place where if one does not experience it, it is not believed."
Back in the spotlight
Marketers are always competing for their audience's attention and often by the most engaging means possible. And right now, Pavelka believes that video will have great appeal.
"We have two versions of the film - a longer educational version and a shorter feature film," says Pavelka.
"The educational version will be pushed out to universities and students to demonstrate the value of experiential learning. The shorter version will be submitted to the festival circuit."
"We're targeting two major festivals - Sundance Film Festival and Banff Mountain Film Festival. We should know if it is accepted in October."
Pavelka is no rookie to the film festival circuit. His Canoes for Peru documentary played in twenty-two festivals on four continents.
In the meantime, check out the trailer for Uncomfortable - Experiential Learning in a Foreign Land below.
July 19, 2018 ― Rob Petrollini

Media request contact information.
Have a story idea? Please fill out this form.