A reasonable, rational and trusted source
Columnist Don Braid receives Mount Royal's fourth Honorary Doctor of Laws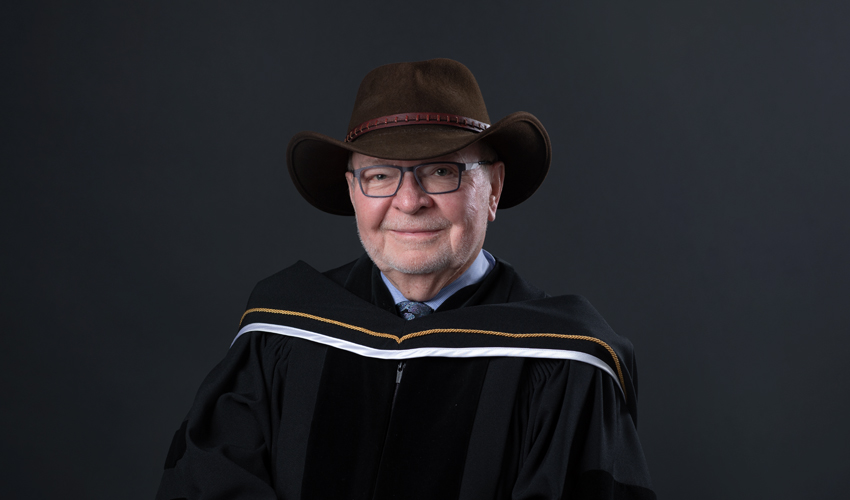 Right before Calgary Herald political columnist Don Braid was made aware of his most recent distinction as a recipient of a 2019 Honorary Doctor of Laws from Mount Royal University, he was busy delivering the latest news and notes related to the recent Alberta provincial election.
For this longtime trusted source of accurate and expertly delivered information, the pleasant surprise couldn't have come at a better time - during the provincial election campaign.
"It was just before the most divisive and vicious election campaign I've ever covered," Braid says of the timing of the news about - of all people - himself. "Amid all the insults, it was welcome validation that there's still value in what we in the so-called mainstream media do.
"Journalists are under concentrated attack these days, often for refusing to breathlessly pick up on every scrap of partisan rumor and slander. Most of us still prefer facts, as best they can be determined. For me, to have this mark of recognition from MRU is just awesome."
To date, subjects of Braid's reporting and columns have included every Alberta government since Peter Lougheed and every federal government since the original Trudeau's. Braid has also covered myriad of key moments in Canadian history, ranging from the election of the Parti Quebecois to the negotiations of the Meech Lake and the Charlottetown Accords.
A political journalist since 1972 and a full-time political columnist since 1978, Braid has written columns for the Montreal Star, Montreal Gazette, Toronto Star, Edmonton Sun, Edmonton Journal and Calgary Sun. He has been based in Ottawa, Montreal, Edmonton, Calgary and various cities in Ontario. He has reported from Africa, the old Soviet Union (where a KGB agent tried to recruit him as a spy: he refused), Europe, the Caribbean and most Canadian provinces.
Throughout his career, the McMaster University graduate has been a steady champion for Mount Royal. He wrote many columns campaigning for the then-college to gain university status, lobbying and prodding government officials for its case.
Receiving his Honorary Doctor of Laws from Mount Royal University during the morning ceremony on June 7 was an incredible moment for Braid, who sees MRU's commitment to its students as its greatest strength.
"To me, the most appealing thing about Mount Royal was then, and is now, its deep connection with students. They like this place. Lorne Motley, Postmedia's western vice-president, is a proud graduate. So are many fine young journalists who have come to our newsroom. Having taught a course at Mount Royal some years ago, I have the greatest respect for the superb quality of the faculty and instruction. In my field, your great political scientists are regularly quoted all over the country."
Honouring Braid seemed like a no-brainer for Mount Royal's Broadcast Media Studies and Journalism Chair, Brad Clark, PhD. Clark says, "Recognition for one's journalism can never be associated simply with long service. There is too much at stake. What distinguishes Don Braid's 40 years in the field is his courageous, thoughtful and fair approach to political coverage. In an era of strident social media backlash against journalists this has never been more challenging, and yet Mr. Braid has more than risen to the occasion. His reporting, while opinion-based, remains grounded in evidence and logic, a reflection of his well-known professionalism."

In 2017, Braid won an Alberta Literary Award for his book, Notley Nation: How Alberta's Political Upheaval Swept the Country, which he co-wrote with his wife Sydney Sharpe, also a reputable author. The work was recognized with the Wilfrid Eggleston Award for non-fiction. He has also written two other books, both well-received.

More about the 2019 Spring Convocation ceremonies.
June 5, 2019 — Jonathan Anderson
Media request contact information.
Have a story idea? Please fill out this form.