The effects of digitizing the stories of Holocaust survivors
Mount Royal professor researching the ethics of new technologies in teaching about history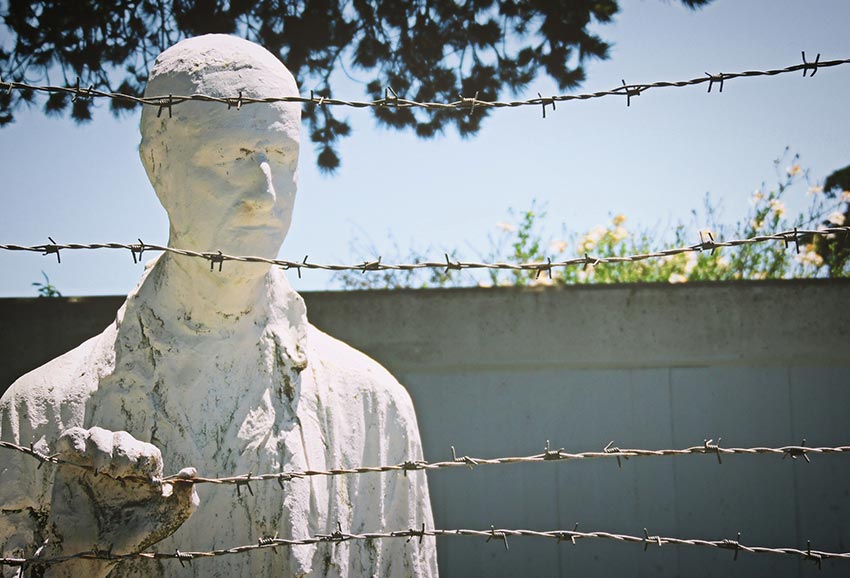 Pinchas Gutter was 10 years old when he and his family were taken by the Nazis from the Warsaw Ghetto to a concentration camp in Poland, where his parents and twin sister were killed. He was liberated by the Russians in 1945 and emigrated to Canada in 1986. Since then, he has devoted much of his time to recounting his family's experience as Polish Jews living under a Nazi regime and his time in concentrations camps.
Now in his eighties, Gutter is running out of time to tell his story in person, so he and other survivors have turned to new digital technologies to capture and share their accounts. Mount Royal history professor Scott Murray is researching the digitization of survivors' testimony and how the Holocaust is taught in schools.
"My research is part of a broader research agenda that looks at the question of digital humanities in Holocaust education, and how education can be accomplished in many new ways because of new technologies," he explains. Murray, a specialist in modern European history, teaches two senior-level history courses on the Holocaust.
"The digital humanities is a very explicit effort on the part of educators and technology specialists to try to develop the most effective means of using new technologies while also ensuring the academic integrity of what's being taught, and being constantly aware of the ethical implications."
"At a certain point we won't have Holocaust survivors anymore and it's important to make sure that the next generations know about it," says Melanie Schmoll a political scientist and lecturer at the University of Hamburg, Germany, and guest speaker at the Symposium. "To prevent, to give a warning, to make sure people remember, and for humanity. It's about all of us, our values, and what kind of society we want to live in. That's the main question in my eyes." Anti-Semitism is growing in Europe, she explains, "and we need a warning."
Gutter, speaking at Mount Royal as part of the Holocaust Education Symposium (May 8 to 10), is one of about 20 Holocaust survivors who have been video-recorded answering roughly one thousand questions likely to be asked by a typical audience, such as a high school social studies class. It's all part of a project called New Dimensions in Testimony, being developed at the University of Southern California's Shoah Foundation.
The technology uses 50 cameras to record, and hundreds of pico projectors in playback, to create a robust, lifesize, holograph-like image. Using interactive playback technology that recognizes voice and word patterns, this three-dimensional image of Gutter responds to audiences' questions almost as quickly and as lifelike as a real person would.
Murray's research will examine both the potential benefits and costs of applying technologies such as this to teaching and learning about the Holocaust.
The medium and the message
"You have to see the potential of some of these technologies to reach not just more people, but a current generation of people who see the world in radically different terms because of having been raised with these technologies. That's an enormous boon."
Schmoll agrees, and sees this as the logical next step in sharing stories. "Most of the younger people are very much in touch with this technology. So I think it's a very good way to reach them. It may be more impressive to them than just reading a book or watching a movie, to have this almost-personal contact."
Schmoll sees the potential for this technology to be used in schools and museums and to commemorate important dates in history. "I think you could use it all over the world to reach many more people," she says.
Another obvious advantage of digital recordings is that they don't degrade the way analogue recordings do, Murray notes. Moreover, a digital recording can be replicated and disseminated much more easily.
More than 50,000 Holocaust survivor testimonies have been digitally recorded by the USC Shoah Foundation. This massive digital archive breaks down each complete, hours-long testimony into one-minute segments. All of the keywords in each of those segments are then entered into a database, creating a fully searchable index of the entire archive.
"In a sense you can get inside the archive in a way that you cannot when you're just watching video recordings. You can do a search of 20,000 different testimonies in a matter of seconds to find common themes. Then you can go precisely to those moments and see exactly what was said at those points without watching three or four hours of testimony per person."
In many cases that information has been compiled, sorted and used to improve historians' understanding of specific aspects of the Holocaust by gleaning details from different testimonies about locations, migration patterns, the movement of troops or how victims were distributed geographically by age or gender, for example.
"Those insights are enormously valuable to the historian, but they also come at the expense of the larger story of the individual," Murray notes. "There is the real danger of transforming narrative stories ― which express a whole story with a beginning, middle and end ― into mere data."
"There is the real danger of transforming narrative stories ― which express a whole story with a beginning, middle and end ― into mere data."

Scott Murray, history professor at Mount Royal University
Selections of digital testimonies can be packaged in themes for teaching in schools, supported by lesson plans and teaching tools put together by educators in a way that adheres to international standards in the digital humanities.
However, Murray cautions, "These may deprive the student of the ability to see the witness as a whole human being with a full story.
"Now we have the technology to start dissecting testimony, to disembody it, to remove the survivors themselves from it in some sense, and to take their information and transform it into data ― and that's where some of the ethical concerns arise."
The YouTube effect on collective memory
One issue concerns which stories get digitized and who decides. Survivor testimonies have been collected since before the Second World War ended, notes Murray. The video recording of survivor accounts became common in the 1980s, which Murray says marked the beginning of a different approach to archiving testimonies, including a concern that they be used appropriately.
"It's one thing to talk to somebody and to record their testimony in wire recordings and later on tape recorders, which in most cases would be transcribed so that you could read them. It's something else to video record them because the subject then becomes embodied in a way that they're not when you're simply listening to a recording or reading a transcript."
The Shoah Foundation alone has made 3,000 full-length survivor testimonies available for public access. Other organizations that have recorded personal accounts also share testimonies online, but often only in short segments.
"I'm interested in the way in which public accessibility of testimony over the Internet has affected collective memory about the Holocaust," Murray says.
With open access ― and especially with uncurated content ― the source will determine the impression of the Holocaust that the student or researcher is left with, Murray cautions. A prime example of that is YouTube and its secretive search algorithm, which not only displays search results but also suggests related videos. That generates a perceived hierarchy of testimonies based on none of the criteria historians would use in organizing and presenting evidence.
"You'll get a set of results that's intended to serve the commercial aims of YouTube. You may not, therefore, be getting the most representative outcome when you do a search for survivor testimony, and that's a concern," Murray says.
Added to that are the public comments posted about many of these videos, often by Holocaust deniers and anti-Semites -- and this in turn will influence the outlook of viewers who may not know anything else about the Holocaust except what they see on YouTube.
This, according to Murray, makes the role of historian and educator harder.
"What we know and learn about the Holocaust can be affected by the tools we use to do the teaching," he says. "The technologies are going to evolve irrespective of whether we want them to, and we need to adapt. The best teachers are ones who are going to find ways of making these technologies useful to their students in a way that's ethically responsible."
Public events like the Holocaust Education Symposium at Mount Royal teach about the Holocaust in a historically accurate way that includes personal testimony of a survivor or family member who also answers the audience's questions.
Increasingly, holograms of survivors and similar digital archives will be included in such educational settings, making educators' understanding of the tools all the more important. The research Murray will focus on during his sabbatical next year will help him further undercover both the strengths and the weaknesses of digitizing survivor stories. "Inevitably," he says, "there will be both."
Learn more about the Humanities Department at Mount Royal, the history major and the Holocaust and Human Rights lecture series.
Mount Royal University hosts the Calgary Jewish Federation's annual Holocaust Education Symposium from May 8 to May 10. More than 3,000 Grade 11 and 12 students and their teachers attend a half-day session during the symposium every year. They hear from a historian and a Holocaust survivor ― this year, Pinchas Gutter, in person.
After this year's symposium wraps up, more than 100,000 high school students and their teachers in Calgary will have heard survivors' stories in the event's 34 years.
May 7, 2018 ― Melissa Rolfe
Media request contact information.
Have a story idea? Please fill out this form.